[ Home ] [ Comedy Music ] [ Acoustic ] [ Variety ] [ Downloads ] [ Standup ] [ Christmas! ] [ Dr Demento ] [ Key West! ] [ Themes ] [ FREE Music! ] [ SPECIALS ] [ Articles ] [ Contact Us ] [ Links ] [ Newsletter ] [ Order ] [ Privacy Policy ] [ Returns ] [ Search ]

"Your Online Source for Comedy Music since 1995"
Picklehead Music ®

Dr. Demento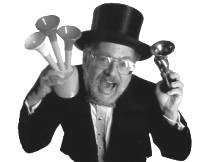 Here are links to some of our artists who have been featured on The Dr. Demento Show.
Our goal is to fill Picklehead with Dr. D artists. If you know any of them, have them contact us!

Bird and Macdonald: The one and only. Dr. Demento AND Bird and Macdonald got into trouble when the doctor played some of their risque music on his show. Now we've got it here!

Tim Cavanagh: Can you believe one CD with NINE songs on Dr. D? Believe it.
Dan Chopin: The 'Get Off the Phone and Drive' guy.
Da Yoopers: Did 'The Second Week of Deer Camp.'
Dr. Elmo: Dr. Demento was probably one of the first to play 'Grandma Got Run Over By A Reindeer.' At least we think he was. He should have been, at least...

Wayne Faust: Lots of songs on the Good Doctor's show, both with Faust & Lewis and on his own. His most recent song was "Fudge," off his CD, "Songs From the Road."

Faust & Lewis: Their two biggest songs on Dr. Demento are 'Save the Beer' and 'Bald Guys,' although the good doctor has played many more of these guys' songs.
The Foremen Funny folk music from the 90's. Dr Demento featured their music and interviewed them several times over the years.
John Forster: His song, "Entering Marion" is a Dr. Demento classic, and this guy's got lots more great, satirical songs in the tradition of Tom Lehrer.

Sean Morey: The guy who did one of our most requested songs - 'The Man Song!'

Cali Rose: A good friend of Dr. D, and frequent contributor to the show.

Sneaky Pete: He's had TWELVE songs on Dr. D., including 'Bar-B-Que Barney' which made it to #5, and 'Booger In My Beer Mug' which was #1 two weeks in a row.

Larry Weaver: One of the most popular new Dr. D artists, thanks to songs like 'Grandpa's Gone Gangsta.
If you're a fan of comedy music, check out these artists. Also, if you know of any Dr. Demento artists not listed here have them contact us so we can add them to the list!

---
Dr Demento can practice musical medicine with us any time!
---
© 1995-2018 Picklehead.com
All Rights Reserved worldwide
All trademarks are the property of their respective owners