[ Home ] [ Comedy Music ] [ Acoustic ] [ Variety ] [ Downloads ] [ Standup ] [ Christmas! ] [ Dr Demento ] [ Key West! ] [ Themes ] [ FREE Music! ] [ SPECIALS ] [ Articles ] [ Contact Us ] [ Links ] [ Newsletter ] [ Order ] [ Privacy Policy ] [ Returns ] [ Search ]

"Your Online Source for Comedy Music since 1995"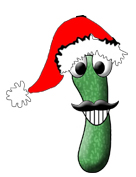 Picklehead Christmas!

Ho! Ho! Ho!

We've gathered some of the funniest Christmas music on the planet. Follow the links and check out the CD's below to brighten up your holiday!

BRAND NEW! Christmas All Around from Picklehead's Owner and Co-Founder!

NEW! Latkes, Schmatkes!: Funny Chanukah songs from Lauren Mayer.

NEW! Kacey Jones: "Christmas In Rehab" song now available for MP3 download!

...And A Happy New Year: Family friendly, funny, and fresh - a new album of Holiday songs!

NEW! Sean Morey: Along with his very funny song "Dear Santa," Sean just released a brand new song called "It's Christmas!"

Mylo Hatzenbuehler: "A Very Mylo Christmas." The first Christmas album from this excellent funny German guy!

Kacey Jones: The "I'm Down To My Christmas Underwear" song, now available for MP3 Download!"

Steve Glotzer: TWO jazz instrumental Christmas CD's. We've been listening to them over and over here at the Picklehead Mansion and they are outstanding.

NEW! Tim Cavanagh: His song "Christmas Wrap," as heard on the Bob & Tom Show, is now available for MP3 download for just 89 cents!
Buck's Ducks: From Buck Peterson, hunter and funny guy, a whole CD of classic Christmas songs sung by ducks, accompanied by rifle fire and live ammo. A must for that hunting enthusiast on your Christmas list!

Dr. Elmo: The #1 name in funny Christmas music, thanks to the infamous 'Grandma Got Run Over By A Reindeer. He's actually got TWO great CD's: 'Twisted Christmas,' and 'Up Your Chimney.'
Trout Fishing In America: Grammy nominated kids' music artists record their first Christmas CD. And this CD was also nominated for a Grammy!

Billy Bob Yoakam: A great CD for kids, with stories and music telling the real message of Christmas.
---
Funny Music -- it's good all year long!

New Digital Downloads:
From some of our most popular artists



Faust & Lewis - Including rare and never released tracks!

Les Barker Comic poems from a true genius, available digitally for the first time!

---


© 1995-2018 Picklehead.com
All Rights Reserved worldwide
All trademarks are the property of their respective owners