Introducing - BILLY BOB YOAKAM!

Billy Bob Yoakam is a Cowboy from Colorado, and has a small ranch on the eastern plains of Colorado. Billy Bob has a donkey named Heather, and she is usually stirring up a whole bunch of trouble. He also has a sidekick named Wayne, who is the best friend a man can have.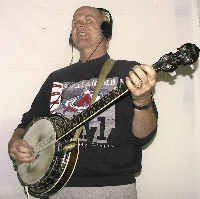 The stories and music of Billy Bob Yoakam are a creation of Wayne Faust and Pat Hobin. Wayne has been a full-time professional musician, songwriter, and comedian for twenty-five years. Pat first began weaving make-believe stories when his children were very young. He began telling his stories in classrooms, allowing them to supplement the school's curriculum in a very entertaining way. Together Faust and Hobin will keep children and adults sitting on the edge of chairs, laughing, singing along with some catchy music, and learning some valuable lessons at the same time.
" BILLY BOB YOAKAM AND THE DUSTY ROAD"

BILLY BOB'S FIRST ADVENTURE CD IS NOW AVAILABLE, just in time for Christmas.
After going into a deep sleep, Billy Bob dreams that he and his donkey Heather are walking down the same dusty road with Mary, Joseph, and their donkey. Through this scenario, Faust and Hobin are able to shed some light on the prophecies fulfilled in our Lord's birth, and provide a reminder of the real meaning of Christmas.

Audio Samples (Real Audio)
Introduction Don't Lay By A Donkey When She Snores Billy Bob At the Manger
Billy Bob and Heather Billy Bob and Joseph Walkin' On A Dusty Road
To order click here!


The following adventure CDs will be released in the future:
*The Chocolate Bunny Disaster
After Heather eats the Chocolate Bunny, Billy Bob is "forced" to find out about the real meaning of Easter.
*Stick'em Up
Billy Bob runs into some sticky characters who try to "hold" him up. But these aren't real robbers; these are religious people trying to force a bunch of rules on Billy Bob.
*The Knocks on the Door
Billy Bob's sidekick, Wayne, experiences a real tragedy. This story offers a real depiction of what it means to walk alongside someone in the midst of a tragedy.
*Making the Ride with Paul Revere
Faust and Hobin weave a great story for Billy Bob that provides a wonderful trip back to the 1700s and the birth of our nation.
*Hay is not just for Horses
As a rancher, Billy Bob raises hay as a crop. But the hay isn't just for horses. Through this funny story your children will learn a basic lesson in economics.
*Caught Between North and South
Taking a step back in time, Billy Bob finds himself in the middle of the Civil War. Wrestling with all the issues, Billy Bob ultimately is able to have a face to face visit with Honest Abe.
*Let's Get Ready to Rumble
No, this isn't about wrestling. This story will provide excellent information on earthquakes, as Billy Bob, Heather, and Wayne find themselves right in the middle of one.


Complete ordering info for
"Billy Bob Yoakam and the Dusty Road,"

ONLINE with a credit card: click here

BY PHONE: Leave a message at 1-800-742-5539

BY MAIL: Send a check or money order to:
Picklehead Music
PO Box 2211
Evergreen, CO 80437
(enclose a note specifying 'Billy Bob' and how many CD's you want)

The cost is $10.00, plus $2 for shipping & handling
for more info, send us an e-mail at picklehead@picklehead.com

Download your FREE G2 REAL AUDIO PLAYER HERE