Books By Ian Whitcomb
---

"Lotusland"
SPECIAL HOLIDAY OFFER! A BRAND NEW (SIGNED) PAPERBACK REPRINT OF IAN'S
ONE AND ONLY NOVEL-----"LOTUSLAND--A STORY OF SOUTHERN CALIFORNIA"!
This novel was originally published in 1979, and only in Britain. There are only a half dozen hardbacks left and so Ian has had a paperback made. You can only buy this from Picklehead---and it is signed! So you can sell it on e-bay for twice the price!! Our price, incidentally, is $20, and that includes postage.
Here is what the inside blurb says:
LOS ANGELES TODAY
Oozing out of the record player came the svelte crooning of Whispering Will. Ian Whitcomb, an ex-rock star remaindered in Los Angeles, was entranced. Drooping peppers, luscious grapes and fragrant orange blossoms
were summoned up despite the hiss and crackle of the mildewed old record. This was Lotusland as it might have been. This was the world as it ought to be. He determined to find out more about this Whispering Will, this man who seemed so rooted in a land of shifting sands. His researches took him back to:
LOS ANGELES 1917
Two British ex-officers arrive here on a war-boosting lecture tour. Will Gilpin loves ragtime and Western romances; Roger Kente loves cleanliness and rough lads. Southern California is to be the setting for the playing out of their yearnings. For here on the last frontier are gathered a cast of herbalists and real-estate agents, Red Indians and White Indians, Mooman guards and sailor boys, anarchists and empire builders, a doomed black band leader and Ramona Schmidt. Will immediately falls for Ramona, blonde ideal and dance hall hostess. Roger falls for her brother. Both eventually get their comeuppance in this misty land of the lazy afternoon where most folks
say hello until they get to know you. So welcome to Lotusland where rainbows end and so do dreams.

ORDER THIS BOOK!
---
The following books are available through ITW Industries. If you would like to make an order, click HERE to send an e-mail to Ian.

ITW Industries, Box 451, Altadena, CA. 91003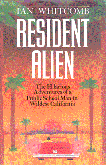 "Resident Alien"
The Adventures Of An Englishmen In Southern California
(Random Century, 1991).....$25.00 (Hardback)
---
"The Beckoning Fairground"
Notes of a British Exile in Los Angeles
A collection of short pieces illustrating Ian's fascination and fatal attraction for Southern California life. Includes articles on the history of R & B in L.A., of his working with Mae West, Christopher Isherwood, and his field trips to Laguna and Lone Pine.
(ITW Industries, 1994).....$15.00
---

"Rock Odyssey"
A Chronicle Of The Sixties
(Doubleday)
Dolphin, New York, 1983).....$15.00


---
"After the Ball"
A Chronicle of Pop Music
From Ragtime To Rock
(Limelight Editions, 1986)...$9.95 (Softcover)

---
"Irving Berlin And Ragtime America"
(Limelight Editions, 1990).....$25.00 (Hardback)
---