Ian Whitcomb Songbooks!
---
All of Ian's songbooks include the sheet music (notes, chords, and lyrics) for some of his favorite old-time music, as well as some great new songs in the old-time style. They include lush pictures, fascinating stories about the music and the times, and terrific arrangements. These songbooks are a must for every piano bench and music library in the world!

---
Brand New!
The Ian Whitcomb Songbook (Includes CD)
Ian's Original Classics
(1965-2005)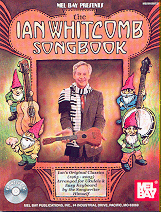 Arranged for Ukulele & Easy Keyboard by the Songwriter Himself!
SONGS: You Turn Me On * Sally Sails the Sky * Wurzel Fudge * Hands * A Friend Of Mine * For That Man! *
In Hollywood! * 'Til You Come Home * Don't Trust Your Heart * Pure Sorrow * The Boogie Woogie Jungle Snake * Regrets * The Sunshine Of Your Smile * Night Child * Old Friends * Cottage By the Sea *
Who'll Be the First To Phone? * You're the One * The Windmill Waltz * Dancing Partners * My Garden *
Our House * Restless * Time and Again * One and One Makes One
Song Samples (Mp3): My Garden You're the One Restless
Mel Bay Publishers
$19.95

Order here!

---

The Cat's Meow (Includes CD!)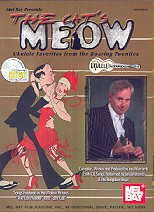 SONGS: Me-ow! * I'll Sit Right On the Moon * You're In Style When You're Wearing A Smile * Alice Blue Gown * Shine * Bimini Bay * I Ain't Got Nobody Much * Pretty Baby * Dapper Dan * Poor Butterfly * I'll Stand Beneath Your Window * Wonderful One * Margie * Any Place Where I Make Money * All By Myself * The Sheik Of Araby * I Was A Fool * The Darktown Strutters' Ball * The Candyland Christmas Ball * Lonely * When You're There * Do I Love You? Yes I Do! * Down On the Farm * Hello! Good Morning! And How Do You Do? * Same As Ever * Same As Ever (Instrumental)
Real Audio Samples: Me-Ow! When You're There Lonely Same As Ever
$22.95

Order here!
---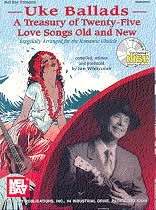 Uke Ballads (Includes CD!)

SONGS: Beautiful Dreamer * Shine On Harvest Moon * When I Lost You * Peg O' My Heart * You Made Me Love You * If I Had My Way * If We Can't Be the Same Old Sweethearts * Smiles * I Hate To Lose You * In the Land Of Beginning Again * I'm Sorry I Made You Cry * I'm Always Chasing Rainbows * I'm Forever Blowing Bubbles * Blue Jeans * Homesick * When We're Dancing * Dreams * If You've Ever Loved * I Just Knew * Paradise Island * In the Garden * My Dog Has Fleas * My Confession * I Love You * Goodnight
Mel Bay Publishers
$22.95

Order here!

---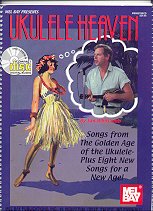 Ukulele Heaven (Includes CD!)
Featuring the song 'Ukulele Heaven' from the new movie Stanley's Gig starring Faye Dunaway.
Print up FREE sheet music for the song by clicking HERE.
Click here to listen to a Real Audio sample of the song 'Ukulele Heaven!'

SONGS: Yaaka Hula Hickey Duley *Where did Robinson Crusoe Go with Friday on Saturday Night *All that I Ask Of You is Love *They're Wearing Em' Higher in Hawaii *Sierra Sue *Any Time *Pasadena *Somebody Stole My Gal *Blue *Hi-Tiddly-Hi-Ti-Island *Moonlight *Somebody Sweetheart *Mexicali Rose *A Pretty Girl is like a Melody *Who Wants a Bad Little Boy? *Twelve O' Clock At Night *Moon of Waikiki *The Uke is on The March *Story Book Farm *Lone Pine Blues *Wurzel Fudge In London *Ukie's Tune *Will I Feel like a Fool (in the Morning)? * Goodbye, Old Boy *Ukulele Heaven
Mel Bay Publishers
$24.95

Order here!

---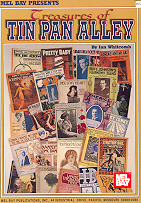 Treasures Of Tin Pan Alley OUT OF STOCK
Includes wonderful pages and pages of stories behind the songs.
30 songs in all!

SONGS: *The Honeysuckle and the Bee *Under the Bamboo Tree *Ida! Sweet as Apple Cider *Mandy, How do You Do? *King Chanticleer *Alexander's Ragtime Band *They Gotta Quit Kickin' My Dawg Aroun' *You Made Me Love You (I Didn't Want to do it) *Peg O' My Heart *If I had My Way *The Trail of The Lonesome Pine *When You Wore a Tulip (And I Wore a Big Rose) *Play a Simple Melody *Settle Down in a One-Horse Town *They Didn't Believe Me *Rufe Johnson's Harmony Band *Down in Honky Tonky Town *America, I Love You *I Didn't Raise My Boy to Be a Soldier *Pretty Baby *Where Did Robinson Crusoe Go With Friday on Saturday Night? *Yaaka Hula Hickey Dula (Hawaiian Love Song) *Poor Butterfly *Darktown Strutters Ball *For Me and My Gal *Till We Meet Again *Wurzel Fudge *I Just Knew *I Wanna Stay Home *Goodnight
Mel Bay Publishers
$17.95
---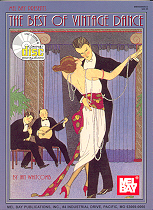 The Best of Vintage Dance OUT OF STOCK
Includes compact disc!
(28 songs)

SONGS: *Blaze Away *Viva Regina *Blazing Ambition *Fascination *Nights of Gladness *At the Masked Ball *
Merry-Go-Round by Moonlight *Home at Last *The Teddy Bear's Picnic *The Dance Of the Grizzly Bear *
Everybody's Doing it Now *The Oceana Roll *The Oceana Roll (parody) *Too Much Mustard *Fuzzy Wuzzy Woo! *
My Wife is Dancing Mad *Ballin' the Jack *After You've Gone *Foxing the Goose (Chasing the Fox) *
Whispering *El Choclo *La Cumparsita (Sultry Nights) *When Sophie dances *Dreams of Old L.A. *Nola *
Rocking the Baby to Sleep *After the ball *What Happens After the Ball
Mel Bay publishers
$22.95
---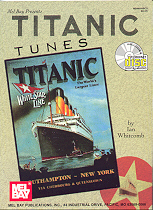 Titanic Tunes (Includes CD!)
More great music from the
Titanic Era.
(21 songs)

SONGS: Overture: At the Music Hall *The Man on The Flying Trapeze *The Boy in the Gallery *
If it Wasn't for the 'Ouses in between *At Trinity Church (I Met My Doom) *It's a Great Big Shame *
I Don't Want to Play in Your Yard *When the Summer Comes Again *I Live in Trafalgar Square *
Just Like the Ivy, I'll Cling to You *I Wouldn't Leave My Little Wooden Hut for You *Nellie Dean *Poor John! *
In the Twi-Twi-Twilight *If I should Plant a Tiny Seed of Love *I Used to Sigh for the Silvery Moon *
I'm Shy, Mary Ellen, I'm Shy *I'm Twenty-One Today *Percy From Pimlico *Glorious Beer *A Fallen Star
Mel Bay publishers.
$22.95
---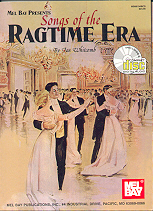 Songs of the Ragtime Era OUT OF STOCK
Includes compact disc!
(28 songs)

SONGS: *I'm Certainly Living a Ragtime Life *The Preacher and the Bear *Shine on Harvest Moon *
The Red Rose Bag *At the Ragtime Ball *When Ragtime Rosie Ragged the Rosary *
Waiting For the Robert E. Lee *Ragtime Cowboy Joe *The International Rag *Don't Say Goodbye, Miss Ragtime! *
I'm Crying Just for You *At the Ball, That's All *The Aba Daba Honeymoon *Down in Bom-Bombay *
You'd Never Know That Old Home-Town of Mine *They're Wearing Them Higher in Hawaii *Dance and Grow Thin *
When Alexander Takes His Ragtime Band to France *In the Land of Beginning Again *
When the Bees Make Honey Down In Sunny Alabam' *I Gave Her That *Take Your Girlie to the Movies *
At the Moving Picture Ball *Oh! I Wish I Were Tarzan *You've Got to Show it to Mother *That Twentieth Century Rag *
Le Temps Du Chiffon * Lotusland
Mel Bay Publishers
$24.95
---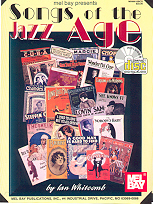 Songs of the Jazz Age OUT OF STOCK
Includes compact disc!
(27 songs)

SONGS: *Bright Eyes *Cabaret Girl *Carolina in the Morning *Charleston *Chong *(I'll See You in) Cuba *
Everybody Step *A Good Man is Hard to Find *I Ain't Got Nobody *I Wish I Could Shimmy Like My Sister Kate *
I'm Nobody's Baby *In Hollywood! *(I Used to Love You But) It's All Over Now *Just a Girl that Men Forget *
Limehouse Blues *Long Lost Mama (Daddy Misses You) *Lovin' Sam *Margie *My Confession *Prisoner of Love *
Rose of Washington Square *She Knows it *The Sheik of Araby *Steppin' Out *There'll Be Some Changes Made *
Who's Sorry Now? *Wonderful One