Ian Whitcomb Videos and DVD's
On DVD only: (Click on links for details and order form)

DVD Compilation #1
Turned On Alley - Ian Whitcomb and the Bungalow Boys

On DVD and VHS:
The following videos are available through ITW Industries. If you would like to make an order send $20.00 check or money order to :

ITW Industries, Box 451, Altadena, CA. 91003.
Or you can E-MAIL IAN HERE
Send requests to this address for complete Ian Whitcomb catalog.

BRAND NEW! "L.A. - My Home Town" A 1970's Sensation!
This documentary about Ian's sybantic and scholarly life in the Los Angeles of 1976 caused a sensation when first shown on BBC television. Now it looks like a charming, funny, and poignant picture of British exiles.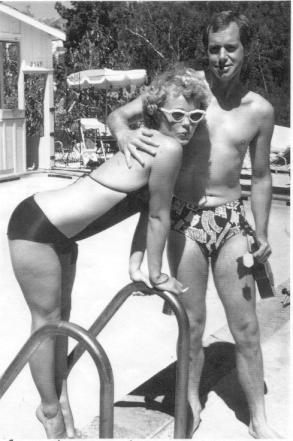 Reviews:
Contemporary Cinema:
One thing the British are still famous for is their sense of humor. But judging from the uniformly bad reviews which 'L.A., My Home Town,' received when it was aired last year on the BBC, they seem in danger of losing even that. The film was obviously intended as an updated look at the 350,000 members of the Southern California British community. However this tongue-in-cheek, highly irreverent and very funny potpourri of Hollywood landmarks, Los Angeles history and contemporary UK exiles is probably not at all what Auntie expected.
The tour guide is Ian Whitcomb, ex-60's rock star turned author, and he and director Geoff Haydon have chosen several of the least likely candidates to represent the Queen's ex-subjects on British television's premiere arts program, Omnibus. This is not just a slight departure from Omnibus' usually refined, dignified tone - the show has effected a virtual about-face.
Getting in a word for the mother country are the good solid citizens such as Consul General Thomas Aston and former British Ambassador Sir Peter Ramsbottom, but filling in the spaces are such faces as record producer Peter Asher and 'nude photographer' Roy Dean.



Ian and Suze Randall
from the video
'L.A. My Home Town
The Hollywood Reporter - Filmex Reviews
Ian Whitcomb, an ex-British rock personality now living in Hollywood, takes a tongue-in-cheek tour of the City Of Angels. Whitcomb conceived, wrote and narrates the film and Filmex gives it an American premiere Saturday. It's entertaining but - as a limey would say - a trifle.
Main thrust of the picture is that the Los Angeles area is currently bursting with British expatriates, all sizes, shapes and types, from rock stars to flesh photographers. Even Blue Boy hanging at the Huntington Gallery gets a mention. He also points out how many Englishmen have influenced the growth of his adopted home, such as Charlie Chaplin, Ronald Colman and others.
The picture has a jaunty, witty flow and Whitcomb's dry humor keeps it amusing. It's doubtful, however, if the Chamber of Commerce will want its own print: through the eyes of cinematographer Elmer Cossey and director Geoff Haydon, Los Angeles never looked more like a cement, arid jungle of freeways and/or billboards.
A satisfying booking for Filmex, 'LA - My Home Town' would otherwise appear to have only a limited appeal on the commercial market, mainly due to its awkward length (52 minutes.)
---
"Ian Whitcomb In Concert - Raw And Unedited"
A video record of "SONGS OF THE JAZZ AGE," a two-hour concert at The Alex Theatre in Glendale, California on December 6, 1998 by Ian Whitcomb and His Bungalow Boys (piano, violin, clarinet/saxophone, guitar/banjo, bass, drums), with Regina Whitcomb and Her Dancers.
This is an exciting document of Ian (with his friend "Ukie") in action at full throttle, complete with his introductions and asides. Regina joins him in song and keeps the show classy and on the rails. Her troupe of ballroom dancers demonstrate the dances of the early 1920s (Charleston, Fox-Trot, Tango).
In a spectacular finale-a taste of things to come- the dancers show off their Lindy Hop and Swing steps as Ian and his band perform a fast boogie number. The ensemble is completed by a six year old boy, Benny Waldow, who shows off his special marching step.

The Program: My Cutie's Due at Two-to-two * I Ain's Got Nobody Much * Chong (He Come From Hong Kong) * The Shiek Of Araby * I'll See You In C-U-B-A * All By Myself * Honey Bunch * Wonderful One * It's All Over Now * Carolina In The Morning * The Farmyard Cabaret * Rhapsody In Blue * In The Land Of Beginning Again * She Knows It * Ampola * Rosy Cheeks * If I could Be With You * I'm Happy When I'm Hiking * Masculine Women! Feminine Men! * She's A New Kind Of Old-fashioned Girl * Who's Sorry Now * The Charleston * Good Night * Chattanoogie Shoe Shine Boy
---
"Ian Whitcomb And His Dance Band"
(At the Roof Garden of the Variety Arts Center in L.A., 1988)
Featured Conductor: David Raksin
Guest Vocalist: Regina
Dance Professor: Desmond Strobel
2 hours of non-stop dancing, songs, and fun.
---
"Ian Whitcomb - The Funster-Songster"
A Studio Show starring Ian on ukulele and accordion, accompanied by Fred Sololow on guitar and Jack Daro on bass.
---
"Ian Whitcomb & Dick Zimmerman in Vaudeville Ragtime"
Dick and Ian perform a jewel bag of Tin Pan Alley ragtime songs. Made in Pasadena, 1989.
---
"Ian Whitcomb On TV"
Highlights from Ian's appearances on "Shindig", "Hollywoood A Go-Go", "Tin Pan Alley", "The Tonight Show", "The Merv Griffin Show", "The Pat Boone Show", "The Pat Sajak Show", and "Under The Ragtime Moon". 35 songs, 2 hours of fun.
---
"Tin Pan Alley"
A musical history of Tin Pan Alley starring Ian & The Crystal Palace Orchestra. Made for PBS, Los Angeles.
---
"Ian Whitcomb - Rock Star (1965)"
Ian sings his rock & roll hits - "You Turn Me On", etc. on such classic TV shows as "Shindig" and "Hollywood A Go-Go".
---
"Ian Whitcomb & Dick Zimmerman"
In Concert at The Montreux Jazz Festival in Switzerland, 1983.

---