A note from Wayne - 4/22/15
It's been quite a spring so far. Some of you might have noticed that I haven't been doing any shows for a little while. For the first time in nearly 40 years of performing, I took a month off. Why? First of all, all of us need a little recharging time. But that's not the main reason. My Dad, the World Famous George Faust, moved out to Colorado to be closer to my wife and I and lots of his great grandchildren. I helped him move at the beginning of April. It was an amazing day. 150 people showed up at his church in Palatine, Illinois to give him a terrific sendoff. Since then, we've been busy getting him settled in. But Chicago people, don't worry, he plans to travel with me to my annual show in November in Des Plaines. And now that he lives out here, he should be showing up at lots more shows in various places.
Because, let's face it, the world loves my Dad!
So what else has been going on during this little hiatus? Lots. Last Saturday, my son and his wife welcomed a beautiful little girl. That makes SEVEN grandkids for me, and another great-grandchild for my Dad. He was able to see her the next morning after she was born.
Here's a picture of him holding her, alongside of another picture with my wife and the new baby: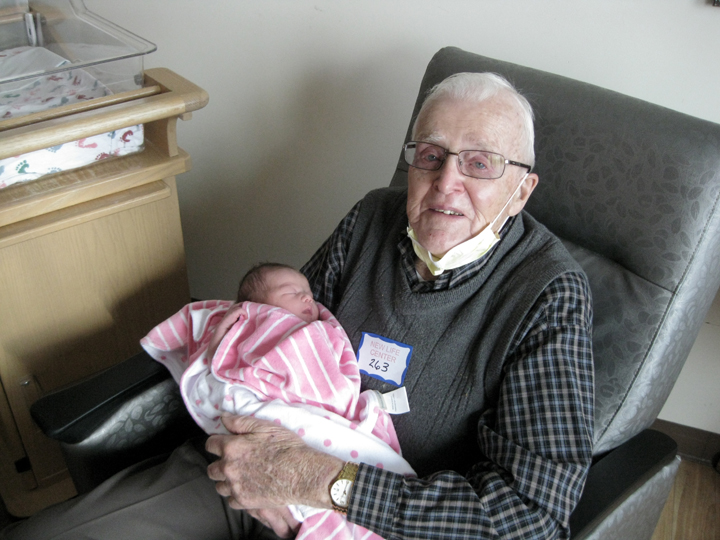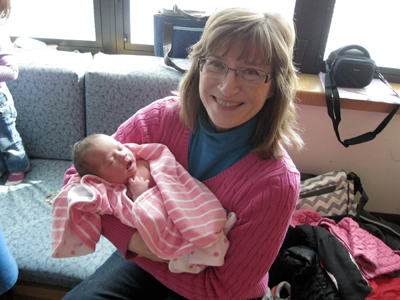 Add to this a long-delayed vacation with my wife, working on a new promo video (see below), time with family, another story performed in Denver (see below), and it's been quite a spring. The summer tour is looming and begins to kick in by late May. It will be my busiest summer yet, so things are good.
Thanks to everyone who came to my free concert and videotaping in January. I just finished editing the movie and it's up on YouTube.

CLICK HERE TO WATCH!
And if that's not enough news, One Night Stand Theater did yet another of my stories for their April show about controversial issues. The story is called "Walkin' the Mile" and features some hard, gritty dialog about racism. It's definitely not comedy. The performance that night by actor Logan Custer was truly amazing.
You can read the story free online by clicking here.
As always, you can get my whole schedule at

www.picklehead.com/wayne/wayne_schedule.html

God bless, and I hope to see you down the road!
Wayne
---
Wayne's two new albums are now available, both in CD format and as MP3 downloads.

The first is a hockey album he did with his goalie buddy Dave Maney. They have hopes to make a real splash in the hockey world with this one.
Click here for more info.

Wayne's first new 'regular' album in several years is also available now. It's called "All Over the Map" and it's one of my best efforts.
Click here for info about that one.
Check out Wayne's newest heartwarming YouTube video, "Norwood Park"
Click here to watch
FICTION STORIES by Wayne Faust
LOTS OF NEW, PUBLISHED STORIES from Wayne
and you can read most of them online for free!
Lots of new photos from Wayne's travels throughout the past year.
Click here!
Check out several new Sven Mystery Pics.
If you can guess where Sven is, you can win a FREE CD!

ALL of Wayne's music is available for download on Picklehead!
Buy just the Wayne Faust songs you want.
Over 10 CD's worth of music to choose from!
Click here to go to Wayne's MP3 Download Page

Also, ALL of the classic recordings from Faust & Lewis are also available for download,
including some rare, never-before released topical songs!
Click here to go to the Faust & Lewis MP3 Download Page


Sign up for Wayne's e-mail list by clicking here.

---
Wayne's first full-length book, "Thirty Years Without A Real Job" is still available.
Order a copy of this entertaining memoir!
Click here for details