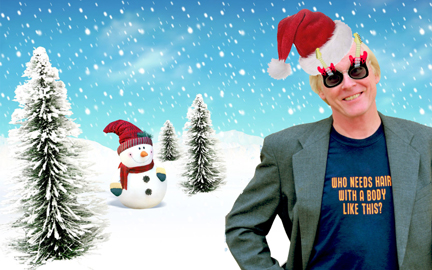 A note from Wayne - 11/1/2019
The picture above is how I feel about all that record cold and snow we've been getting in Colorado, making Halloween feel more like Christmas, my favorite time of year!

Which reminds me of my upcoming Bucksnort Christmas Show the first Saturday in December,
and
Wayne Faust Most Excellent Christmas Show / Ugly Sweater Contest on December 21st at the Little Bear,
in my hometown of Evergreen, Colorado.
But first things first...
My annual Bucksnort Birthday Show is tomorrow night, November 2nd. It's always a fun night for me, and there are always some surprises.
My annual Chicagoland show, which is one of my favorite shows of the year, is coming up on November 23rd. Tickets have been selling fast, so get yours right away!

www.picklehead.com/wayne/wayne_chicagoland2019.html

Lots of "Annual' shows going on these days.
I guess it must be my favorite time!
SPECIAL NOTE ABOUT THE CHICAGOLAND SHOW
My dad usually accompanies me for this one, but, like last year, he will be unable to attend. He's been having some heart issues at 93, and a long trip like that just isn't in the cards for him. But I might have him record an intro to start the show off right.
I'll be in Florida this coming week for two private shows, and to hopefully score a couple of new places to play for this winter or spring.
Busy busy busy, which is just the way I like it!

God bless, and I hope to see you down the road!

Wayne
---
Check out Wayne's heartwarming YouTube video, "Norwood Park"
Click here to watch
FICTION STORIES by Wayne Faust
LOTS OF NEW, PUBLISHED STORIES from Wayne
and you can read most of them online for free!
Lots of new photos from Wayne's travels throughout the past year.
Click here!
Check out several new Sven Mystery Pics.
If you can guess where Sven is, you can win a FREE CD!

ALL of Wayne's music is available for download on Picklehead!
Buy just the Wayne Faust songs you want.
Over 10 CD's worth of music to choose from!
Click here to go to Wayne's MP3 Download Page

Also, ALL of the classic recordings from Faust & Lewis are also available for download,
including some rare, never-before released topical songs!
Click here to go to the Faust & Lewis MP3 Download Page


Sign up for Wayne's e-mail list by clicking here and putting "Wayne's email list" in the subject line.

---
Wayne's first full-length book, "Thirty Years Without A Real Job" is still available.
Order a copy of this entertaining memoir!
Click here for details