Home / About / Schedule / Corporate / Downloads / CD's / Pictures / Reviews / Fiction / Press Kit / Contact

The
Wayne Faust Show...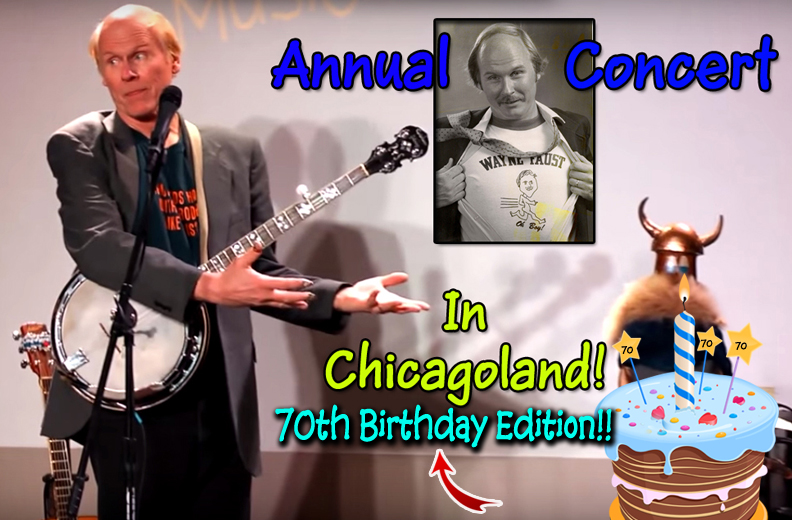 Wayne Turns 70!
Holy Smokes!!!!

Who would have thought when he started this whole, epic adventure way back in 1975,
that one day, after performing over 7000 shows, in 40 states, Mexico, England, Scotland, and Holland,
he'd return to his hometown of Chicagoland to celebrate his 70th birthday, and that he'd STILL BE PERFORMING?
Well, he is, and in true Wayne Faust tradition, he's celebrating near where it all began, with a lot of people that
were THERE IN THE BEGINNING!
Or at least close to the beginning.
Along with some of their kids, and, dare we say it, their grandkids!
And a generous does of people who discovered Wayne's show much later in the game.
In any event, IT'S GOING TO BE A BLAST!
It's ALWAYS one of Wayne's favorite shows of the year, and no wonder.
There will be a full dose of his classic funny songs, sentimental favorites, spontaneity, jokes, and surprises galore.
A lot of what happens on this night always surprises even him!
MARK YOUR CALENDARS FOR THIS ONE!!



Saturday, November 18th, 2023

Elk's Lodge Banquet Hall in Des Plaines, Illinois
Showtime 7 PM (note the earlier start time – by popular demand!)

Wayne has done seven shows here and it's a GREAT ROOM - big enough to seat everyone at tables, which is what most people prefer. There's a sentimental connection for Wayne, because the Elk's Lodge is just a few blocks away from where the old Des Plaines Ground Round used to be,
which is one of the places where Wayne started his career!

There will be a cash bar and casual food available for purchase (hamburgers, hot dogs, etc.)


If you are going to see one Wayne Faust Show this year, this is the one.



Details:
Saturday, November 18th, 2023 (The Saturday before Thanksgiving)
Elks Lodge Banquet Hall
495 Lee Street
Des Plaines, Illinois
7:00 PM
$15
More details:
This will be a NO-SMOKING show, meaning you can't smoke in the hall. Seating is not reserved, but is on a first-come-first-serve basis.
However, buying a ticket guarantees you a seat to the show. All seats have a good view of the stage.
Doors open at 6 PM.
Tickets Go On Sale after September 1st.
Stay tuned!!

For more info, leave a message at 303-674-0133 and someone will get back to you.
Or, send us an e-mail by clicking here.