[ Home ] [ Comedy Music ] [ Acoustic ] [ Variety ] [ Downloads ] [ Standup ] [ Christmas! ] [ Dr Demento ] [ Key West! ] [ Themes ] [ FREE Music! ] [ SPECIALS ] [ Articles ] [ Contact Us ] [ Links ] [ Newsletter ] [ Order ] [ Privacy Policy ] [ Returns ] [ Search ]

"Your Online Source for Comedy Music since 1995"
Picklehead Music ®
Info / Contact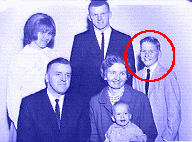 Greetings!
Ever since I was the little kid pictured here, (I'm not going to say how long ago that was), I dreamed of something like Picklehead Music.
Because for every one thousand screaming, top-forty, alternative, mud-smeared, "Bring-Elvis-Back-From-the-Dead" music fans, there's only one music fan like you and I — sophisticated, yet with a sense of humor - a person who likes to laugh and knows that even if a song is a wee bit politically incorrect, it's a joke! In short, a really cool person. But you already know that.
There are thousands of Comedy Music fans like you throughout the world, but until now they've been hard to reach without hiring a blimp or something.
So Rusty Lewis and I created Picklehead Music, which is in essence a co-op of talented Comedy, Acoustic, and Variety Musicians, banding together so that more people like yourself can find us, either on the Internet or in the real world. Rusty has moved on to different pastures, but I'm still here at the Picklehead Mansion, minding the store.
Not just anyone can be a Picklehead. We do a lot of quality control around here. It's a rough job to sit and listen to funny CDs all day, but we think you'll appreciate the quality and talent of the artists we've gathered here.
Help support Comedy Music by buying some of this great stuff. That way, we can go to our fellow Pickleheads and say, "See, we told you it was a good idea!"
Thanks for being friends and fans!
Wayne Faust
Web Site: picklehead.com

Phone: 303-674-0133
Answering machine only - leave us a message and we'll get back to you.

E-mail: picklehead@picklehead.com

Snail Mail: Picklehead Music - PO Box 2211 - Evergreen, CO 80437
Please note:
All prices listed on our website are in US Dollars

---
New Digital Downloads:
From some of our most popular artists



Faust & Lewis - Including rare and never released tracks!

Les Barker Comic poems from a true genius, available digitally for the first time!
---
Contacting us is cool!

---
© 1995-2018 Picklehead.com
All Rights Reserved worldwide
All trademarks are the property of their respective owners