Home / About / Schedule / Corporate / Downloads / CD's / Pictures / Reviews / Fiction / Press Kit / Contact

The
Wayne Faust Show...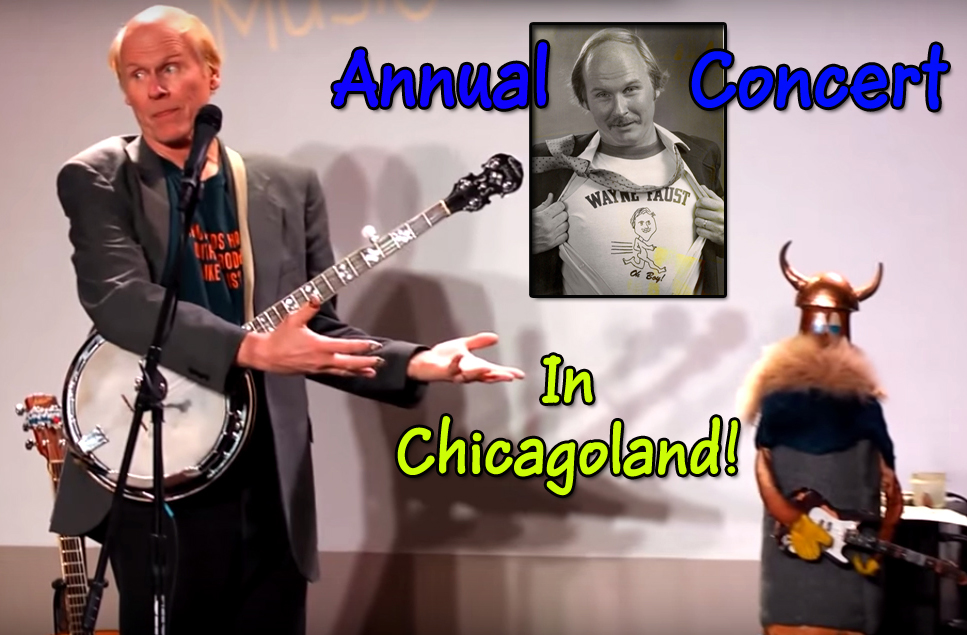 Concert In Chicagoland, 2019
Tickets ON SALE NOW!
CLICK HERE
Wayne returns to his native Chicagoland to do one of his favorite shows of the year.
He started out this whole adventure in Chicago in 1975, so that means he's been out there doing this for over forty years!
Good thing he started when he was two...
There will be people in the audience that have been coming to see Wayne for nearly all those forty years, along with their kids, and, sometimes, even grandkids. (Yikes!!) This is the show where Wayne gets to do songs and routines from his ENTIRE CAREER, along with a healthy dose of new things he's worked up since last year. There is always a lot of humor, a lot of spontaneity, a lot of special guests, and some of Wayne's pretty songs - the kinds of songs he rarely gets to do anywhere else.
As always for this show, expect some extra surprises! Saturday, November 23rd, 2019
Elk's Lodge Banquet Hall in Des Plaines

Wayne played here five Novembers ago for the first time and it's a GREAT ROOM - big enough to seat everyone at tables, which is what most people prefer. There's a sentimental connection for Wayne, because the Elk's Lodge is just a few blocks away from where the old Des Plaines Ground Round used to be,
which is one of the places where Wayne started his career!

There will be a cash bar and casual food available for purchase (hamburgers, hot dogs, etc.)


If you are going to see one Wayne Faust Show this year, this is the one!


Tickets ON SALE NOW!
CLICK HERE
Saturday, November 23rd, 2019
Elks Lodge Banquet Hall
495 Lee Street
Des Plaines, Illinois
7:30 PM
More details:
This will be a NO-SMOKING show, meaning you can't smoke in the hall. Seating is not reserved, but is on a first-come-first-serve basis.
However, buying a ticket guarantees you a seat to the show. All seats have a good view of the stage.
Doors open at 6:30 PM.
To order by mail, send a check or money order, made out to 'Picklehead Music,' for $10 per ticket to:
Picklehead
PO Box 2211
Evergreen, CO 80437
Your tickets will be mailed out to you right away.
NOTE: After November 10th, tickets will be held at the door for you marked 'Paid.'
Tickets ON SALE NOW!
CLICK HERE

For more info, leave a message at 303-674-0133 and someone will get back to you.
Or, send us an e-mail by clicking here.