Home / About / Schedule / Corporate / Downloads / CD's / Pictures / Reviews / Fiction / Press Kit / Contact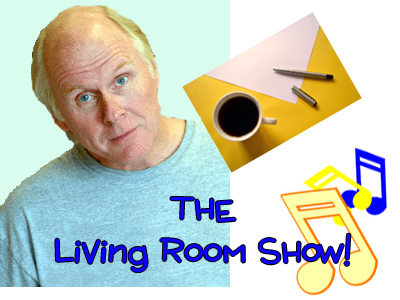 On Facebook LIVE!

from Wayne's house in Evergreen, Colorado
EVERY FRIDAY NIGHT DURING THE PANDEMIC
- SHOWTIME 6 PM MST (Mountain Standard Time) -
A NOTE FROM WAYNE...
Like most entertainers during this pandemic, I've been foaming at the mouth to perform because, well, it's what I DO. On Friday, March 27th, I put out word to my mailing list and Facebook pages that I was going to perform live from my living room.
I was hoping that maybe a hundred people would tune in, send live comments and requests while I was performing.
It sounded like a fun idea where we could all have a great old time together while relating to others during our forced shelter-in-place.

The response was AMAZING. As of this writing, there have been more than 1000 views of the archived video from that night, and there were at least 850 different computers connected live during the show, from all over the US, in England, Holland, Canada, and Mexico. If you figure that each feed was being watched by more than one person, that meant I was playing for more than 2000 people, which rivals my weekend shows at Put-In-Bay in the old days.

My wife took notes of all the comments as they came in and sent them up to me during the show, so it was like a giant, virtual, Bucksnort night, apres-ski show, Chicago concert, Key West and Put-In-Bay party, and a Lake Of the Ozarks summer night all rolled into one.
I was supposed to play for 1 hour but it ended being more than 2 hours without a break. But everyone knows that Bald Guys can last a long time...
I spent the entire next morning at my kitchen table answering the 865 comments that came in. PHEW!

Anyhow, it was so much fun, and there were so many great comments saying how good it was to all be connected at a time like this,
that I decided to do it EVERY Friday well into May, or at least until most lockdowns are done.

So let's make this a regular Friday Night Pandemic Party, sharing songs, comedy, jokes, sentimental tunes, and stories.
People especially liked the things that I shared about my family - my wife and kids, my grandkids,
and especially my 94 year old dad who is locked down in assisted living, and watches from his room.
I imagine that will again be a big part of each show.
Like always, there will be lots of spontaneity as I fly by the seat of my pants. Figuratively of course.
Tuning in is easy. It's on Facebook Live.
You don't have to be friends with me on Facebook to watch, you just have to have a Facebook account, and then, on any Friday through May 15th, go to this link at 6 PM MST.

https://www.facebook.com/wayne.faust
The video will start about 5 minutes early to make sure everything is up and working on time.
If you miss the live feed, you can check it out later on my Facebook page.
But doing it live is the most fun, because you can check in with comments, requests, song ideas, or whatever.
Note: Lots of viewers asked if they could leave me a 'tip,' since that's what they like to do during my shows at clubs.
It's not necessary, but since, like all other entertainers, I'm suddenly out of work, any little thing would be greatly appreciated.
You can send something anytime through PayPal using my email address:
God bless, stay well, and I'll see you on Friday!
Wayne