Home / About / Schedule / Corporate / Downloads / CD's / Pictures / Reviews / Fiction / Press Kit / Contact

Winter, 2013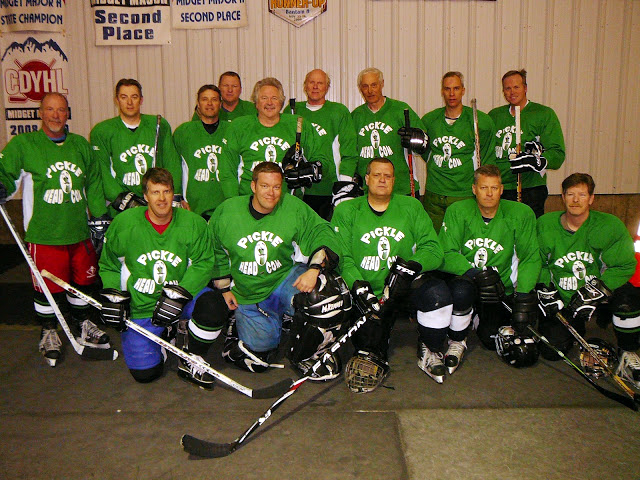 It was quite the winter!
Lots of good family stuff, a trip to Florida in January (pictures on a separate page), ski shows in Breckenridge, and...hockey!
The picture above is my 2nd Picklehead hockey team. Yep, I'm the captain and I play on TWO teams,
one with my sons, and the above team the first-ever Over-40 League Picklehead Team. (Yes, I know, I'm much too young for that one, but they let me play...)
We didn't win any Cups this year, but as Cub fans everywhere say, "Wait 'til next year!!"

Click on thumbnails to see the larger version of each picture.
---
First, a blast from the past.
The pictures above were taken by my friend Kevin of Put-In-Bay, Ohio and Florida.
These were taken at one of the famous all-night barbeques at the Put-In-Bay Lodging House back when Rusty and I used to play there every July.
This one was with the Scintas and Jerry Ward. Someday a book will be written about those little get-togethers. Hey! What an idea!
Christmas in Colorado. We had a delightful White Christmas with lots and lots of family.

An armful of grandkids on Christmas Night.

On Christmas Day, my daughter tried on my wife's wedding dress. Her husband was impressed...

Here's the whole, growing family at my granddaughter's Nutcracker ballet show.
Pics from apres-ski at Grand Timber Lodge in Breckenridge, Colorado.
The first two are the Picklehead Girls from Florida, using my stickers in a provocative way.
The 3rd and 4th pics are what kids do with those stickers.
The 5th pic is the Block Family from Chicago, a very cool family who comes to Breck every year.
The 6th pic is of a night out in Breck with my wife and good friends from Louisiana.

If anyone has more pics from this past winter in ski country, please send them to me at
picklehead@picklehead.com.
In April I was honored to be asked to play at the Comedy Works in Denver for the Dawg Nation Hockey Benefit. It was a great night.
You can find more about Dawg Nation Hockey and hear my "Dawg Nation National Anthem" by clicking here.

And finally, a fan sent me this picture. For some reason it made them think of the song "Save the Beer."