Home / About / Schedule / Corporate / Downloads / CD's / Pictures / Reviews / Fiction / Press Kit / Contact
---

New from Wayne Faust!

A limited edition, special release album in honor of his
40th year in Show Business!

---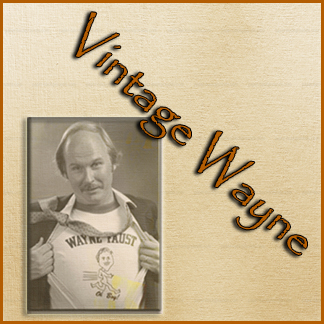 VINTAGE WAYNE!
Available on CD or for download.

CD $10 with FREE shipping
Download entire album for $7.99
Individual songs just 89 cents each.
---
This one's probably for old-time Faust fans only, so Wayne will only be making it available online and at his Chicago concert.
But other fans might want to check it out, to see what he sounded like when he was young and starry-eyed, first embarking on a crazy career in music and comedy.
You can hear a lot of what carried him along for forty years so far - witty lyrics, audience participation, and some nice family sentimentality.
From Wayne's liner notes:

Now here's a blast from the past!
Actually, it's 17 blasts.
This summer I celebrated 40 years as a full-time music and comedy performer.
So it seemed like a good time to go back through my old recordings,
pick out some favorites, and make them available to anyone who might want to listen.
These songs were all recorded in the early days when I was just beginning this whole grand adventure.
They're either live recordings or were made in the attic of my tiny cabin in Wrightwood, California
on an old Teac 4-track, reel-to-reel recorder.
Not the best sound quality but there are a lot of great memories here.

I dedicate this album to all those who showed so much enthusiasm for me in those days,
thus sending me off to see the world...
Wayne Faust - Evergreen, Colorado - 2015
---
SONG LIST WITH NOTES FROM WAYNE:
1) I Can't Figure It Out I did this song a lot in the old days in Chicago. In this recording, you can hear a baby cry at the end. Perfect timing!

2) I Hate To Work I was having a bad day when I wrote this one...

3) Drunken Sailor A long-time favorite at my shows, featuring lots of great audience enthusiasm

4) Welcome To the World Featuring my son, Stephen when he was just a month old on stage the The Ground Round. I had them play this one at a publisher's showcase in L.A. The featured publisher said something like, "What could we do with a song like this, sell it to St. Jude's Hospital?" But then I noticed a woman sitting near me in the audience with tears in her eyes. So it's not always about being hip.
5) Married To A Mother I wrote this one for my wife shortly after we moved to Wrightwood, California in 1981. I still like to do this one near Mothers' Day.
6) You and Me and the Little One I'm fond of this one because it captures what we set out to do when we headed west in 1980.
7) Another Hair In the Bathtub This one was before I decided that Bald Guys Are Cool.
8) Gimme Trash From I cassette I did called "Dr. Class and Mr. Trash."
9) On the Phone Again I made a small splash with this one while in L.A., even signing a contract with another singer to do it. I never did hear if he recorded it.
10) Pooh On My Pillow This one was a favorite at Carthage College, where I wrote and performed it with "Wayne and Two Jeffs" - Jeff Hoberg and Jeff Semler
11) The Rooster Song I must have done this one a couple hundred times in my shows at The Ground Rounds. You can here the audience do some special parts.
12) Ayotollah One of the first songs I got on the radio. I wrote it during the Iranian hostage crisis in 1979. Maybe I should release it again...
13) Ballad Of A High Jumper One of the first funny poems I wrote. This one is about my college roommate, Jeff Hoberg.
14) Down the River I wrote this when my wife bought me my first banjo for a wedding present.
15) Don't Eat Yellow Snow I wrote this when I first started playing in Breckenridge, Colorado for the ski season. Lots of snow up there.
16) Momma Don't Allow This recording is from my "Farewell For Now" show in June, 1980, the day before we moved to California.
This was one of the few times when I performed with a band.
17) Goodnight Irene Also from the "Farewell For Now" show. I still do this song to end my annual Chicago show each November.
---
Click here to buy the CD!
Downloads and song samples:
Download the entire album for just $7.99

SONGS:
I Can't Figure It Out:


I Hate To Work:


Drunken Sailor:


Welcome To the World:


Married To A Mother:


You and Me and the Little One:


Another Hair In the Bathtub:


Gimme Trash:




On the Phone Again:


Pooh On My Pillow:


The Rooster Song:


Ayotollah:


Ballad Of A High Jumper:


Down the River:


Don't Eat Yellow Snow:


Momma Don't Allow:


---