Home / About / Schedule / Corporate / Downloads / CD's / Pictures / Reviews / Fiction / Press Kit / Contact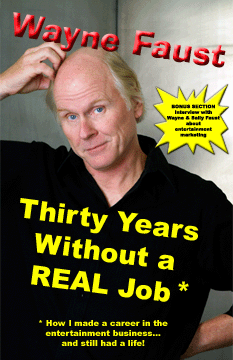 Thirty Years Without A Real Job*
or
*How I Made A Career In the Entertainment Business and Still Had A Life
$9.99
Trade Paperback - 241 Pages

The first full-length book from Wayne Faust, featuring lots of funny and poignant stories about life as a performer, and balancing a career on stage with home and family.
There's also plenty of good advice for would-be entertainers out there, as well as a bonus interview with Wayne and Sally Faust about the nuts of bolts of promotion and booking.

See below for more information, and to READ THE FIRST 2 CHAPTERS ONLINE.

CLICK HERE TO ORDER A COPY, SIGNED BY THE AUTHOR
---
So who is Wayne Faust, and why should you want to hear what he has to say? Wayne has made a very good living as a performer for over 30 years, supporting his family strictly on the income from his shows. This is the story of how he made that happen. He's also included a wealth of advice for aspiring entertainers at the end of each chapter. Non-performers will enjoy the ride as well. There are lots of great stories about things that happened to Wayne along the way, and how he struggled to balance his family life with his chosen career.
"I couldn't put this book down. Wayne's unique sense of humor brought a laugh to every page. But, at the same time, it was a poignant memoir, a charming love story, and a tribute to the people in our lives who take the 'road less traveled' and become an inspiration to the adventurous spirit that resides within all of us." --Linda Culbertson, Chief Communications Officer - Palm Beach, Florida
"Like all great craftsmen, Wayne makes what he does look easy. When I decided to edit a series of career-related books, he was one of the first people I thought of. Instead of just dreaming about being an entertainer, he made it happen." -- Kent Johnson, Career coach and EzineArticles.com Expert Author "
In spite of his name, Wayne didn't succeed as a professional entertainer by means of a Faustian bargain. He's found a devoted audience through those not-so-tired traditional show-biz virtues of talent, character, persistence, talent, resourcefulness, and hard work. Oh, and did I mention talent? In Thirty Years Without a Real Job, just as in his music, Wayne draws from life and experience, then adds perceptive warmth and humor to show us how it's done right. These are life lessons we should all do well to heed." -- Edward Bryant, Nebula & American Mystery Award-winning Writer and Critic
CLICK HERE TO ORDER A COPY, SIGNED BY THE AUTHOR
---
READ THE FIRST 2 CHAPTERS OF THIS BOOK ONLINE
Click here