Home / About / Schedule / Corporate / Downloads / CD's / Pictures / Reviews / Fiction / Press Kit / Contact

Another Summer! 2012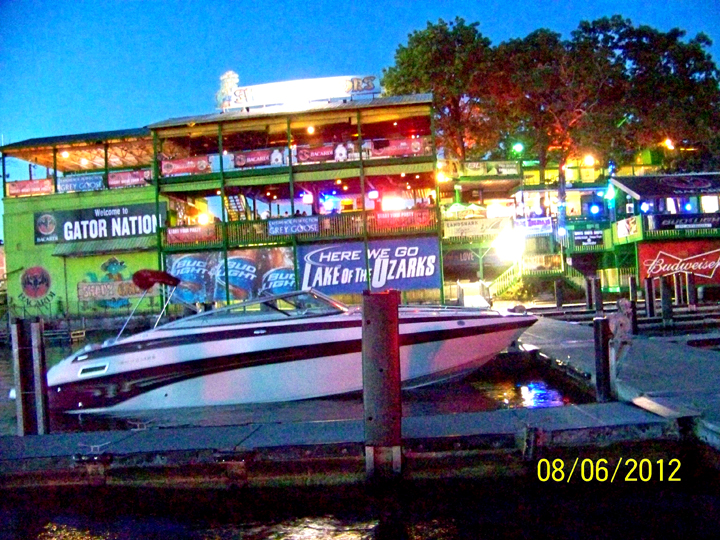 It was another great summer of traveling.
This year I got to be home two weeks a month, and my summer was done by mid-August, so I also got to enjoy some great days with family in the Colorado high country.
But for two weeks a month, I was at Shady Gator's (pictured above).
Shady's has turned into the premier club at Lake Of the Ozarks, so I'm happy to be there every year.
And even though I was often playing in 100 degree heat and lots of humidity in this record-breaking hot summer, it was still a blast.
Thanks to everyone who came to my shows this summer and showed such enthusiasm and kindness.
I can't wait to do it again next year!

Click on thumbnails to see the larger version of each picture, or on thumbnails to see video!
---
Shady Gator's


The view from the deck where I perform, looking across the harbor to H Toad's
One of MANY Bachelorette Parties that came in to my show this summer

Lots of cool Bald Guys too. This is a surrealistic view of one group from somebody with a slow shutter speed...

Dancing girls from Decatur, Illinois

An after-dark show with some blurry dancers (there's that shutter speed again...)

The Katy Trail is a bicycle trail that goes from Kansas City to St. Louis, all across Missouri.
I took a lot of bike rides on it and have done a lot of it. This shot is of my brother Don and I on the trail

VIDEO!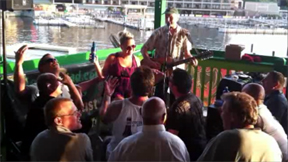 This is Sara from Decatur and all her admiring male fans singing to her before she gets married.
(Thanks to Cathy C from Decatur, Illinois for the video)
Click on picture to watch
---
My Granddaughter Natalie Does the Unicorn!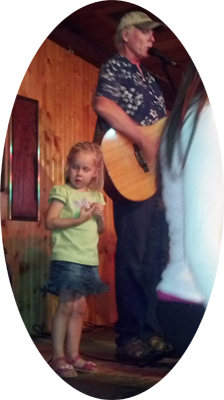 While they were growing up, my 3 kids would often come up on stage with me to do the Unicorn dance.
This summer, at Geneva Glen Camp in Indian Hills, Colorado, where I've been performing as "The Banjo Man"
for over 20 years, my 4 year old granddaughter Natalie came up on stage and did the song with me.
Needless to say, this was quite a moment in my career - will the circle be unbroken... :)
Click on the picture to watch the video.
---
El Rancho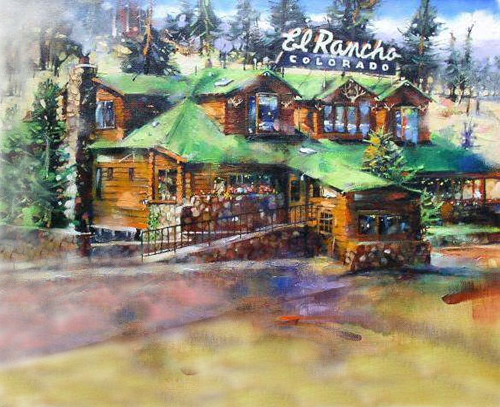 While I was home this summer, I did several shows in my hometown of Evergreen, Colorado at the historic El Rancho restaurant.
It's always nice to perform for friends and family.
Swedish rap music, and women imitating my lame moves!

with Dale B Peart, a cool Bald Guy who actually sang the Bald Guys song at his high school reunion!
---
This summer I was honored to sing a song I wrote for Dawg Nation,
a very worthy organization that raises money for injured and ill hockey players and refs in the Denver area.
Click on the picture above to check out more pics from the event, to listen to the song, and to find out more about the Dawgs!
---
Waukegan, Illinois
In June I did a private show in Waukegan, Illinois, which was the boyhood home of my favorite author, Ray Bradbury.
He set his novel "Dandelion Wine" in Greentown, Illinois, which represented Waukegan.
As coincidence would have it, Mr. Bradbury died shortly before I drove up to Waukegan from Missouri to do the show,
so I spent the next day sightseeing at some of the Bradbury sites.
Rest in Peace, Ray, and thanks for all the great stories.


This picture is of "The Ravine,"
a spooky place at night and a place that was featured prominently in many of Bradbury's stories, especially "Dandelion Wine."


Early in my career, in the late 70's, I played in Waukegan several times at The Starlight Lounge.
This is the Starlight today. I walked in and I couldn't believe they didn't remember me!! Sheesh!
---
Drivin' Around Missouri
A bridge crossing the Mississippi near Hannibal, Missouri, the home town of Mark Twain, and a statue of Huck Finn and Tom Sawyer.

Cool Missouri rock formation

My GPS said I was going home to Denver, Colorado but it turned out to be in Missouri.
(A cop stopped and asked me why I was taking this picture. It's a very small town.)
---
Family Stuff!

People seem to like seeing pictures of my family, especially the growing grandkids, so what the heck, it's my website.
And since I was home this summer for two weeks a month, I got to spend some time with the little oogies!




My son Paul has been in Virginia the past two years getting his Master's Degree.
On Memorial Day Weekend, he and his wife and 2 year old son moved back to the Denver area.
What did that mean to my wife and I? It means that all 4 of our grandchildren now live in Colorado! Woo hoo!!
The pictures above were taken at a storage facility where we all helped them unload some of their stuff
In June, for the first time my wife got to celebrate her birthday with all the grandkids!
For reasons unknown, there was a hula hoop contest in our back yard. That big guy with the fierce expression on his face is my son Paul
And those shoes are two pairs of mine next to 2 year old Bodie's

Little league baseball with my 6 year old grandson Aaron





On a bike ride in Denver with Paul and Bodie






Yes, the Colorado Rockies baseball team was AWFUL this year. But we still had fun going to a game

And to close the summer of 2012, here's a picture I got from my good friend and fellow White Sox fan Terrell Colson