Home / About / Schedule / Corporate / Downloads / CD's / Pictures / Reviews / Fiction / Press Kit / Contact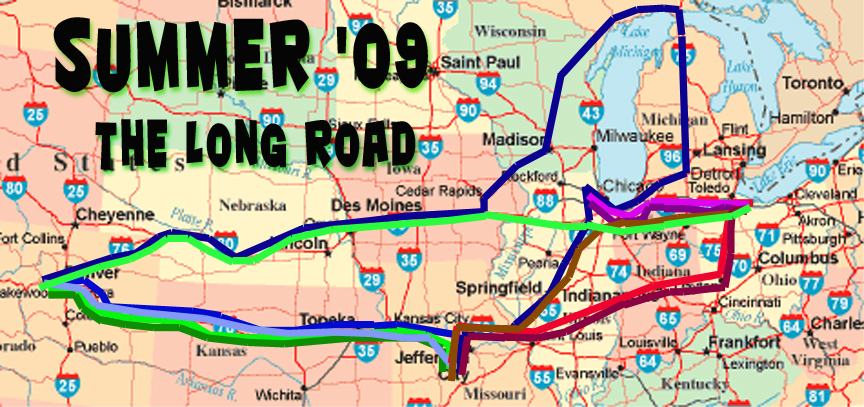 "WOW, THAT WAS QUITE A SUMMER!"
Each different color line on the map above represents a different trip.
I drove over 7000 miles and did 70 shows from the end of May through the end of August, doing one stretch of 18 straight days.
Twice, I finished my show at 9 PM in the Ozarks and drove 700 miles through the night to get to Put-In-Bay, Ohio in time for a 2 PM show.
But it's all good when you're a bald rock star...
There are a lot of pictures below because, as I said, it was quite a summer.
Thanks to all the many, many people who showed me such kindness on the road, and came to my shows in such numbers.
And yes, I'm going to do it all again next summer, with an extra week in Put-In-Bay for good measure.
PHEW!!

---
Shady Gator's - Lake Ozark, Missouri
This place has truly become the place to be in the Ozarks. If there was a recession this summer, you wouldn't have known it by going to Shady's.
I was there two weeks a month and look forward to doing the same thing next summer.
Afternoons on the deck

Motown Dancers

Bald Guys after dark. You can pick us out in the middle of the crowd if you look hard enough. Next year they're building me a stage...

My wife Sally came to Missouri for a visit. This picture was taken outside the condo I stayed at, owned by my new good friend, Jim Pierce.
Every woman's dream - a shopping place of her very own.

At the Baymont Inn - Lake Ozark. My wife is a triplet, so she was VERY excited to meet triplet babies in the pool.

Sally is also a ballroom dancer, so finding this place in a town along the backroads of Missouri was really cool.

Kansas City barbeque!
With my 83 year old father on the Katy Trail, which goes from Kansas City to St. Louis. We did 21 miles, and most of the time I had to tell him to slow down...

I ate a lot of midwest sweet corn, because you just can't get that stuff anywhere else but the midwest!
On a jet ski on Lake Of the Ozarks.

This was the sunrise over I-70 in Indiana, the first time I drove all night to get to Put-In-Bay.
---
.Put-In-Bay, Ohio!
Last summer, we dragged Rusty Lewis out of musical retirement and did some shows at the Legendary Beer Barrel Saloon,
home of the World's Longest Bar.
We both liked it so much, we did it again this summer for 4 full weeks.
Well, this summer was even better so...yes...we're going to do it again next summer. For FIVE weeks. YIKES! Can we handle all that excitement?? Of course. We're bald guys! And we're getting balder every year...

Getting ready to board the Miller Ferry to Put-In-Bay after the first all-night drive. My eyes were barely open...
From the stage during the Faust & Lewis Show at the Beer Barrel. This is why we drive such a long way to get there...

Four of our favorite PIB Babes doing the Unicorn Song.

Faust & Lewis return...again!
Our friends Frank and Mary behind their famous Wall Of Beer, and then out to Axel & Harry's, where Frank buys us lobster dinner every year. Life is good!!
Sitting in with the great Kenny Kidd, the only piano player I've ever seen who can move his fingers on the keyboard as fast as I can on the banjo.
www.kennythekidd.com

A rather frightening occurrence during Christmas In July at the Bay. That's our friend Cary, the woman who made Sven a new pair of horns. What looked liked an innocent little elf at Tipper's Restaurant turned out to be something entirely different...
My friends Anne and Bill Wilbur took me out on their boat to Rattlesnake Island, a very exclusive place where you have to know somebody to even land.

Latitude Coffee Shop, where I did all my internet until they put hi-speed in at the hotel.

My brother Don came for a visit on the last weekend in the Bay. This is he and I at the Goat Tavern, along with Rusty and our friend Jerry Harris.
On my first day off after 18 straight shows, Don and I went to the Cedar Point amusement park in Sandusky.
The first picture is the Millennium roller coaster, a mere 350 feet high.
The 2nd picture is the Top Fuel Dragster roller coaster, which is 425 feet high and goes 125 MPH.
All I can say is that whoever designed these rides must be a sadist.
The last picture is taken in the safety of the gift shop.

Rusty and I with Pat Dailey, the Legend Of Lake Erie, at his house on Put-In-Bay.
www.patdailey.com

Sunset on Put-In-Bay.

Whenever I left the Bay, I always headed to The Waffle House for breakfast. I love waffles!!
---
.Carp Lake, Michigan - Clyde's Place
It was nice heading up to the bar that inspired the song "Jerry Williams Said," especially in the summertime.
I'm usually only there in November, the weekend before my Rob Roy show. I love going up to the far north, and the land that appeals to my Scandinavian heritage...
On the way up north, I stopped to visit my cousin Rich, who is a Lutheran pastor in Madison, Wisconsin. You betcha!

In the Upper Peninsula, home of Da Yoopers! And yep, they actually have Brat Fry's.
Give me a brat and a pasty (no not the little things strippers wear, but a French-Canadian meat pie), and I'm a happy guy.

The cool little cabin they put me in when I play Carp Lake.
A full moon over Carp Lake after Saturday night's show, and early Sunday morning outside my cabin. Pretty nice, huh?
While driving south from Carp Lake, I stopped at Bronner's World's Largest Christmas Store in Frankenmuth, Michigan. Does this make me a geek?
Oh well, they have a replica of the chapel in Austria where they wrote the song "Silent Night," one of the greatest songs ever.
I also visited with my niece and nephew near Detroit. I jumped on their trampoline. Yes, I am a geek.

Visiting my Dad near Chicago and going for yet another bike ride.
---
4th Of July at Geneva Glen Camp - Indian Hills, Colorado
I've been playing Geneva Glen in the summers for over 20 years. These days, because of my busy touring schedule, I can only play there once each summer. But it's always on or around the 4th of July, so it's a memorable show. I get to be "The Banjo Man" for a night.
---
A Blast From the Past

Now here's an oddity. Back in the early 1980's, I played often at a club called "Scandal's" in Big Bear Lake, California. The owner Kim, (pictured above next to me), found me on the internet and called to say hello.
She e-mailed the above picture from a Chili Cookoff they had one weekend in Big Bear, where I performed and appeared as a member of "The Bongo Tribe."

---
My Brother Don, Thespian
In July, I traveled up to the Quad Cities to see my brother in the play "All Shook Up." Check out his new, short haircut. When I first saw him on stage I didn't recognize him.
After the play, we took yet ANOTHER bike ride, this time along the Mississippi River near Davenport, Iowa.
The last picture is one Don took while in Ohio coming up to Put-In-Bay for a visit. Yikes!!

---
Grandkids!!
In late June my wife and I headed down to Arizona to visit my son Stephen and his wife, along with our two grandkids.
It was 110 degrees down there but hey...it's a dry heat. Fortunately, we got to bask in the coolness of the little ones.
---
HOME!!
Evergreen, Colorado - The End Of the Rainbow...
---