Home / About / Schedule / Corporate / Downloads / CD's / Pictures / Reviews / Fiction / Press Kit / Contact


Traveling Boy 2007

Lots more miles and smiles in these pictures!
Wayne

(Click on pictures to see the full-size version)
---

This is one of the coolest things I ever got in the mail. It's from Camp Paha, a summer day-camp for kids that I've played at the past few summers.
---
Green Bay, Wisconsin - January 20th, 2007
I did a private show for Wisconsin Public Service. It was at the Stadium View, a block from Lambeau Field. My wife's family from Wisconsin, Packer fans all, were thrilled. My Dad, a huge Bear fan from Chicago said I was going to the Belly Of the Beast. I just have one question - did I really book a show in Green Bay in January??

Lambeau Field. Not a happy place for a Bear Fan.

Brett Favre's Steak House. I think I saw green and gold in my sleep that night.

The Stadium View, where the show was.

There were lots of Bald Guys and Bald Guy Wannabe's in Wisconsin.

You can see from this picture that there were REALLY a lot of Bald Guys. This might have been a record for me - I count 16 in all!

After the show I went to Lambeau and had a Leinenkugel beer at the bar. It's a beautiful stadium, but there are plaques like this all over the walls, commemorating memorable moments in Packer history - most them, like this one, have to do with games where they beat the Bears.

While in Wisconsin, I stopped to re-visit Alpine Valley Ski Area, where I learned to ski in high school. After living in Colorado for twenty years, it's hard to believe I used to think this was a huge mountain.
---
Beaver Run - Breckenridge, Colorado - Spring Break in March
Speaking of mountains, I went back to Beaver Run for one show last winter, outside on the deck on a warm spring Sunday afternoon.


Rock Star Kid

Check out a couple of the coolest Bald Guys I've seen, and from Jamaica no less!

These guys deserve a second look.
---
Louisiana "Hunting Camp" - March 31st, 2007

I've played several times before in Tallulah, Louisiana, but this one was across the river near Vicksburg, Mississippi at a "Hunting Camp." I only have a few pictures of this, but you can tell it was true Redneck Heaven. There were a bunch of rustic buildings on the edge of a swamp, lots of beer and barbeque, and a bunch of happy Louisiana Nascar fans watching my show from the beds of pickup trucks. This was truly one of the more unique shows I've done. Thanks to my friend Curt for setting it all up!

Now this is what you call a rustic house.

Sunset in the bayou.

My stage.
---
Back To Florida - February and April, 2007

I did eight weeks this year at Capt. Brien's on Marco Island. Lots of great times, good food, and miles on my car.

Captain Brien's.

They have really big beers there.

Good food too.

On stage.

On stage with Babes.

On stage with guys - hey, it's my JOB.

Thoughtful Bald Guys.


On stage with more Babes - that's more like it!

Happy people in the audience.

My friends Ken and Jamee, who came all the way down to Marco from Chicago to see the show.

Two of the comedians I worked with at Off the Hook Comedy Club, at Captain Brien's. The lady on my left is Michelle Balan, from "Last Comic Standing."

My lodgings at "The Comedy Mansion," on The Isles Of Capri.

The view out of my back door.

I went for a bike ride and found these actual, real, gators. I thought they were plastic until one of them jumped up and dove into the water.

Waiting down at the docks for a boat ride. I have my sweatshirt on because it was FREEZING. It must have been down to 63 degrees, and in February yet...

I met my nephew, Brian Wente, for breakfast at Perkins in Naples. He was down in Florida with the Glen Miller Orchestra. He's an excellent sax player.

On my way home, I met my wife in Wisconsin, where we celebrated her Dad's birthday. This was the view out of the window on my first day there. Quite a contrast from Florida.
---
Shady Gator's - Lake Ozark, Missouri - Summer, 2007
This was my first full summer at the Ozarks, doing two weeks a month at Shady Gator's. It's a great place and is turning out to be the happening club in the whole area. I look forward to another summer there next year.

After one of the few calm nights at Shady Gator's, with some good friends from Illinois.

The view from the house I stay at down there.

I play outside at Shady's, and sometimes it rains. Actually, sometimes in the Ozarks it's like Hurricane Katrina. On this particular evening, I had to stop the show when the yellow shades behind me broke loose and hit my speaker, knocking it onto my head in the middle of a song.

The usual stage I play on when it's not raining. This picture was taken when it was raining...

Now for the important part- For the 2nd year in a row, I got to be a judge for the Midwest Finals of the Hawaiian Tropic Bikini Contest at Shady Gator's. Nice work when you can find it...

The view from the judge's tables.

The winners.

It's a pretty popular event.
---
Geneva Glen Camp - Indian Hills, Colorado

I've been playing at Geneva Glen every summer for almost twenty years. They call me The Banjo Man, and the way they sing along on all my songs, and the enthusiasm they show, make these some of my favorite shows of the year.

Fourth Of July show. I was the surprise guest, and they game me a real "Neil Diamond Vest" to wear.

It was a beautiful summer night in the Colorado Rockies.

Like I said...LOTS of enthusiasm.

A cool shot from behind the stage.

During the finale.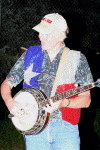 If I'm going to be the Banjo Man, I guess I'd better play the banjo...

I also played this summer at the Geneva Glen Family Reunion, where people from around the country came to Indian Hills to celebrate Geneva Glen's 85th year. Congratulations to Ken and Nancy Atkinson, who have run the place for over twenty years!
For more info, check them out at www.genevaglen.com
---
Holland
I was going through some of my old pictures, and I found these from when I played in Holland one time. A Dutch photographer took these for me and I'm just now getting them up on the website.

Wearing the wooden shoes that are now by my fireplace at home. HINT: Don't try to walk with them in snow.

With my daughter Crystal, who was twelve then.

With my wife and daughter.
---
Family Stuff
I know that when you go to somebody's house, the most tedious thing is when they start showing you pictures of their family.
But hey, it's my website.


My wife and I spent New Years Day in Breckenridge with our friends the Langs, from Scotland. Check out the authentic kilt!

A Scandinavian party in Evergreen. I ate lutefisk. I'm still in therapy.

With my grandson on the golf course by my house after our monster snowstorm.


My daughter Crystal turned 21 in February. Yikes!

My wife is an accomplished Ballroom Dancer. This was taken at the Colorado Star Ball in June. She took 2nd place, and missed 1st place by one point!

With my daughter and some college friends, my son Paul and his wife, and my wife on one of the nights I played at the Bucksnort.

My son Paul and his wife after Faith Christian High School, the team he helps coach, won the Colorado State Championship.

On a 35 mile bike ride from Littleton, Colorado to Downtown Denver and back, with my 81 year old Dad, who kicked my butt.

On another bike ride in Missouri this summer with my brother Don on the Katy Trail, we stopped at a little town and the local bar had a genuine electric chair. Fortunately it wasn't plugged in.

My brother Don played the Kevin Bacon part in the play "A Few Good Men" in Iowa in July.

My daughter Crystal went on a mission trip to Cambodia for six weeks this summer. This is right after she got off the airplane at Denver International Airport.


With my grandson, the coolest little guy in the world, down in Arizona.

My son Stephen, the architect, in his office with that cool little guy.
---