Home / About / Schedule / Corporate / Downloads / CD's / Pictures / Reviews / Fiction / Press Kit / Contact

Florida Trip - January, 2013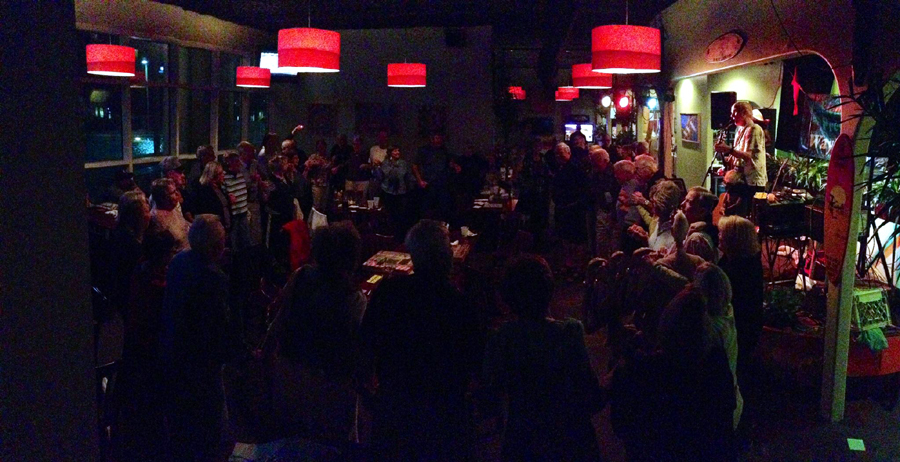 I went to Florida in January to see what things are like down there during Snowbird Season.
Well, things are great!
The picture above was taken at the Cabana Cafe in Miramar Beach on my last night in town.
Miramar Beach is in the Florida Panhandle on the Gulf Coast, and it's become Breckenridge South, because of so many Breck people who have homes there now.
This was my third time down there, and the first during season. I plan to do it again next year, for a bit longer I hope.
Click on thumbnails to see the larger version of each picture.
More pics from the Cabana Cafe. "We're On Vacation!!"
A dinner party in a hi-rise condo along the beach, with Bill and Roe Schardt, the former owners of The Briar Rose in Breckenridge.
Bill can still do the Unicorn Dance at 2000 RPM's.

Playing golf in January. And yes, I sucked...


I ate a lot of Florida seafood. This time it was oysters! They're not bad if you have enough beer first.

This was the hangout every day at sunset for Breckenridge ex-pats.
I also played in Dunedin at Flanagan's, a cool Irish pub owned by Noel Cooney, the guy in the picture above.
He's a genuine Irishman and we had breakfast the next morning on my way out of town.
The flowers are from the backyard of my friend Joel, who arranged for me to play at Bob's Trailer Park In St. Petersburg.
Okay, it's not really Bob's Trailer Park, it's Robert's RV Resort, and it's really nice.
But I made up a song called "Bob's Trailer Park" on the spot during the show. It might show up on my next album.

I stopped at this place near Amarillo, Texas on my way home. My grandkids think 'tooting' is passing gas.
I'm sure the junk food I bought here caused that to happen...