Home / About / Schedule / Corporate / Downloads / CD's / Pictures / Reviews / Fiction / Press Kit / Contact

Christmas, 2008

At the airport in New Orleans



My wife and I with our friends from Southern Seaplane in New Orleans, at Tony Angelo's, one of the finest restaurants I've ever been to.

At the show in New Orleans - with some Louisiana babes.

And of course, with cool Bald Guys, including the Parish District Attorney.



On the road to a plantation right out of "Gone With the Wind"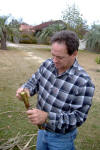 My friend, Lyle, cutting us some real sugar cane on a Creole plantation.
Christmas at the Faust House...

With my brother Don at the golf course by my house.

My son Stephen at a skating pond in the woods near my house. (Do you get the idea that we're Colorado Avalanche fans??)

Introducing my granddaughter Natalie, and the bluest eyes in the whole world!!

My grandson, Aaron, the coolest little guy ever.

My wife and granddaughter at the ice rink.

My wife and I in our Official Grandparent Flannel Shirts.

My Dad and my grandson.

One of many dinners with the family, and one of the reasons my pants don't fit anymore...

Christmas Eve at the Faust House, and all of us wearing the red pajama pants my wife made us this year. Pretty cool, huh?