New review from jazzmanmusic.com A review of Steve's CD in French! Oui Oui!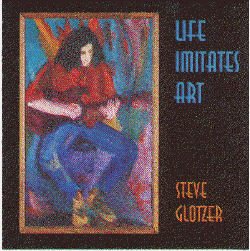 'Life Imitates Art' by Steve Glotzer
"Innovative and unique guitar expressions highlight this impressive release from guitarist Steve Glotzer. Drawing from years of practical experience, Steve offers the listener a world tour cf guitar styles, from sambas to jazz, blues to classical, bebop to folk and almost everything in between. Whether simultaneously playing rhythm, bass and lead lines while reinventing the classic Mission Impossible theme or taking the listener back in time to a smoke-filled beatnik club to push the limits of art expression, Steve clearly shows us that, indeed, Life Imitates Art. With that basic revelation, it soon becomes obvious that there are no limits to what it can teach us. Recommended to lovers of guitar and soft jazz."

Rev. Robert Walmsley
Boulder Daily Camera Article - August 6, 2006 (Click on link)
Boulder Daily Camera Article - July 25th, 2003 (Click on link)
Boulder Daily Camera Article - (Click on link)
"Vocalist/guitarist Steve Glotzer is one of a large contingent of musicians who have been on the scene for years, but for one reason or another, never had the opportunity to record as a leader. For the last 20 years, Glotzer has been in clubs, at festivals, and other gigs with the likes of jazz men Larry Coryell and David Grisman, blues guitarist Son Seals, and contemporary folk performer David Wilcox. Some of each of these has rubbed off on Glotzer as he indulges in all of them on this his CD debut (Life Imitates Art). The play list is eclectic both in styles and instrumentation. "Tucson," which he sings, recalls the folk songs of the 1960s, as well as Mose Allison. Glotzer accompanies his vocals on acoustic guitar, with Teele's percussion laying down a steady, quick-time
beat. One of the more engaging cuts is a blues ballad, "A Taste of Blue," with Glotzer's electric guitar nicely harmonizing with Rick Weingarten's vibes before a musing trumpet by Brad Upton joins in. A Latin beat underlies Glotzer's recitation of Tom Waits' "Diamonds on My Windshield," a classic tune
about a traveling man who doesn't seem to stay very long in one place. A nice touch is Upton's muted playing in and around the melody line. Another good track is an additional Latin-derived tune, "Beso Azul," with close cooperation between guitarist and percussionist, this time Don Newby. "Body and Soul" is dispensed within barely more than two minutes. Apparently Glotzer felt for his first CD he needed one standard to establish credentials. And establish them he does, many times over, with an album of multi-faceted ear catching, melodic originals. Even though only 40 minutes of the CD space is used, it's still recommended."
AMG EXPERT REVIEW: Dave Nathan

"Glotzer is a guitarist who alternates between the acoustic and electric version while executing mostly original material with a few standards thrown in. His basic group includes Engleman on bass and Teele on percussion, but several others join in on many of the tracks. Glotzer is a delightful guitarist with plenty of drive and a groovey way of presenting his tunes. He is the primary soloist, and the other musician's provide the color and background for him. The program consists of several swinging musical styles, with the blues being a dominant force. Glotzer also steps to the Latin side and inserts some light folk music in filling the card, but the session has an overall subtle country flavor.
Glotzer divirsifies the sound on three songs by adding vibist Weingarten. The combination of guitar and vibes gives the music an embellished sound and most of its Jazz appeal. Trumpeter Upton joins them on 'A Taste Of Blue' the set"s best Jazz effort. Glotzer teams with slide guitarist Van Meter on one selection with interesting results arising from the opposing tonality of the two instruments. On one piece, Glotzer recites lyrics in a half-singing way, and he breaks out in full singing on another song with country ties. Glotzer is an entertaining musician who delves into many color pots in painting his musical
portrait. While the Jazz element is present, it is not his prime motivator. He is very much at home with his eclectic approach."

Frank Rubolino, Cadence, The Review of Jazz & Blues Creative Music


"Life Imitates Art is a quiet delight. Steve Glotzer takes a folksy approach to jazz, adding Latin sounds and blues to create a personal and unique sound. Most of the ten songs are original, with three covers, and they all display his expertise on the guitar.
I particularly liked 'Tucson,' one of the two songs with vocals on the album. I've been listening to a lot of blues
lately, and 'Tucson' is a blues song with all the traditional elements -- yet done in a meditative, folk style that's an fascinating and effective contrast to typical blues styles (although I'd love to hear it done in that style, too!).
I also immediately loved the Latin-flavored "Los Cabos Serenade." Glotzer blends its elements into a piece that's strongly Latin without losing any of its jazz tone. 'A Taste of Blue' is classic quiet jazz, with a trumpet effectively used to set off the other instruments rather than taking center stage as they often do -- unusual and very nicely done.
The liner notes are sparse, and I would have enjoyed reading more about the individual pieces. They do include the lyrics to the two songs that have lyrics, which is nice; both 'Tucson' and Glotzer's cover of Tom Waits' 'Diamonds on My Windshield.'
People who like quiet and skillful jazz will like this album, I think, as would folk music fans who are exploring jazz. It's a pleasure to hear."

Amanda Fisher
Rambles: 25 August 2001
from http://www.rambles.net/glotzer_lifeart.html

"If the words in this title hold true, composer/guitarist Glotzer's life is full of breezy, meandering journeys down an easy-strung road. With simple rhythmic structures and accompaniment by bass, trunmpet, vibes, percussion, and slide guitar, Glotzer's musicianship is well displayed on this debut release. A cover of the theme song from Mission Impossible opens the CD with a bluesy, bebop kind of groove. Another cover, of the Tom Waits song "Diamonds On My Windshield," is a surprising treat, as is the deftly arranged "Tucson," the only other vocal track on the disc. Other pieces detail soaring guitar excursions and sophisticated samba rhythms, along with simple melodies and jazzy interludes. For art imitating a good life, and life looking to art for its ultimate
inspiration, Glotzer lays down some solid grooves by which to guide one's train. Easy listening guitar jaunts with an intelligent twist!"

MTB, Napra Review
"Of all the CDs that have been presented to me over the years, by local and national cats, "Life Imitates Art" is by far at the top of the heap. The ten tunes exhibit strong percussive guitar licks, with a warm tone, yet with plenty of tension. Sounds like a fine wine review? Yeah, I'll compare it to that. Steve Glotzer has managed to achieve an
extraordinary blend in the musicians that he has surrounded himself with. If you don't find this CD in your record store, ask for it. You will find yourself listening to it over and over again.:
Michelle Mobley, Sugardaddy Jazz Newsletter
"Having over 25 years in the music biz, Stevie "Guitar" Glotzer is fully qualified to produce a must have album for music afficienados of surreal bebop, breezy sambas, conga driven wanderlust and sophisticated urban
blues. His mission is possible."
'Postman' Roger Gilles, KGNU
"...wonderful music...excellent guitar, sound feelings...a real high class quality CD... "

Gerd Strassen Radio EMS-Vechte-Welle, Germany
"...amazing CD..."
Giovanni Pietro Scazzoloa, Radio Gold, Italy