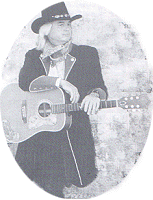 Picklehead Music Proudly Presents: Yancey de Veer

"If your heroes have always been cowboys, then you'll love Yancey de Veer." So sayeth Charmaine Englesman-Robins of the Miami Herald, and we have to agree. A talented vocalist and top-notch recording artist, Yancey's newest project, "Ghosts Of The Golden West," is a tribute to Roy Rogers, Gene Autry, Eddie Dean and others. It's the finest collection of classic cowboy songs we know of. Even if you've never bought a CD like this before, Yancey's great vocals plus the terrific talent assembled on this recording will make you a believer. We also offer his CD "Sawdust Man" which features some fine originals songs as well.
Most of Yancey's music in now available for MP3 Download
Click here to go to Yancey's MP3 Download Page

JUST RELEASED!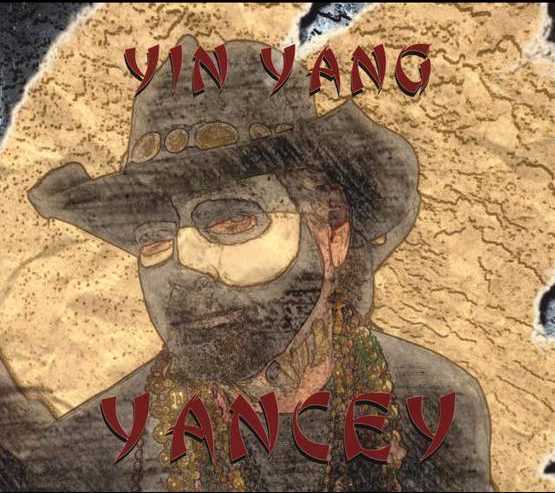 Yin Yang Yancey (CD - $14.95)
Cool title for some of Yancey's best stuff yet, including some re-recordings of earlier great songs!
All the songs on this CD are now available for Digital Download
Click here to go to Yancey's Digital Download Page
titles: Adios Gentilly* Boutte Blon * Buckarodel * Buffalo Nickel * Cheyenne State * Cowboy Ride * Cowpaint * Dancin' In the Wind * Deadwood Hole * Dirt Red Road *
East River Queen * Gettin' Old Sucks * Lyin' Mayans * Mamona Mama * Nola Ragtime * Sawdustman *
That Horse Will Buck * The Grave * Wolf In the Quarter
Song Samples (MP3):
ALL SONG SAMPLES FOR THIS ALBUM APPEAR ON YANCEY'S DIGITAL DOWNLOAD PAGE
Click Here


Order A CD!
---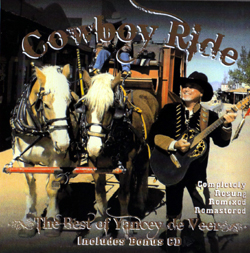 Cowboy Ride - The Best of Yancey de Veer (DOUBLE CD $19.95) --cowboy songs and folk music
Yancey went into the studio and made all new recordings of his best songs. Great stuff!

titles: DISC ONE:
Montana Moon * Dancin' In the Wind * Cowboy At Heart * The Spell * Coyote * Navajo Rug * Dirt Red Road *
Buckarodel * Aces & Eights * Cowboy Ride * Sawdust Man * Cheyenne Stage * Always A Party *
Horse Will Buck * Farewell Friend

titles: DISC TWO:
Cowboy Paintbrush * Boutte Blon * Anasazi People * Cowboy Lament * Buffalo Nickel * Eyes That Sing *
Feel Her Pain * Cowboy's Sweetheart * Winter Ground * Golden Rocket * Love Is Everywhere *
Acadian Waltz * Mamona Mama * What's Wrong * Natchez Trace
Song Samples (MP3):

Buckarodel * Coyote * Montana Moon
---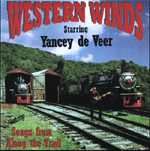 Yancey de Veer - Western Winds (CD $14.95) --cowboy songs and folk music
titles: Riding Down the Canyon * Black Hills Train * Smoke That Cigarette * Boutte Bion * Tumbling Tumbleweeds * Ansazi People *
Battle Of New Orleans * Winter Ground * Grandpa Song * Hickory Wind * The Hole In My Sombrero * Cool Water *
Strawberry Roan * Danny Boy * American Hero * Mule Skinner Blues * Cattle Call * Hawaiian Cowboy * Montana *
Love Is Everywhere * Home On the Range
Song Samples (MP3):

Smoke That Cigarette * The Hole In My Sombrero * Home On the Range
---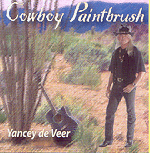 Yancey de Veer - Cowboy Paintbrush (CD $14.95) --cowboy music
titles: Cowboy Paintbrush * Ragtime Cowboy Joe * Big Iron * Saddle Tramp * Evangelina * Wayward Wind * Rawhide *
Dancehall Girls * Mariah * El Paso * Sawdust Man (revisited) * De Colores * North To Alaska * Shenandoah * Hobo's Lullabye
Song Samples (MP3):

Cowboy Paintbrush * Saddle Tramp * Wayward Wind
---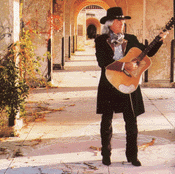 Ghosts Of The Golden West (CD $14.95) (Cassette $10.95) --cowboy music
titles: Ghost Riders In The Sky * South of the Border * Chime Bell Yodel * Whispering Pines * Buffalo Gal Medley * Don't Fence Me In * Tennessee Stud * The Blizzard * Everlasting Hills of Okalahoma * Old Paint * Long Tall Texan * Ages & Ages Ago * Git Along Lil Doggie * Red River Valley * Wabash Cannonball * Waltz Across Texas * Cheyenne Stage * Mockingbird Hill * Streets Of Laredo * Blue Shadows on the Trail * I've Been Everywhere * The Work's All Done This Fall * Happy Trails
All the songs on this CD are now available for Digital Download
Click here to go to Yancey's Digital Download Page
Song Samples (MP3):

Tennessee Stud * Wabash Cannonball