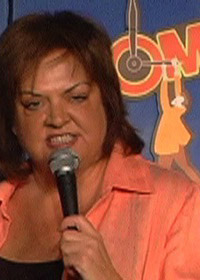 Picklehead Music Presents: Patty Ross
Some of us Pickleheads saw Patty's show at comedy club in Florida and were charmed. She's played roles on television for the past twenty years or so, appearing on Rosanne, My Wife and Kids, and many others. She's been on HBO, Lifetime, Comedy Central, and all the major networks. She's a regular at such prestigious places as the Comedy Store, the Laugh Factory, and the Improv in Los Angeles. She was the featured female comic at the Gala of the 1997 Just For Laughs Festival in Montreal.
Originally from Boston, she's funny, she's brash, and we're honored to have her here at Picklehead!

How Did This Happen To Me (CD - $12.95)--Live Stand-Up Comedy and Bonus Radio Interviews
TITLES:
(LIVE STAND-UP COMEDY)
What's In A Name? * Pass the Doritos * Second Hand * White Noise * Walkie Talkie *
Me and My Gay Husband * 56 Stitches * Closing the Deal * Pick Me
(BONUS RADIO INTERVIEWS)
She Works Hard For the Money * Curb Your Career * Hypno-Wife
Audio Samples:

What's In A Name Me and My Gay Husband She Works Hard For the Money

Order A CD!

---
You can also DOWNLOAD this CD!

You can DOWNLOAD Patty Ross'entire album with just one click for just $9.99!
Click on the CD picture below, and you'll be taken to Patty's MP3 Download shopping cart, where you can order the album in simple MP3 format. When you check out, an e-mail will immediately be sent to you,
with a link for downloading.

DOWNLOAD THIS ALBUM!

This is a great way to get some excellent stand-up comedy for your I-Pod or computer.
SATISFACTION GUARANTEED!