Check out the Paradells' new YouTube video for Independent Cheese Merchants!

Parody Of "Independent Women's Party"

Click here!
DOWNLOAD Caz and the Paradells!
All the songs listed below are now available for digital download at JUST 89¢ EACH (no limit).
You can also order the entire album with just one click at a special reduced rate.
Clicking 'BUY' on any of the song links will take you to Caz's MP3 shopping cart, where songs are listed in album order. You can order as many songs as you want.
When you check out, an e-mail will immediately be sent to you for each song you purchased, with a link for downloading each song.

This is a great way to get just the songs you want at a great price.
SATISFACTION GUARANTEED!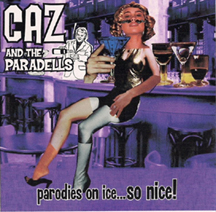 Songs From the CD "Parodies On Ice...So Nice!"
Download the entire album (10 songs) for just $6.99!

SONGS:
Independent Cheese Merchants Party:


Bald Headed Woman:


Hairless Sister:


Bed Wetter:


Butterball:


Franks and Beans:


Gotta My Period:


Short and Stout:


Blonder: