A note from Ian Whitcomb:

ANNOUNCING MY FIRST DVD: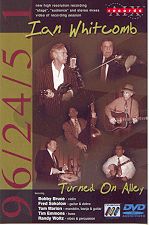 IAN WHITCOMB
&
HIS BUNGALOW BOYS
In a rollicking collection of songs from the 20th Century,
before the Rock set in.
(But including "You Turn Me On")
CLICK HERE TO ORDER A COPY NOW

I am happy to announce that my first DVD is now available. It's called,
"Turned On Alley" and is released by AIX Records. The company's other releases
include ones featuring Willie Nelson, Jennifer Warnes, Paul Williams and a
multitude of orchestras and jazz ensembles. My contribution is AIX's first
venture into Tin Pan Alley.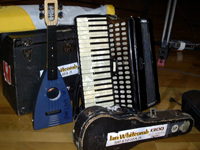 The disc is an audiovisual treat, crammed to the edge with goodies. I
can't stop playing it. The main program is a recording session of me and The
Bungalow Boys held at one of Los Angeles finest concert venues, Zipper Hall at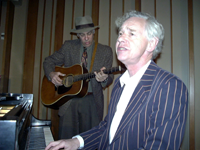 the Colburn School of Performing Arts, opposite Disney Hall.
The sound is crystal clear perfection. I have never been so faithfully
recorded. And we played for real -- no overdubbing, no equalization compression,
or artificial reverberation. No faking! Of course, the Bungalow Boys are so
professional that there's not a misplaced note or clam. Once or twice I garble
the words -- but that's me. It really is a record of a great band led by a
quirky personality.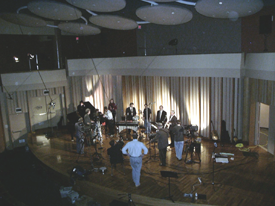 AIX advertise this as "The ultimate listening experience" with "true
high-resolution source recording, using multi channel state-of-the-art 96 kHz/24 bit analog to digital conversion". Sounds very impressive and it is. The visuals, shot with three cameras, are stunning too. The high definition picture is so accurate that you can see every wrinkle on my face -- many of these wrinkles are ones I'd not seen before. Still, I suppose these give me an age credibility with the old songs I sing.
Apart from the recording session/concert you also get my separate
commentary on every song, biographies of all the musicians, a very long monologue by me narrating my lifelong love of songs, a picture gallery of me from childhood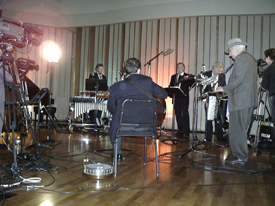 to my present age, plus a vintage video section which includes TV clips of me singing "You Turn Me On" and other numbers. There's also a little section where Regina joins me to sing, "Everywhere You Go". In fact, there's a wealth of me here. There's even a secret video that you can only access by going to the AIX site and learning the special code. Their website is at www.aixrecords.com.
The concert/recording session lasts just under an hour. Then you
can watch the whole show again but with my commentary. You can program the disc to play all the way through or you can choose individual songs. If you like reading you can try my brief biography which goes on and on.
CLICK HERE TO ORDER A COPY NOW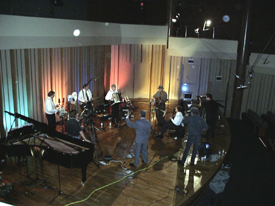 Here is the song order on the main program:
1. Medley: Hello/ When You're Smiling Real Audio sample
2. I Still Get A Thrill (Thinking Of You)
3. I'll See You In C-U-B-A.
4. Are You Lonesome Tonight? Real Audio Sample
5. Right Or Wrong
6. Hesitation Blues
7. Dada! Dada! (Come And See What Charlie's D-D-D-Doing!)
8. The Pied Piper Of Hamelin Real Audio Sample
9. Things That Remind Me Of You
10. Meow!
11. Amapola (Instrumental) Real Audio Sample
12. When We're Dancing
13. Rosy Cheeks
14. Medley: Painted, Tainted Rose/ You Call Ev'rybody Darlin')
15. Home in Pasadena
16. Heartaches
17. I Wonder Where My Little Hula Girl Has Gone?
16. A Thousand Goodnight.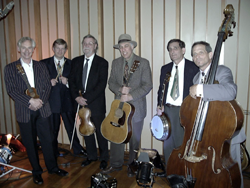 THE BUNGALOW BOYS
Led by Ian Whitcomb, vocals, ukulele (Martin and Fluke),
and musette accordion.
Bobby Bruce, violin.
Fred Sokolow, guitar, Dobro.
Tom Marion, guitar, banjo, mandolin.
Tim Emmons, double bass
Randy Woltz, drums and vibraphone.

CLICK HERE TO ORDER A COPY NOW
The price is a very reasonable $25.