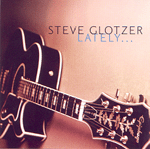 "Lately" CD by Steve Glotzer
On "Lately," Steve Glotzer's follow up to his debut release Life Imitates Art, Steve continues his exploration of fo'bop, a folk/jazz melange featuring breezy sambas, jazz influenced sophisticated urban blues, and compelling folk/rock songs. Add to the mix a number of tracks highlighting Steve's warm and heartfelt vocals...and as always, his melodic, relaxed and engaging guitar, the common thread that ties it all together.
"Steve offers the listener a world tour of guitar styles from sambas to jazz, blues to classical, bebop to folk, and almost everything between..."
Frank Rubalino, Cadence Creative Music
Featuring:
Change Your Mind * Samba Says * Too Loose * Lately * Walk Away *
El Ciudad De Suenos * Ocean Ave * Song For Jane * Mr Phelps I Presume * Bailar Conmigo *
As the Crow Flies * Make Up Your Mind * Lost In Love
Audio Samples:
Change Your Mind Samba Says Too Loose
CD ($12.95) ORDER

You can download songs off this CD for just 89 cents each, or you can download the entire album for just $10.99.
Click here to go to Steve's MP3 Download page.

Download this music from iTunes! (Click on button)
Download this music from MP3tunes (Click here)