Ian Whitcomb is a highly respected performer, composer, and music historian. You can find all of his CD's, DVD's, Books,
and Songbooks by clicking here, or by going to ianwhitcomb.com


LETTER FROM LOTUSLAND
May 2013
In order to keep the dark forces of Black Night at bay—I mean the uninvited ceaseless brain chatter and ear worm songs that won't gracefully leave the bed—Regina has set up a boom box that endlessly plays a CD of gentle waves breaking on a pebble beach while gulls cry—all very relaxing. The waves are effective after I've got back into bed after a lavatory break in the night—that's usually when the dark forces attack. The waves beat back the horrid voices.
But this morning at 6am wake-wakey time I had a most evocative song ear-worming me. A song I wrote and recorded back in the late 1960s: "The Notable yacht Club Of Staines".
This tells a surreal revenge story about how I'm called on, by cable, to "take over the reins" of the high-class club. And this while I'm fruitlessly trying to heat up a TV dinner ("Mexican special") in my Hollywood apartment. After I'm 'settled there in state I'll burn all the boats and "toss their cups and their caps on the embers". The reason? " I used to lay alone at night and hear the buggers getting tight. I hate anything that has members"
It gets more extreme as a Jimi Hendrix-style guitar wails and writhes beneath my Dylanesque vocal: "I'll make them all bright blue and panicky. I'll issue an order for anarchy. And then I'll dismantle the club and we'll all go live on the mud. We'll live off good natural food and frolic about in the nude". What could have prompted me to compose such stuff? I may have been desperate, caught short in the psychedelic swirl of the pop of that time.
Anyway the brilliant TV producer Jack Good (creator of "Shindig") took a shine to my song seeing it as a nice little bit of satire to attach to a TV one-off extravaganza/Special he was planning to shoot in London at the old Elstree film studios, where, in, 1929 Hitchcock had shot sequences for Britain's first Big all- talking musical outing,"Elstree Calling". The show was called "Innocence, Anarchy & soul', a three part treatise on jack's view of the story of rock. It was produced by Yorkshire television, a new GB outfit.
No lover of the fraudulent poseur Bob Dylan, Good decided to dress me as a hippie and position me at the bottom grand piano of a two-tiered piano tableau. Being an ardent fan of true classic rock & roll he positioned a hero of that era on the top piano. Who else but Jerry Lee Lewis? Stateside, Jack had recently cast Jerry Lee as Iago in "Catch My Soul", his musical adaptation of the Shakespeare original.
So: there was I on the set, dressed in beads, cloak and knee-length wig, seated provocatively under a leering sneering Jerry Lee. And waiting nearby was an army of teddy boys, diehard old time rockers, bussed in especially from the depths of the countryside- champing at the bit, raring to have at go, a bash, at me--—the enemy, the pot-addled hippie.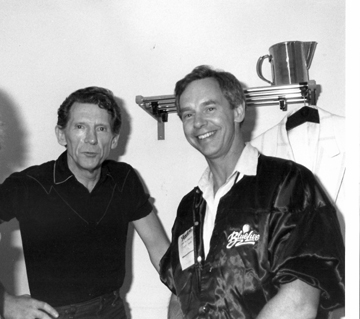 Jerry Lee went into his song which happened to be one I'd written—about such rockers and how they hate hippies, replacing their incense and pansy flowers with a "healthy body smell: "Heroes of the Rocker Pack'.
When I followed with the yacht club song the teddy boys knew this was their signal to charge. With much whooping and grunting and rattling of bicycle chains, on rushed this astonishing army, with "Breathless Dan of Somerset" at the head.
Suddenly jerry Lee sprang up stretching out his right arm in a sort of Mussolini salute. He ordered:
"The gentleman below me is a true blue rocker, Elvis knows of him and, indeed, thinks about him often. Mr. Whitcomb is a personal friend of mine. Anyone who lays a hand on him will have to answer to me! Now git"
"Breathless Dan" saluted Jerry Lee and ordered his men to retreat.
Sadly, that evening, just as we were about to roll tape on the show, union shop stewards commanded the technicians to down tools and walk off the job. This strike had been impending for some time and now here it was in person in all its pre-Margaret Thatcher glory. Still, we made the most of a parlous situation: Jack asked us to run the show dry, without cameras. Lonnie Donegan thrilled us with his fiery version of his hit "Jack Of Diamonds'; the rockers left me alone as I sang/spoke about the yacht club of Staines. But the high point was Jerry Lee atop a grand piano, tresses flying high, as he recited his Iago lines from "Catch My Soul'". The teddy boys stood around him as if in a royal court. At the end "Breathless" called for three cheers for Iago. And Jack Good added: "Let's hear it for Shakespeare too!"
The most satisfying and rewarding event for us this last month was in the rather characterless but well-appointed city of Cerritos, way out in Orange County, I think. At the huge and state-of-the-art performing arts center Regina and I sat in great seats to see an afternoon concert by the now world-renowned Ukulele Orchestra of Great Britain. They deservedly received several standing ovations, a newish California custom.
Our seats were courtesy of the youngest member of the 8-piece ork, Will Grove-white, son of my friend Virginia Ironside. (Read all about them in my book "Ukulele Heroes"). The members are all very funny as they say their bit from their seats on stage. When it came to Will's turn he mentioned me and a surprising wave of applause rolled round the packed auditorium. He told of how he'd been inspired to take up the uke after seeing me perform in London. I had lent him one of my prized Martin ukes and… he left it on the Tube and never got it back. I forgave him, of course. How could I put anything in the way of a future uke king?
Afterwards we all celebrated at local barbecue joint. George Hinchcliffe, their avuncular leader, amazed me by telling me he's read all my books, including the obscure "Resident Alien'. (HINT: I still have mint copies available in our garage). The ukes went on to Santa Barbara and Stanford. I was so envious. George says I could join them when I'm better: "Give us a song list!" They have played the world, including The North Pole and Carnegie Hall.
The photo is of Jerry Lee Lewis I at a concert in Long Beach in 1986

Ian Whitcomb is a highly respected performer, composer, and music historian. You can find all of his CD's, DVD's, Books,
and Songbooks by clicking here, or by going to ianwhitcomb.com