Ian Whitcomb is a highly respected performer, composer, and music historian. You can find all of his CD's, DVD's, Books,
and Songbooks by clicking here, or by going to ianwhitcomb.com

Letter from Lotusland
November 2014
I hope that by now you all, who pledged, have got your copies of the bumper two CD set now titled "The Golden Age of Tin Pan Alley". It's a lengthy program and I hope you stop to take a breath from listening to my limited voice. But, of course, Regina's lovely voice tempers mine. Not for nothing is she called 'The Lark' by a fan in England.
Regina needed some time on her own, it's a full-time job taking care of me, as well as clearing up afterwards. So I took a vacation with friends who live on the West side of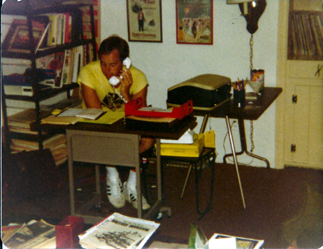 Los Angeles, My first host was Jim Bedoian, with whom I stayed last year. We have good old music in common, especially crooners (like Gene Austin and croonerettes (like Ruth Etting). Jim lives snugly in a well-protected island of short streets called Carthay Circle (insulated from rude modern life), in a 1920s house with a fanciful wavingly tiled roof.
Jim had bought in bottles of sparkling water at my request. There was nothing he couldn't do for me: we sat in his drawing room discussing Irving Berlin; when I desired a nap he showed me to my room, then he in turn stretched out on his sofa.
Around 6pm we sat in his study and listened to 78s made in England in the 1930s.Many acts I'd never heard before, sweetly harmonious on smart American ballads. Jim isn't one for the epicurean game but after 7pm he agreed to dinner so off we went to a local Indian where I gobbled chunks of lamb and he enjoyed hot and spicy dishes
The evening's entertainment, following a memorial service and gathering for a just-deceased Jewish friend who lived down the road, was a James Cagney gangster film projected onto a large screen that winds down from the wall, masking the rows of books on show-biz figures that crowd Jim's library. Afterwards I borrowed one of his volumes called "Whatever became of….' and enjoyed reading how so many stars had succumbed to the bottle or bad business deals, or were in analysis.
Jim stays up late, putting himself to sleep with "Judge Judy" recordings. He's up at 6 and on his computer, ready for me with granola and raisins at 9am. He's not a coffee drinker. After that it was more listening to 78s and lunch and nap and more movies on his big screen. A very pleasant life. I scribbled my journal with my shaky right hand-- left hand is still useless.
After few days of this easy routine, which included a trip to the old town music hall in El Secundo and a high-sounding theatre organ concert, I left for Santa Monica. Here I was greeted cheerily by Will Ryan, head of the Cactus County Cowboys. He lives in a spacious condo with his lady Nancy, a doctor. Almost immediately we set off in his rented car for a studio—in a regular house—where he was to spend the day mixing down one of the tracks for his latest Cactus Cowboy CD.Engineer John Thomas, a busy rock keyboardist, changed his name to J.T. when touring Britain for fear of inciting laughter. Over there his full name stands for pork sword--or dong, if you must.
He spent all day on the mi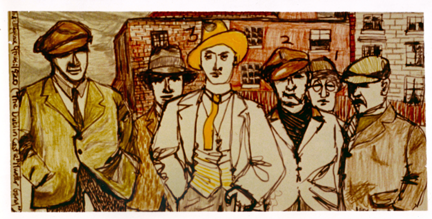 x while I lay on a couch reading a book about old L.A as a noir city of corrupt cops and untouchable gangsters. At 5pm we stopped and my reward began. We dined at an Indian restaurant in Santa Monica and then attended a screening of "Into the Abyss", a documentary concerning kid murderers in Texas who killed three innocents just to get a car. The German director Werner Hertzog was there to answer questions afterwards. He surprised some of us by his hero-worship of Putin and his reckoning that women are as bloodthirsty as men.
The next day was much of the same. To the studio where J.T took 32 tries to lay down keyboard instrumental. Again I sat and read about L.A. noir. We had good dine-outs with Will's lady, Nancy, during which we'd work on and complete a local crossword. DVD viewing was difficult at the condo because none of us knew how to operate the mass of magic wand remotes. Finally a nearby friend was summoned. He came and sorted things out, talking himself through the mission, then excused himself to attend to more important matters at home. So we were able to watch "The Manchurian Candidate".
My vacation continued with plenty of activity- birthday parties and a buffet dinner award for veteran movie actors (with a curvy Marilyn Monroe imitator working the startled room). By the end of my time I had been sated with movies and such. Ready to rendezvous with Regina. We met at her Buddhist temple in West Hollywood and soon I was chanting my way to real life, fully prepared to meet and deal with any future roadblocks.The magic of the mantra—nam myoho renge kyo—to dispel the trick of earthly existence. As catchy as T.S Eliots's Datta. Dayadhvam.Damyata. Shanti shanti shantih.
N'est pas?
Ian Whitcomb is a highly respected performer, composer, and music historian. You can find all of his CD's, DVD's, Books,
and Songbooks by clicking here, or by going to ianwhitcomb.com