Ian Whitcomb is a highly respected performer, composer, and music historian. You can find all of his CD's, DVD's, Books, and Songbooks by clicking here.

You can find Ian's main website at ianwhitcomb.com

Letter from Lotusland
May 2017
April is the cruelest month, said the poet, but this one has brought the deaths of two people I loved, but far away, thousands of miles, in my homeland of England. Will I ever return there in this lifetime? And what proof do we have that there is another lifetime? That we do not just vanish—poof! Into oblivion, into dust? I hear that someone has "passed" or "passed away'—but where have they passed to? What country, which land? Or have they merely passed us on the road to forget-me- not-lane in Nutwood? I prefer to be blunt and say they are dead but not necessarily gone.
Now to the recently dead loved ones. General Christopher Tyler, my brother-in-law and married to my sister, was a soldier who never attacked an enemy. His branch of the military was electrical and mechanical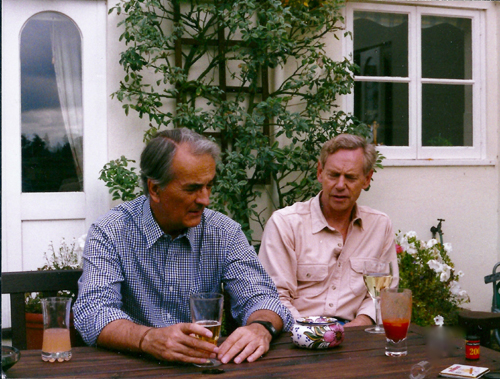 engineering, but I knew him as a kindly man who, like an older brother, was always there to help me. In the 1950s he introduced me to the daring songs of Tom Lehrer and, when I wanted an electric guitar, he drilled a hole in my acoustic one to make a plug; with a wire to the gramophone speaker I was ready to rock and amaze and enthrall my school mates.
Later, much later, he was posted to an NATO role in Norway. Regina and I visited them there, where we attempted to ski, and enjoyed the heated driveway. My sister was known as the best hostess in the army, always good at official receptions and parties. They were an ideal couple and raised four children, all of whom indulged me and my music.
In the late 1980s he was appointed Governor of the Tower of London, the first catholic one since Henry the 8th. Regina and I joined my family there at Christmas. She said she'd never felt safer in her life. She had Anne Boleyn's room (or was it Lady Jane Grey?). I had the Rudolph Hess suite. I had a nightmare in which I was being strangled. Churchill was convinced he would capture Hitler and keep him in the tower. A porcelain lavatory was made for him at the end of a long passage. We were shown it and were suitably impressed.
My mother used to look out of the kitchen window of the governor's house and wave to the tourists milling about below. They thought she was the Queen Mother and waved back and cheered.
Chris and my sister flew over to our wedding in 1990. He acted as Best Man, stating that he'd given up hope of my ever getting married. He developed Parkinson's in the 1990s. He was a good man and friend.
The other best friend who died in April was Jeremy Lewis. I was Best Man at his wedding in the late 1960s when he married Petra, a fellow student at Trinity College, Dublin. I met him my first day at College, drawn to him because he was wearing a racy British army jacket and was a James Bond fan and I was a stranger in a foreign land. We both were studying history and eventually we roomed together. He helped me through exams by walking me round Dublin, giving me a précis of all our set books. He made a career on the London literary scene, publishing many biographies. He wrote several volumes of memoirs; in one, "Playing for time", he described me affectionately as a comic character. I was vaguely disreputable with a rolling sailor's gait; he led me round Dublin in search of an enema, etc. It was all in good fun and I was happy to be in the book.
Anyway it has been a month of loss. I have been able to pour it out in group therapy sessions. Goodbye Chris, goodbye Jeremy, I hope we meet again, don't know where, don't know when, but I really hope we do, the sooner the better.

Ian Whitcomb is a highly respected performer, composer, and music historian. You can find all of his CD's, DVD's, Books, and Songbooks by clicking here.

You can find Ian's main website at ianwhitcomb.com