Ian Whitcomb is a highly respected performer, composer, and music historian. You can find all of his CD's, DVD's, Books, and Songbooks by clicking here.

You can find Ian's main website at ianwhitcomb.com

Letter from Lotusland
October 2016
Recently I've been doing an awful lot of reading. These days there's not much else for me to do and we have lots of books in the house; I've read almost all of them—some I've read twice. I lie on my back to read, and sometimes deliciously snooze. I have a large library of books about the history of movies and this is what I've been engaging myself in. The silent days seem to have been the most exiting and gratifying. All was new and everyone was experimenting. The techniques of filmmaking were invented then and people would work in many positions on the picture, no restrictive unions. A property man on the set might be roped in to play a villain; there were very few detailed scripts, just a page or two. A cutter held the negative to the light and cut with scissors, judging the all-important tempo by experience and counts.
I had been entranced by motion pictures ever since childhood. As a family on summer holiday on a typically wet day we saw a Cecil B. De mille super-epic at the Torquay Odeon. "Unconquered", starring Gary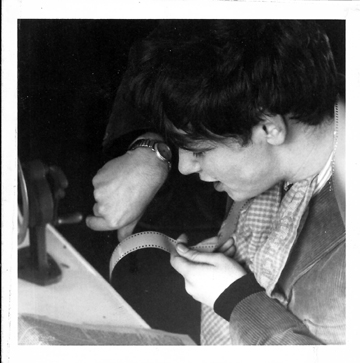 Cooper, terrified me and I pleaded with my parents to take me away for "what have I done wrong to deserve this?" Later I enjoyed B westerns and serials. At prep school I would hold the boys in thrall as I told them the plot of an action film my parents had taken me to at the visiting weekend. At Bryanston I tried to join the Film Society—I got high marks in the knowledge test—but they wouldn't let me join for reasons I never fathomed. Maybe I was too bumptious. The society never made films or even discussed them. All they did was select the term's movies and set up the 16mm sound projector. Nevertheless I wanted to handle the metal reels and thread film and plug in the speakers. I adored the feel of film. I'd gaze at he film cans and marvel that trapped in them, just longing to be released onto the screen were galloping horses, mysterious rocks, blazing guns and tough men in big hats. Anyway I later got a sort of payback on the society and its most unpleasant member, Perkins. In the 1960s I wrote and recorded a song called "The Star" in which I have become a big screen hero and Perkins is standing in line to see me—in pouring rain and canvas shoes:" it's so good he's got to see it again". Fully orchestrated, released in America and England, you can hear it at You Tube.
In 1960, thanks to a family friend film producer, I worked in lowly positions at British film studios. Eventually I became a fourth assistant film editor. The picture was a Norman Wisdom comedy and the editor was Peter Hunt who went on to direct a James Bond. Hunt was a rather prissy fellow, too neat for his own good. My job was to fetch him the strip of film he needed for his next cut. I tried to engage him in discussion about famous Russian editors of the silent era (and their theories) but he was unresponsive. "You ex-Bryanston boys are all the same—too arrogant and full of shit. Now, fetch me trim number 608!'
Soon my cutting and splicing (gluing bits of film together)
was finished and Peter Hunt was relieved to say goodbye. Thanks to the family friend I went on to become an assistant editor at Athos, a documentary company in London. Here I continued to glue and chatter as I worked on interesting films about the whirling dervishes and a prominent Nazi filmmaker. The chief editor, a Hungarian Jew called Teddy who had worked for Alexander Korda in his glory days, hated having to work with mingy 16mm which he called "spaghetti". I enjoyed his string of Jewish jokes ("Don't you try telling them!")
One day Teddy let me cut a sequence in a documentary about Canada. I had an establishing shot of a saloon with a red waistcoated, red arm banded gent in straw hat pounding an ornate gaily-painted upright piano emblazoned with statements saying how great syncopation was. Next I went to a close-up of the gent himself. He was playing a wondrous piece I'd never heard before: "Maple Leaf Rag", the king of them all. Played by "Ragtime" Bob Darch. I was transfixed and ran the scene over and over on the moviola. A few medium shots were patched in as well. Proud of my work I handed the reel to Teddy for screening to the producers. Then I settled down to a ham roll and the latest "New musical Express"
I waited for the praise when the screening had finished. I thought of all the emulsion I'd scraped off the celluloid before painstakingly sticking the strips together… Instead I heard cries of "Iaaan!" then a red face appeared at the door:
"You idiot! You put the cuts in upside down!" it was Bert Eggleton, the shop steward. "Now I troth verily, you will collect your cards and coppers and vacate this company. Yes, my boy, you are being presented with the proverbial sack".
After that I applied for entry to Trinity College Dublin. My career in the technical end of movies had ended and from now on I slid into life as an entertainer and haven't held a proper job since.

Ian Whitcomb is a highly respected performer, composer, and music historian. You can find all of his CD's, DVD's, Books, and Songbooks by clicking here.

You can find Ian's main website at ianwhitcomb.com