Ian Whitcomb is a highly respected performer, composer, and music historian. You can find all of his CD's, DVD's, Books,
and Songbooks by clicking here, or by going to ianwhitcomb.com

Letter from Lotusland
August 2014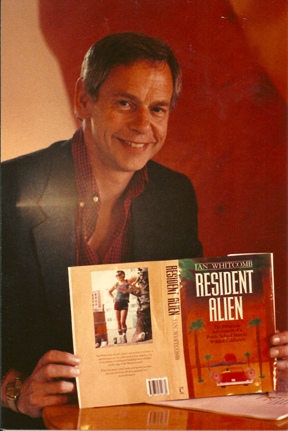 We realized our dream. We beat the pledge amount required by Kickstarter by over a thousand dollars. So now Rivermont Records can afford a first class designer to produce a lavish 30-page booklet and place a suitable cover photo. Regina, rightly, says the present Kickstarter photo is dated by the 1970s shirt. So I have found a 1966 color picture of me all dressed up and posing soulfully standing in front of Spencer Quinn's player piano, the one with all the stained glass in front. To all of you precious people who pledged, a mighty thank you. By September we will have a smashing 2 CD set bulging with almost 60 songs, "Treasures of Tin Pan Alley".
What of interest to report from the last month? I open the black hardback book embossed with "Ian Whitcomb's Journal" and look with dismay at the spidery pencil entries. The writing wobbles and slants because it's done with my right hand and I'm left-handed through and through. After vivid dreams of seasides and steam train journeys I wake and take a long time getting my left leg out of the bed. It sticks to the sheets. Almost immediately I feel thickheaded and dizzy. Drop the six pills into a round plastic Tupperware box. I'm very attached to this box; when on occasion I mislay it I feel bereft.
Lately I have taken to wearing a flotation belt in the Cal Tech pool since I had been dragging my bottom half and huffing and puffing, and drinking too much pool water. The current brain worm song running repeatedly is "You don't have to be a baby to cry", a decent record by the Caravelles in 1964.
And so it goes on all day, dealing with my handicaps or, as they politely say, 'health issues'. As many breaks as I can muster for an excuse I flop on my bed and read a bit of Jan Morris's British Empire trilogy or else one of John O'Hara's coldly observed Hollywood short stories. A little nap interrupts the reading. By late afternoon my head is clear, thanks to certain beta-blocker pills. Next, Regina and I dine somewhere, hopefully getting back in time to catch "Jeopardy". She often gets the final right when the others are wrong. Some days I can catch the World news with Diane Sawyer, which usually leads with devastation scenes from the east caused by climate change or "global warming" if you're progressive. Later, with wine or a martini, we load up the video and watch a DVD on our big screen. We have seen all the Netflix features and now we're onto documentaries; one on the history of Indonesian religions and another on dealing with the dead in the Civil War-- the American one. You never hear anything about the English one. It must have been a dull affair-maybe as dull, as the revolutionary war over here. I've always been a bit suspicious of those renegade landowners and slaveholders in knee britches and wigs, pouring out sonorous overflowing documents. It's being whispered that the real reason for the tea party and all that was because these wigged and rouged rich men, with mouths rattling from wooden teeth, were terrified that the British would put an end to slavery. So you can see that wine and pills are racing demons in my head by 10pm. Clearly, time for bed.
I take the –anti-anxiety pill that helps me nod off, and then it's the delicious collapse into the bed and the prospect of a little read of a real book. No Kindle fakery for me. But first--therapy duty; with my numb left hand I turn a dice around from 1 to 6, hoping it will stimulate feeling in the tips of my fingers. It hasn't achieved this yet and I've been at it for over a year. Still, I keep trying. Nil desperandum.
Instead of Frank 0'hara I have chosen from my bedside library a short novel by one of his contemporaries, James M. Cain: "The Postman Always Rings Twice", a cracking noir murder story set around Los Angeles in the early 1930s. Tearing along, full of stubby stabby dialog that doesn't bother with "He said" or "she said'. It starts with a bang of movement and hardly stops from there: "They threw me off the hay truck about noon". Cain says more in a few well-chosen words than most literary writers; he doesn't beat about the bush like Dickens; landscapes aren't laboriously described nor are men's faces. But women's figures are important: "Except for the shape, she wasn't any raving beauty…her lips stuck out in a way that made me want to mash them in for her", and that's as fast as page 2. A few pages later we're in hot and heavy:" I took her in my arms and mashed my mouth up against hers…."bite me! bite me!". I bit her. I sunk my teeth into her so deep I could feel the blood spurt into my mouth."
Pretty soon the drifter Frank is plotting with Cora, the sultry sulky wife of Nick, the greasy Greek owner of the Twin Oaks Tavern, to bump him off and claim the roadside sandwich joint in Thousand Oaks. It's all unputdownable writing, even though I've read it before. Cain, a college president's son, went on to shock and sell the world with novels about incest and homosexuality. (He claimed "homos' are given away by the sound of their voice).
Cain sends me off to dreamland, but to what kind of dreams?
Now, refreshed, I sit at the old Apple Cube in the library hut at the back of the garden. At peace with my books. Surrounded by them, all eager to be opened and to tell me their tales. Behind me is a bookcase of British books, lots of P.G.Wodehouse sitting uneasily next to George Orwell. What does Bertie Wooster make of Orwell's high seriousness and concern with current affairs? Do they remonstrate with each other when I'm not here? Both went through intense experiences at school (Orwell suffered and Wodehouse enjoyed). On another shelf I have a few boy's books, called "annuals' over there. Here's one from 1901, a collection from "The Captain, a magazine for boys & Old Boys, edited by the old Fag"—referring not to a homosexual but to a junior boy acting as servant to a senior.
It's red and hardbound with, indented on the cover, a tall boy in a cap and large white muffler/scarf over a long tent-like coat. He has a strong, sensible nose. He looks trustworthy. The stories inside aren't exclusively about school life-- the better class of school, of course, where boarders were trained to run the Empire.
There are stories about Roundheads & Cavaliers, tales from the trenches of the Boer War, and of being "In the clutches of the Kashmiris". All are beautifully illustrated —very few photos. "The Stamp Collector" is a regular item. "British" South Africa is described as a "great experiment, not yet a permanent Empire member but on its way thanks to the tireless efforts of the South Africa Company. Why, soon there may be stamps of Rhodesia, named for the great builder Cecil Rhodes. No doubt the stamp would bear the portrait of this great man. However, should some Yankee manufacturer be entrusted with the design we shall not be surprised to find portraits of King Solomon and the Queen of Sheba, as well as a Zulu chief or two. The stamp page is "conducted by Edward J.Nankivell", a rather dubious name for such a patriot. Perhaps he was a native of Hong Kong, merely playing the imperial game.
P.G.Wodehouse, creator of Jeeves and Bertie Wooster, is to be found livening up the magazine in a short story about a rugby hero and rivalry at St Austin's, a part-boarding school similar his own Dulwich College. Even at this young age Wodehouse shows glimmers of his future inimitable style. In "The babe and the dragon" our hero is trapped for a week with a dour spinster who's mad about Browning. Babe spends much time out-of-doors, 'but times will occur when it is imperative that a man shall be under the family roof...breakfast was a nightmare, lunch was rather worse, and as for dinner, it was quite unspeakable".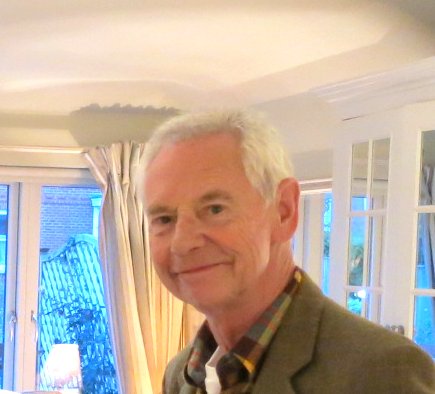 I wonder if it was this story that kept Tolstoy so amused when, stuck between trains in Russia, he found a copy of "The Captain'. and was captivated by the Wodehouse way with words. He could have done with a little humor in his own work. Still..

In Captain Manning's tin roof study at my prep school there sat plenty of copies of 'The Captain'. The vice- headmaster encouraged us to peruse these. I would have preferred comics such as "Beano" and "Dandy' featuring the adventures of Biffo The Bear and Korky The Cat, not forgetting Desperate Dan whose reward feast was cow pie, horns and all. Comics were banned. I had to read them clandestinely, making sure the page was open to a dull print-only story whenever a master came by inspection.

The only comic permitted was the full-color "Eagle', started by a man of the cloth and aimed at the better sort of boy." Dan Dare, pilot of the future" graced the cover; inside were detailed cutaways of battle ships or other educational vehicles. On the back were strips of an uplifting nature such as the story of St. Augustine. I liked that of Baden-Powell, founder of the Boy Scouts. He was teased by his fellow students as "bathing towel" and we took to flicking towels at each other in the locker room while shouting this epithet. Such, such were the joys…

And now I must shut down. Tomorrow I leave for the Oregon Festival of American Music .I must make sure I don't raise my hands too suddenly above my head in case I pull out the wires attached to my heart. I now have a pacemaker bulging from my left shoulder. Gone are the waves of dizziness and the huffing and puffing when I take out the trash.

Ian Whitcomb is a highly respected performer, composer, and music historian. You can find all of his CD's, DVD's, Books,
and Songbooks by clicking here, or by going to ianwhitcomb.com