Ian Whitcomb is a highly respected performer, composer, and music historian. You can find all of his CD's, DVD's, Books,
and Songbooks by clicking here, or by going to ianwhitcomb.com

Letter from Lotusland
October 2014
I wish I had exciting doings to amuse you with, as in past editions. But life now is mostly confined to home in Altadena; we're being driven mad by relentless heat, produced by a disinterested, stupid sun. A dusty broken down car has been sitting on our street for months. Finally Parking Enforcement has stuck it with tickets demanding instant removal.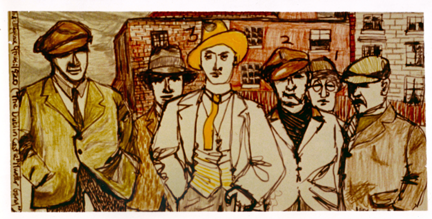 A few houses down is a modest place which used to be a last berth for poor older black folks but now has been bought by a bright-faced Asian family. They like to show off to whomsoever the fearsome high wall of stone slab that Mexican labor built for them. Front of house now looks like a forbidding lair: massive overwrought-iron gates centered with a heraldic device depicting an angry lion or gorgon.
The month had little action, except for our attending the last day of Cinecon at the age-old Egyptian theatre in Hollywood. We came in on a silent picture with French titles—the only existing print; a pounded tinny piano accompanied. Later, thank God, we had some 1930s sound pictures—including opera star Grace Moore and Norwegian ice-skating star Sonja Henie.
The rest has been the ritual of the dreaded waking up, the haunting by nameless worries dispelled by actually getting up and doing my duties; closing the windows, shaking out my many pills with their Latinate or Greek names, perhaps starting to put dishes away. On the way to Cal tech's swimming pool I might turn on NPR but it's bound to be about Sunnis and Shiites or brutish football players. If I'm lucky there might be news from England and I can dream of retiring to a cottage in the west country near my dear old school Bryanston in the heart of Thomas Hardy settings. Watch out—I almost clipped that bus.
I use a flotation device to swim but the rear part of my body still droops and drags. I feel such a fool, especially as the 90-year-old Asian woman in the next lane is beetling by me. I order myself to be proud; I'm merely practicing my own eastern philosophy--stasis.
The rest of the day is mainly taking rests on my bed, reading books on British cinema or else a P.G. Wodehouse short story--right now it's the Mr. Mulliner series.
On Wednesday I prepare for my radio show on luxuria music.com. Our engineer, Chuck, collects items from yard and rummage sales. Also snaps from old family albums of no distinction. After choosing records I go to the library shed and sort through the cases crammed with my old photos many of which are redundant or repetitive. Chuck accepts my rejects eagerly.
They say a picture is worth a thousand words. I'm not going to write that long a description or back-story, but here are two pix I'm not throwing out, taken at various stages of life.
First one of the drawings I made in 1968 for an unplanned series of scenes from the Irish struggle for independence just after World War One. The tough-looking bunch are intelligence officers working for the British authorities out of Dublin Castle. Dark and dirty deeds were done by both sides in those days of "the troubles'. After the British left a civil war descended on the Irish Republic.
I had, of course, studied Irish history as part of my course when a student at Trinity College Dublin. There were still locals who remembered that violent period (obituaries of IRA heroes would appear in the papers) but the closest I got was being presented with a 1916 independence facsimile by my landlady, part of which had by chance got cooked into my breakfast porridge. Dublin was funny that way. One of my officers looks a bit like John Lennon. Maybe a relative.
At any rate, I made the drawings while staying in Hollywood at the 1920s house of Spenser Quinn. I drew at the desk of his lady, Jean Clyde. It was in front of their player piano that I posed for the cover of my second album on Tower Records—the music hall/ragtime one. I was staying in their guest room, surrounded by great books on old show biz and stacks of 78s, I was in heaven. One fruitful afternoon at the player piano, I wrote a bunch of songs in the psychedelic mode including e"""'"The notable yacht club of Staines". All very eccentric songs but with a humorous take on the drug culture of the day. "Staines" was a travesty of Bob Dylan.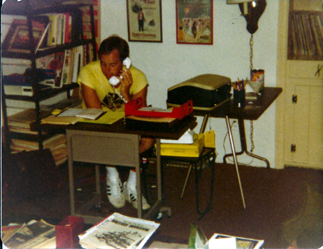 The pictures were framed and hung in my manager's office in the 9000 building on Sunset Strip. He had connections with Robert Stigwood and The Bee Gees but he never got me any work. When I complained he said I made him cry.
I left Hollywood in the Fall of 1968 and returned home to London. Then I found I couldn't get a work permit to return to my pop hunting grounds .So I wrote a proposal for a history of pop music and got a contract with Penguin Books to write it. The next 3 years were taken up with research and writing. When I eventually was granted a work permit to be a guest on "The Tonight Show-- with Johnny Carson" I called my old manager to see if I could get my pictures back. But he wasn't there. He'd done a bunk or been bunked. So all I have are some photos taken at the time they hung in his office. I wonder if they're of any value.
The other pic shows me in 1977 working the phone at my 1920s two-room apartment, as featured in the BBC documentary, "L.A—My Home town". Notice the Remington typewriter on the table. Borrowed from my brother, and on which I wrote "After the Ball'. I'm wearing a T shirt emblazoned "Bugs Bunny Superstar'. I wrote and performed the music for this cartoon collection, hosted by director Bob Clampett. I started recording for Book On Tape here. The apartment was on Camrose Drive just above the Hollywood Bowl and I liked it but came the heavy rains of 1978 and I had to abandon the old building, which had withstood fires and earthquakes. The retaining wall on the hill behind got so waterlogged it collapsed and made the house topple. I made an escape and eventually settled in a house in West Hollywood and from there to my present home in Altadena in 1979. But that's all another bathetic/dramatic story—told in my book 'Resident Alien'.
Ian Whitcomb is a highly respected performer, composer, and music historian. You can find all of his CD's, DVD's, Books,
and Songbooks by clicking here, or by going to ianwhitcomb.com