Ian Whitcomb is a highly respected performer, composer, and music historian. You can find all of his CD's, DVD's, Books, and Songbooks by clicking here.

You can find Ian's main website at ianwhitcomb.com

Letter from Lotusland
February 2017
Songs have been my meat and drink ever since I can remember. The first was when we lived near the seafront in Thorpeness, Suffolk, in 1945. "I do like to be beside the seaside" seemed magical to my ears; I think my mother sang it to me, except that this dazzling song spot compared unfavorably with the North Sea at our doorstep—slate grey and facing concrete pill boxes on the cliffs, built ready to repel an invasion by the Germans.
My mother's father, whom we called "Uncle Jack", was the source of these old songs ("seaside" had been written around 1909). He had been a regular theatergoer since the early 1900s and could sing and perform many of the numbers, demonstrating them with outstretched, pawing hands and the strutting walk of a blackface performer he'd seen shouting "Ain't ya gonna say 'how do?'' on a music hall stage. He had a parody of "After the ball" which ran:
"After the ball is over—see her take out her glass eye,
Hang her peg leg in the corner, put away her bottle of dye"
And ended: "Then what was left went to bye byes, after the ball". His performance was such a workout that he'd finish with" "..And now that calls for Guinness and champagne!'
I liked to lie in the sandy grass by the wooden fence in our tiny front garden, listening to the unstoppable crash of the alien sea ,and sing the seaside song, enjoying being cut off from the world.
During that glorious summer of 1945 I thrilled to the romantic swoop of the guitars pulsing Hawaiian tunes from the Tannoy speakers hanging in the trees round the lake where later the regatta rowing races were to be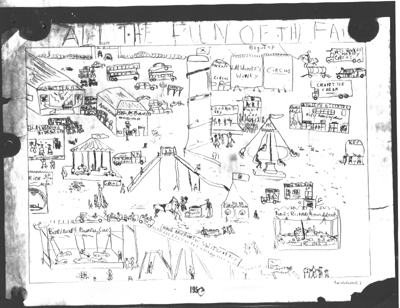 held. The wavering notes of the steel guitar conjured a pleasure place far away where there was complete freedom to do whatever you liked, fancy free and swinging naked.
When we moved to London I was taken to my first stage shows and oh what a delight! The trembling woozy saxophones shining in the orchestra pit, the conductor who loved taking bows, the tale of Puss In Boots, the principal boy who was really a girl in shorts with long legs. At the end the comedian commanded a sheet to drop behind him; on it was printed the words to a song we'd all sing along to. Not only that: we were asked to wave our handkerchiefs to the lilting waltz tune---"on Windmill Hill, every Jack has a Jill'. There were loud complaints from some mothers: "the idea! Spreading all those bogies and germs around in a public place! " But I enjoyed the ritual very much.
A few years later I got the chance to perform in public on a proper stage. Or to "start showing off" as some children described it. In a tartan skirt and an old bonnet I sang unaccompanied in my aunt's village hall show. It was a song which was the runner-up in a newspaper songwriting contest: "The night the floor fell in" by one Ken Wheeley who I never heard of since. Billy Cotton & his band had recorded it and that's how I learnt it. I met with a warm response and I knew that showing off was my vocation, and so it has turned out to be ever since.
In the song Charlie and his missus give rowdy parties and one night the carry-on causes the floor to collapse:
"Now Mrs. brown was bending to button up her shoe.
Just then the carpet parted and she came sailing through.
They heard her saying after she'd put her teeth back in,
"The only night they ever fell out the night the floor fell in".
That year, 1950, I drew a panorama of a fairground, featuring a ghost train, coconut shy, Punch & Judy, Creato's Ice cream, a hall of mirrors, Ella's wedding: a stall where you throw balls at toffs in top hats, bimp bamp bumper cars and Ronie's Rickshore Roundabout. The whole enterprise was called, "Will Wonke's Wonky Circus". It was pinned to a wall of my prep school for a week. An early example of Pop art.

Ian Whitcomb is a highly respected performer, composer, and music historian. You can find all of his CD's, DVD's, Books, and Songbooks by clicking here.

You can find Ian's main website at ianwhitcomb.com