Ian Whitcomb is a highly respected performer, composer, and music historian. You can find all of his CD's, DVD's, Books, and Songbooks by clicking here.

You can find Ian's main website at ianwhitcomb.com

Letter from Lotusland
June 2017
We were walking our lap-dog Toby down our road one sylvan pleasant Saturday evening, amused by his intense sniffing on a particular stretch of grass—what is so special about this area? - and getting ready to bag his biggies. But the calm of the setting was ruined by a warlike din in the near distance. A clanging and clashing of gnashed guitars rode over by bellowing voices, a warlike racket. We knew it must be coming from the Pasadena Rose bowl where a concert was in progress. There was a pause in which a booming voice seemed to be pontificating on serious matters and then we realized it must be that awful Bono be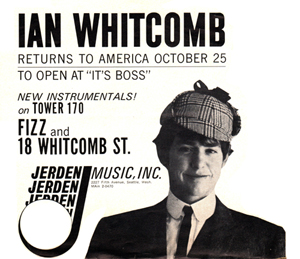 cause we had been warned that U2 were playing tonight--our blissful walk spoiled by what sounded like the name of a lavatory cleaner.
U2 hail from Dublin where my band Bluesville started in 1962.we were the first Irish band to break into the Billboard top ten and so I suppose that makes us the fathers of Irish rock. I'm not happy to be bracketed with U2 but I consider "You Turn Me ON" to be as fine an example of rock as any: simple, crammed with solid beat, and everlasting.
John Lennon once said that when he first heard Elvis he couldn't understand what he was going on about but it didn't matter because it was an extraordinary otherworldly noise. In 1965 when we recorded my one claim to American fame in a pokey voice-over studio in Dublin, two streets from the Post Office building, where in 1916 the Irish republic had been defiantly proclaimed, I hadn't even a title let alone words.
It was an afternoon between my lectures and we had finished the tracks for what was to be our first LP. There was a little time left. My American record manager Jerry Dennon was ready to return to America. I started a boogie shuffle beat on piano and the band joined as one man. This band was all Dubliners- and what magnificent players. Ian McGarry was a solid drummer especially on bass drum patterns, rare in those days. I made up the words, adding some orgasmic pants, as we sped along. Nobody thought it was up to much and we called it a day. My hopes were on the anti-war song we had cut earlier. I saw myself as the next Baez/Dylan.
In the Easter vacation I was flown over to New York to promote my earlier release on the new Tower label," This Sporting Life", which was doing well in the charts. Tower was a subsidiary of Capitol. I was met by the local promotion man, Sal Licata. All the NY Tower people had Italian names. He coached me in movements I should make when lip synching on TV to my next release. I appeared on a TV show in Buffalo with Dizzy Gillespie.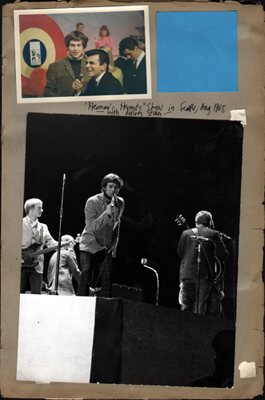 He looked so crestfallen I told him to cheer up, as life's not all that bad. No response.
Tower held a lunch for me in NY during which Tower's president Gordon "Bud" Fraser rang from Hollywood to welcome me and say they all had high hopes for me. The next release would be the silly panting number, now called "The turn on song', I was horrified-- my protest song future was in jeopardy.
Arriving in Los Angeles I was greeted by a man in a preacher's wide brim hat, puffing on a pipe. He was George Sherlock, the west coast promotion man –later immortalized by the Rolling Stones on the backside of "Satisfaction".
He escorted me to my various TV plugs. There was "Hollywood a go-go" with its line of curvy dancing girls in tight jeans and a gleaming bald director commanding a plunging camera, yelling, "More boob shots!" Chubby checker, the Twist man, heard the turn on song and pronounced it "Bitching' which I thought was an insult but George assured me it was a compliment.
Afterwards we took one of the dancing girls to a Mexican restaurant, my first. She excited me. We soon became kissy friends. she had several such friends." Shindig!' was a network show, produced by Oxford graduate jack Good. He had me dressed as the motorcyclist boyfriend of the Shangri-Las. After they'd dismissed me I shed my leather jacket and lay down on a ramp to sing "This Sporting Life". The turn on song had been banned by the network censor, an old schoolmarmy lady. During rehearsal George rushed up to tell me to cross my legs or do something as the camera was catching a rude shot of my crotch. I took this angle be a compliment. What did I know? (All these appearances can be viewed currently on You Tube)
When I returned to Hollywood after the summer term "You
Turn Me On", as it was now titled, had climbed into the national top ten and I was a pop star. Since then it has become a classic.
Both Stephen Tyler and Bruce Springsteen cite it in their memoirs; it was covered by Mae West. Not bad for an afterthought on a Dublin afternoon fifty years go.

Ian Whitcomb is a highly respected performer, composer, and music historian. You can find all of his CD's, DVD's, Books, and Songbooks by clicking here.

You can find Ian's main website at ianwhitcomb.com