Ian Whitcomb is a highly respected performer, composer, and music historian. You can find all of his CD's, DVD's, Books, and Songbooks by clicking here.

You can find Ian's main website at ianwhitcomb.com

Letter from Lotusland
August 2016
I had a working birthday party at Cantalini's Restaurant on July 10th. When I say working I mean I was doing what I enjoy doing best, playing my accordion and singing, accompanied by Fred Sokolow on guitar and Dave Jones on bass. Our little corner also contained Tom Marion sitting in on mandolin and Randy Woltz on snare drum so it was quite an ensemble. I was enjoying myself so much I didn't have to keep looking at my watch in the hope that it was time for our break. We usually play for an hour and then break.
Fred comes to the rescue when we get a request for a number we don't know—usually a more modern song, I mean something from the 1950s or 1960s. Tonight a man requested "Walking to New Orleans" by Fats Domino. Fred didn't know this one amazingly. During the next break he consulted his smart phone and demanded both tune and lyrics. The phone quickly obliged. And so we were able to perform the song as Fred read the words from his phone which was perched on his knees. The grateful man rewarded us with a $20 bill. There is something to be said for modern technology.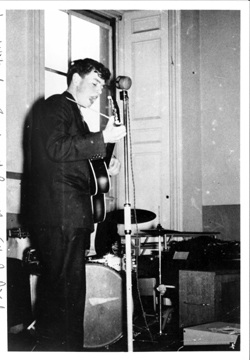 A lot of friends came to celebrate my birthday; they included Regina and her brother Earl and his wife Karen. Earl, a big shot at Goldman-Sachs, really enjoyed himself and stayed on late, snapping his fingers in rhythm. Also at our table was Bill Kay an Englishman who lives in Pasadena and writes obituaries for the "London Times". He was with his journalist lady friend Lynne. Next to them was Mary Kay Aldin, a folk music expert and liner note writer, with Jim Dawson, my radio partner on my show at Luxuria Music.com. Jim is also an author of note, having published several books on the history of farting. He is very learned on the subject. Completing our party was Will Ryan, the voiceover actor, and his lady, a busy doctor.
We were lucky to have a wide variety of musical guests. First up was Guerin Barry a marvelous whistler. He whistled to "Whispering" and "Heartaches". Then Mikal, a one time retired park rangeress who used to pack a gun, graced us with a vivacious version of Chuck Berry's "You Never Can Tell". Regina sang a lively number. I had a request for "You Turn Me On" and did a creditable job on it. People got up and danced and some of the ladies screamed in the 1960s fan fever fashion. Then a mammoth chocolate cake appeared and we all dug in. The festivities went on until our work time ended at 9:30. It didn't seem so bad to be so ancient at 75.
The photograph shows me in my best Sunday suit leading my rock & roll band at Bryanston School in 1958. I was very proud of my electrified guitar. It achieved its amplification by being wired to my little portable record player. The plug on the guitar had been made by my brother- in- law, my sister's husband, who was an officer in the Royal Electrical and Mechanical Engineers attached to the British Army. We had one other guitarist in the group and a drummer and featured a current hit called "High Class Baby" and we were much admired by the younger boys at this boarding school. Bryanston was supposed to be a progressive school in it that there was no corporal punishment and the staff called us by our first names. There were very few classes in the week and we were expected to write an essay on a certain subject at the end of the week, so really it was up to us to get our work done. This meant we were self-reliant. Our problem was that the school wasn't as progressive as it claimed to be. Although we didn't wear school uniforms such as blazers and ties (instead we wore grey shirts and grey shorts) we were forced to attend a Christian church service every morning and a full service on Sunday. I quite enjoyed some of the hymns. The headmaster had a habit of preaching very heavy sermons. I never became taken with Christianity and never felt a sudden flash of conversion, a light from the Lord, but after I left the school I became friendly with the headmaster's sister, the baroness De Ward, who used to invite me to her flat where we discussed religion. She claimed I was very spiritual. She had a certain notoriety because my dormitory at school faced her bedroom window and we used to watch her disrobing.
Anyway, getting back to the school's lack of modernity. For a time jazz was banned at the school because the authorities felt it prevented concentration on our scholastic assignments. I remember I used to sneak into the music room and quietly play blues phrases on the piano dreading that I might be caught. By 1958 the ban had been lifted and I started my rock and roll group. The jazz fans in the school thoroughly disapproved of my interest in rock and roll. I just liked the excitement of Bill Haley and especially of Elvis Presley. His very name seemed magical.
But from the beginning of life songs had been my coverlet, my carapace protection from real life, songs—so simple and compact; you could hum or whistle them whatever trouble you were in. Why, the Chief Scout himself had ordered such action in the authorized guided book. When on the train taking me back to the dread town of boarding school I would select a song of the day to keep the tears at bay." I've got a lovely bunch of coconuts" usually did the trick.
My kazoo band (or humming through combs wrapped in lavatory paper) was popular at prep school in 1953. All our songs were from the current hit parade. I didn't create songs till my next school, Bryanston. The first commission was to write a comic number for the school's 1958 revue. A boy was to play a monk and I pictured his moral dilemmas; he found a safe rock by tying reminder knots in his girdle rope: " my little knots are handy for a simple soul like me/ I can't trespass I can't go wrong—I remember vespers and evensong". I used words like "despondency" and "invariably"—the sort of showing-off that smarty schoolboys love. The song went down well even though it owed a little to "I'm Getting Married in the Morning." Still, even the classical composers were encouraged, so I'm told, to steal from the best, especially from folk singers deep in the forest.
I didn't write any more songs until the middle 1960s when I provided material for our band Bluesville in Dublin. I got caught up in the scurry of British invasion excitement and was duly influenced by the Beatles and then the psychedelic movement but my stuff remained basically sardonic, thinly disguised comic songs in the music hall tradition. More next month.

Ian Whitcomb is a highly respected performer, composer, and music historian. You can find all of his CD's, DVD's, Books, and Songbooks by clicking here.

You can find Ian's main website at ianwhitcomb.com