Ian Whitcomb is a highly respected performer, composer, and music historian. You can find all of his CD's, DVD's, Books, and Songbooks by clicking here.

You can find Ian's main website at ianwhitcomb.com

Letter from Lotusland
September 2016
Well, I congratulate myself for getting though a grueling week of concerts and talks at the annual Oregon festival of American music in the pretty and secure city of Eugene, my 15th year of performances there. The hotel, a Residence Inn, was packed with happy holidaymakers and their children, intent on hiking, rambling and fishing. But I saw no diversions-my time was spent lecturing and rehearsing for concerts, with rests on a sofa in between. I spent amiable times with the great guitarist Howard Alden and his wife Diane who, way back in 1965, was vice-president of my fan club.
The pleasantist song I sang on stage was "Sierra Sue", the melodious ballad about even rocks and rills being lonely for Sue, written in 1913 by the blind pianist Joseph B. Carey. I received a warm response for this and returned to my seat pleased. But this triumph was spoiled early in the night when, in the bathroom, I slipped and fell into the bath, cracking my head on the wall. It took a titanic effort to raise myself out of this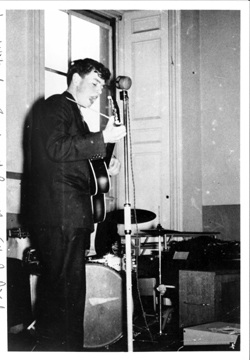 temporary tomb. No lasting damage, not even a headache. Back to the festival theme which was the songs of World War 2 USO shows.
Almost as soon as I returned home I was in preparation for the Art Deco Society's tea dance aboard The "Queen Mary" with my Bungalow Boys band. I managed to stick a few numbers into the folders that were new to the dance. For years I've been getting away with the same selection. This Sunday we had the irrepressible German-born Benny on violin who kept things going at a brisk pace. Regina had already taken care of band business with her checkbook and was co-coordinating with the Queen Mary's entertainment woman to make sure the band got a table for their tea, sandwiches and dainty cakes. They got everything except chairs.
Regina sang like a lark, I croaked as musically as a young Dylan, and three buxom girls did an Andrews Sisters impersonation. The only hiccup came from a woman who requested swing numbers. This puzzled me until she told me we were advertised as a swinging combo. From then on I increased the tempo on every song.
I used to write quite a few songs, but I've written none since my stroke, except for a depressing dirge about our dead dog Rollo---.pseudo-religious rubbish. The last one I had recorded I sang as a duet with Janet Klein on her latest CD."Shiny Shoes" tells the story of how an upright Jewish village is visited by a spirited, active and sexy girl called Ruby who bewitches them all into dancing fools with the magic of her shoes. The singer marries and tames Ruby but when their children are born they are all clad in shiny shoes and are dancing non-stop.
My songs in the 1960s, when I was a commercial rock artiste, are a trifle more serious. "The End' was written at a desk in the Trinity College library when I should have been working on my Irish history essay concerning the famous battle of the cabbage patch. The song begins in a melancholy minor key but soon settles into a natural major. I was proud of the melodic dissonances and the sudden key change into the bridge—it fitted the down mood of the song. I liked the line about being left alone with Satan and he just sitting there waiting and waiting-I'd always felt that left alone, away from society's rules and morality I'd sink into sin. Several singers have recorded their version of "The End" and it went into print under the imprint of Edward B. Marks, who in the 1890s had published Tin Pan Alley's first big hits.
In the midst of the drug-addled 1960s I tried to hustle myself into the scene by writing a bunch of psychedelic-style numbers. One of them was the day's journal of a hippie: "Groovy day". It was based on what some of my druggie friends had told me of their wild mental ventures. I myself was not willing to roam into the realm outside of regular perception.
The singer/ narrator tells how his day has been okay for he's discovered beauty all around him. While normal people may see cracked cups and dishes that need washing up, he sees a sad eye in that old fried egg. He goes on to sing the praises of beautiful people like Sandy O'C who can sail anywhere yet remain in her chair and Harriet Keble who flew from a steeple and now grooves with God. Not forgetting the dog who watches a plank in the floor all day long.
I actually did know a dog who did this. He lived in the Hollywood Hills house I was staying in and where I wrote "Groovy Day in the summer of 1967. Mike Curb was persuaded to fund my trip into drug wonderland and we recorded it with a heap of top session players, including Carol Kaye, James Burton and Jim Gordon. Tower Records released it with a picture cover hoping it might make a noise in the chaos of that psyched-up summer of love. The single went nowhere but has recently been resurrected on a CD in by Now Records in their "Take a Trip" series. You can also hear the song on you Tube for free. Did I really live through that peculiar period and manage to emerge alive and with all my faculties intact?

Ian Whitcomb is a highly respected performer, composer, and music historian. You can find all of his CD's, DVD's, Books, and Songbooks by clicking here.

You can find Ian's main website at ianwhitcomb.com