Ian Whitcomb is a highly respected performer, composer, and music historian. You can find all of his CD's, DVD's, Books, and Songbooks by clicking here.

You can find Ian's main website at ianwhitcomb.com

Letter from Lotusland
January 2017
Last year I didn't write a monthly report for a long time because I was on a perambulation around Los Angeles staying with various friends so as to give Regina a respite from being my constant caregiver. I should be recovered after these four years but I'm not—still depressed and anxious for most of the day, staggering about and unable to write with my proper left hand and no longer a ukulele strummer. Well, that's an encouraging way to start a New Year's Letter.
My days remain pretty much the same: reading the glum news in the paper over a salmon bagel for breakfast, resting and reading and watching "Jeopardy" and old "Law And Orders". I love it when at last I climb into bed at the back of the house, comforted by a beanbag, which has been heated in the microwave for three minutes. Then I lean back on the red cushion that states I'm "Lord of the Manor" and read the latest book I've fished out from the library shed. I take two pills that shove aside anxiety and soon I'm asleep and in a lovely land of dreams. No nightmares. Lots of appearances by dead friends and, most happily, my mother who always looks youthful and healthy and expresses surprise when she sees me as she comes from the back door laden with groceries: "You've made my day!" she says.
I'll spend the rest of letter on her; the last I saw of her in March of 1998 when I was basking in the success of my "Titanic" CD and marveled as she encouraged an elderly couple in the nursing home to waltz to one of the Edwardian tunes as I proudly demonstrated my new work. She clapped her hands to keep the couple in time.
Next we went, at speed in her electric wheel chair, to the little safe room where she could smoke a cigarette and I a small cigar from my Cafe Crème tin. The authorities allowed this—the place was called "Smokey Joe's". Now there follow gleans ad gleams from my journal of that March….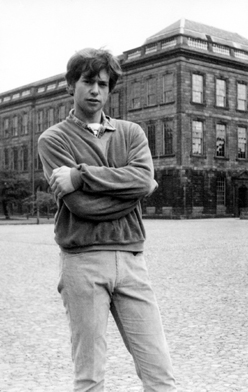 Back in her room, with, above her bed, Daddy's painting of her as she knits neatly, she asks whether she bores me as I have come such a long way from London to Arbrook House—no, of course not. We have a drink from the bar she keeps in a cupboard, pretending to the nurses it's where she stores boxes of chocolates and presents. Then we do the "Daily Express" quick crossword and she gets 4 clues correct, including 'dinned", an odd word for a quick and easy puzzle. Time to go, always difficult because we are not a hugging family; she asks me if I cut my own finger nails as they are so nicely done— I didn't know she was looking at me that closely--butterflies in the stomach. She didn't cry as I said goodbye but when I drove past the front door of Arbook I saw she was slumped in her chair, luckily old Chrls, a longtime resident ("here for the duration, ha ha!") was there to give her a cheerful pat.
Back home in Altadena: I have been slack in my household responsibilities. As I get older bits of songs and poems, long thought forgotten, slide back to me; a poem from prep school days in he early 1950s has been haunting me: "The Knight's Leap At Altenahr". One evening, just after "Jeopardy", I recite to Regina melodramatically: "So the foeman has fired the gate, men of mine; and the water is spent and done? Then bring me a cup of the red Ahr wine—I never shall drink but this one", said just before the fatal horseback leap from the castle wall. Regina ripostes: " It's amazing--You can quote poems from long ago but you can't remember which drawer to put away the special toasting fork in!". I live in a sealed world of my own.
Days finding out how many copies my Titanic CD is selling all over he world—Rhino Records seem to consider it a winner, especially girded up with a Grammy award and my nomination for booklet notes. But out of a blue sky on a lovely day, when even I appreciated the sun, the blow falls. I had had a lunch al fresco at the Athenaeum club with Huntington staff—where an Asian woman in a big hat had pronounced me a 'stud muffin', much to the embarrassment of the ladies. I go to pick up phone messages back at the library: my brother Robin says, "mum' has 'inoperable cancer". I call my sister Suzanne: she says that 'mummy' is in hospital and has only a few weeks to live—I should hurry back if I'm to see her while she can talk properly, make sense. Regina is an angel and takes me to the airport. In the bar I hear Sonny & Cher's "I Got you Babe' with the distinct sound of my brother rattling the tambourine.
On the plane I recognize that it might be better all round if my mother had died—and so I was told by Suzanne when she met me at Heathrow airport. Mummy died yesterday at 9pm, none of the family had been there. However a few days earlier Suzanne had spoken to her; she'd had enough of life –it had been a good one, and she loved us very much. I didn't 't cry till, entering her room at Arbrook house, I saw her neatly made-up bed and the painting of her sitting knitting, the letters beside her bed, including one I'd written a few days ago.
Next we report to the undertakers, Fred Paine, a chain, where Suzanne talks details with the manageress—a plain, nothing fancy wooden coffin please-- who regales us with stories of how Chinese customers can be tricky, demanding fireworks attached to the coffin and then setting them alight ("If you please!") on the premises. I note a poster on the wall of a happy couple telling each other, "Thank goodness all is taken care of by these Paine's poppets!"
I stay two weeks at my sister's cottage, all very cozy and comfortable. My friends show up at the funeral. I read a verse from my mother's favorite poetry collection, which she had marked "please don't destroy". It's from a poem called "Renouncement" by Alice Meynell, which she'd annotated, "my poem for Pat"(my father):
"But when sleep comes to close each difficult day,
When night gives pause to the long watch I keep,
And all my bonds I needs must loose apart,
Must doff my will as raiment laid away,
With the first dream that comes with the first sleep
I run, I run, I am gathered to thy heart"
Back in Altadena it's a plunge into a busy life—a ragtime festival, preparation for a week's performances at the Oregon Festival of American Music. But how will my brother and sister fill those now empty days when they visited her daily and rang nightly? I have been the careless son who ran away to hide in America. My sister used to say our mother's dream was to be sitting in her favorite armchair with ciggie and glass of Dubonnet and with her children in front happy on the carpet.
A few weeks after my return I am lying on our bed re-charging my batteries. Above the door there slowly and gracefully appears my mother, younger and sunnier than usual. Very pretty too. She speaks clearly in a distant sound, God-like. "When did you return to London?". "But mummy, they said you had died!" "Ah, that's our secret, isn't it?". And then I start to cry and she evaporates slowly. Outside the window I see a new bird hovering by the fountain, a bird is of a color I've never seen before, soft and caressing. It flutters close to the pane regarding me steadily. It's my mother looking through me, begging me to be more be more mindful of others who are stuck down here without asking to be and how I must suffer and aid them through this life business and never to loath or hate again, like it or not. The bird sings a wistful tune I can't place, and flies away.
And on that mysterious but satisfying note I wish you a happy new year. Try to work your way through it. I will, too.

Ian Whitcomb is a highly respected performer, composer, and music historian. You can find all of his CD's, DVD's, Books, and Songbooks by clicking here.

You can find Ian's main website at ianwhitcomb.com