Ian Whitcomb is a highly respected performer, composer, and music historian. You can find all of his CD's, DVD's, Books,
and Songbooks by clicking here, or by going to ianwhitcomb.com

Letter from Lotusland
July 2014
My first heroically proper gig was in the big schoolroom, the history room, at Bryanston, my boarding school in the heart of the English countryside, Dorset—real Thomas Hardy land. I was 17 and prior to that I had led the school skiffle group at a fete, organized by the school chaplain, a man with a long goose neck and a jutting jaw. He encouraged us to "make cheerful noise unto God" and promised to join us on a couple of spirituals. I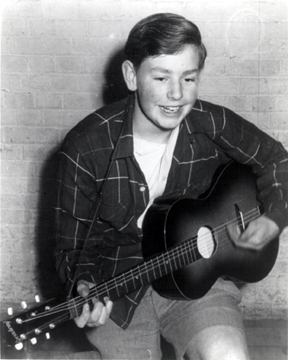 was proud of my new "Broadway" guitar with the golden sunburst finish. We comprised six guitars and a boy plucking a bass constructed from a waste bin and a string and broom handle. We all tuned to an open E chord and then just slid our fingers up and down to make the required 3 chord changes. Presto! Skiffle. We were a great success with the boys, all except the jazz club who pronounced us crude and incapable of swinging à la Ellington or Satchmo.
By 1959 with rock & roll firmly established I decided to start a school rock band and for this I got my army-trained brother-in-law to drill a socket hole in the side of my guitar and hook it up to my record player. Real electric guitars were hard to come by in the Britain of those days. So "Zane Whitcomb's Rockets" made their debut in the History Room one "free" afternoon: two guitars and drums and an appreciative audience of eager boys and tolerant staff. Our philosophy master, who ground his own coffee, really enjoyed us. "One detects a certain farouche quality" he said after I'd sung a version of Cliff Richard's "High Class Baby''. That last summer term at Bryanston was idyllic; I had found my calling, not as a sports hero or brainy specimen, but as an entertainer. I was flattered to hear that one of the prettier juniors, in trouble for skylarking and up before his housemaster, asked pleadingly; "Sir, can I be a responsible member of the school and also be like Whitcomb?''
At Trinity College Dublin in the early 1960s I joined the jazz band on piano and later formed an R&B group called "Bluesville".
With them I recorded the songs that shot me into the American hit charts in 1965. We were, in fact, the first Irish-based band to crack America. All this is described in a book called "Green Beat — The Forgotten Era of Irish Rock" by Daragh O'Halloran.
In 1966 and working in California, I realized that my heart wasn't in rock—I had fired my only true bullets in that field. More and more I was becoming immersed in America's glorious past and I was determined to fire up the world to the gold in Tin Pan Alley.
My family had taught me old music hall songs when I was very small—"All the Nice Girls Love a Sailor" and the sturdier ones my grandfather would intone as he strode round his drawing room at the Mill house in Thorpeness, Suffolk, In mid-scotch sessions. We had a pile of 78 s of 1920s songs like "Why is the Bacon So Tough?" which I'd spin and spin and explore the wind- up machine to discover where the orch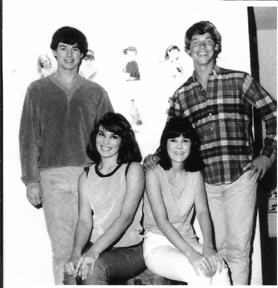 estras of tiny men were hiding. Then there was Captain Manning, prep school master, and his carefully filed collection of records of Sophie Tucker and The Yacht Club Boys which he'd let me play on his radiogram as he carefully filled his pipe, surrounded by framed photos of fighting ships and dead sailors from World War 1 or "The Great War", as he liked to call it. At junk shops I'd amassed my own library of old records, trying to pick them out on the family piano. But there was nothing to compare with my father's sensitive, mellifluous interpretation of the 1919 waltz, "Alice Blue Gown". It was the music of the spheres. I just loved the melody and harmony.
On my first trips to America I bought, in Seattle, an LP of Max Morath playing ragtime and vaudeville numbers and I learned as many as I could, including "Where did Robinson Crusoe Go with Friday On Saturday Night?" These I performed in the coffee house where I was featured as the English star from London (via Liverpool). I mixed old-time stuff with rock.
During 1965, the year of my fame a pop star and teen idol, I took my ukulele with me on tours and was encouraged, notably by The Turtles, to record the old songs I was entertaining my fellow rockers with on tedious bus stretches in the Deep South. Back in Hollywood I was befriended by Ray Pohlman, musical director of the TV rock show "Shindig", and his wife Barbara. Knowing my burgeoning interest in old-time stuff, they introduced me to their neighbor Spencer Quinn, a banjoist with a fine collection of vintage sheet music and 78s. He let me run amuck. Soon I caught the bug. My rock career skidded to a halt and I started my long march backwards.
Neither my heart nor my body was captivated by rock. I just couldn't fake it. The sound and sentiments of Tin Pan Alley had me in thrall ever since. I have revived and recorded the old songs in my own way, trying to put a new spin on them. Always I have been accompanied by fine musicians, like Dick Zimmerman and Fred Sokolow, who are masters of the style.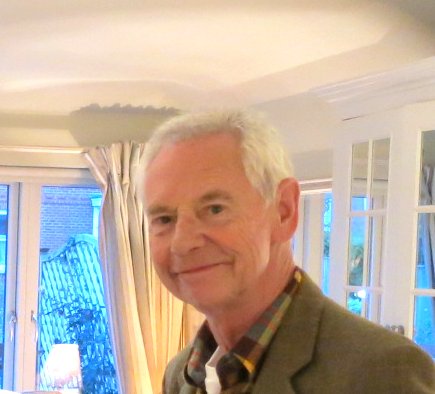 Now we are hoping to release a double CD set of the best of my collected Treasures of Tin Pan Alley, complete with detailed notes by noted radio presenter Glenn Robison. It is a Super Pac, with no politics. Simply rich heartfelt music and fun. Rivermont Records & I are inviting you to help finance this treasury. The music, notes and pictures are all ready—we just need to pay for the manufacturing of the discs. For a pledge you'll get a CD set and more. So please take a look at the link below and help us realize this dream.
https://www.kickstarter.com/projects/1886485950/ian-whitcomb-treasures-of-tin-pan-alley
THE PICTURE ABOVE RIGHT IS OF IAN WITH DALE VANN, HIS BROTHER ROBIN, AND UNNAMED WOMAN

Ian Whitcomb is a highly respected performer, composer, and music historian. You can find all of his CD's, DVD's, Books,
and Songbooks by clicking here, or by going to ianwhitcomb.com