Ian Whitcomb is a highly respected performer, composer, and music historian. You can find all of his CD's, DVD's, Books,
and Songbooks by clicking here, or by going to ianwhitcomb.com

Letter from Lotusland
December 2013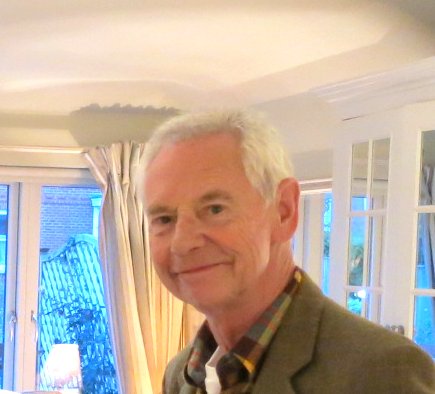 This will read like those letters I used to write to my parents from prep school.
Nothing much had happened — at least nothing I could properly express at the time — and I made do with sports information and a plea for a little more pocket money. Since my return from England I've tried to resume my stroke recovery routine in the hope that those blessed dead brain cells can revive or reroute, reconnect, and do what everyone says they'll do: "It will all come back', they say cheerily… "And you look so well" — Not knowing the turmoil that's sloshing about in my head.
Here now is a detailed description of my typical routine, from the night before:
I try to go to my back bedroom by 10pm. The 'spare' bedroom, so that Regina can stay up undisturbed and watch "Perry Mason" or "Alfred Hitchcock Presents" courtesy of our antenna TV channels (we won't have cable). It's all for the best that she sleeps in the main bedroom, free from my snoring and hoarse babble. Besides, I won't disturb her with my frequent bathroom visits during the night or waking and turning on the light for reading until I can sleep again.
Teeth brushing is such a bind. Our dentist's assistant wrote out precise directions on a sheet which we have pasted to my bathroom wall: brush every tooth carefully along the gum line going round and round the mouth, for no less than two minutes. Will it never end? Finally is the ritual washing of the electric brush. Gunk has collected because there was too much paste on the brush due to my powerful squeeze of the tube. I use my left hand to help recovery. Trouble is the thumb has a mind of its own and has a violent, uncontrollable squeeze. Gunk silted up two of my previous electrics so I have to be very attentive to the cleaning of this new expensive model.
When I finally collapse onto the bed I am so relieved. Now I can read, dropping into another safer place I've been looking forward to all day. Currently I'm reading James Curtis' definitive biography of master comedian W.C.Fields-it's on top of a pile of books I'm reading or will get to read. Last weekend, while Regina was away child-sitting, I invited a couple of friends round for a Fields festival — we watched four at one sitting. I felt on top of the world as I always do at the close of the day.
When, thanks to Melatonin and other little helpers, I put away my book I pay my respects to the painting on the wall: My mother in a green cardigan demurely knitting while reading a book. My father created this in the 1950s when, after his office day as a builder's merchant, he would indulge his hobby. The paintings, meticulous and well observed and as delicately sensitive as his piano playing, he used to submit to me for my approval. I was an arrogant overweight teenager whom he fondly felt was an expert on art since I claimed to be and, besides, I was studying the subject at my boarding school, Bryanston, noted for its emphasis on the arts.
I had the nerve to leave notes suggesting a different perspective here or a touch of yellow ochre there. "Keep at it. You're showing much improvement", I dared to conclude. And now I fix my eyes on the picture of my mother and beseech my parents to guide me through the coming night and hope in the morning I'll feel as good as I do at this hour.
As I switch off the bedside lamp, the one with the jolly huntsmen scene all round, I can't help listening to the noise from the Hawaiian curtains. They picture in yellow and blue and green a riotous advance of dipping and tilting sailboats surging past palm-studded islands stuck with giant, leering and obscenely pregnant flowers with unpronounceable names, a million miles from the quiet roses of English country gardens.
Whenever my friend Curtis Harrington, the noted film director and a man of a certain exquisite taste visited this room (it was my office in those days), he would shudder and cover his eyes, so assaulted was he by my South Seas curtains. Despite questions of aesthetics I intend to keep the singing curtains. I rigged them up in 1979 when I bought this house. I want things to stay as they were. It's a problem I have. With steel guitars swooping I turn into my pillows, ready for a pleasant oblivion —perhaps a trip into my 1940s London of black buildings, great hissing steam trains and the possibility of a day by the sea.
Around 6 am I wake myself from a horrid dream: Regina has answered a door-knock and in strides a black woman, tall and proud and dressed in gold raiment. Taking up a provocative position at our dining room she announces that she and her assistant, a woman in a flowered dress hovering by the front door, are Jehovah's Witnesses on a membership drive. I signal for her to follow me into the kitchen where I berate her for invading our home uninvited and in such a truculent manner. She's clearly not used to being told off. I fact, as they say in today's Britain, she's gob-smacked.
"And now", I demand, " inform me in a nutshell about witnessing this Jehovah".
" I can't. I'm all of a twitter. You see I never got this far inside a real white house before".
As I'm showing her the door I see that Regina is in conference with the assistant. Turns out — Regina being such a kind soul — she's renting a rose. To make up for my rudeness. But how will we pay for it and how long is the rental? Where is the agreement? I'm terrified that the tall Witness woman will send goons to smash our windows and such. I wake myself up.
6 a.m. Now the self-doubts start dropping by. A voice, a snide critic, tells me my non-fiction books are of no value because there are flights of fancy in them. I pull myself away from this hell by listening to the earworm song that has just insinuated itself: "Robinson Crusoe's Isle', an old number by Benjamin Hapgood Burt. I cheekily put new words in 1972, having Crusoe discover, on a stroll, that his isle is about to be developed — a hotel, etc. "Sad at heart he knew it was time for him to depart.... 20th century blue and dark, would soon be ordering Crusoe just what to do so.' So he packs up and sails away," and he's been sailing since that day; wave after wave and mile on mile". Escaping from the here and now — as I've been trying to do since the mid 1960s.
Originally Goldie Hawn was to be the released artist on my new version. My friend at Warner records, Andy Wickham, produced the session and we had a star line-up of musicians, including Lowell George on slide guitar. Van Dyke Parks was the musical director. He rehearsed my every strum of ukulele. Quite an honor. I had coached Miss Hawn earlier on the vocal. So involved and intense was I that she had to ask me to keep my distance. And then: "Are you a dancer?" Not that I know of ---"Why?" "Your butt'. I took this as a compliment.
Be that as it may, the recording was not released but I wasn't letting my little conceit away. Later in 1972 I included it on an album I made in London for united Artists, "Under The Ragtime Moon". An exotic atmosphere was whipped up by members of the Electric Light Orchestra brought in by producer Neil Innes. You can see me perform the song on BBC TV's "Late Night Line-up" on You Tube. Everything's up there on You tube whether you need it or not.
"Crusoe" stays with me all the way down to the Cal Tech swimming pool. I'm flaying away, trying to complete a rotary arm movement in the Crawl and getting passed by swimmers much older than me, when my prayers are answered and "Crusoe" goes away, usurped by a corrupted version of the ancient fox-hunting number, "Do ye ken John Peel?" The corruption is all mine. At prep school I changed the opening line to "Do You Kim McGregor?", the name of a boy in my class, a reassuring name especially in today's Babel of alien and even made-up names, the correctness of diversity. "Kim"! — echoes of Kipling's ordered India in a well-managed empire, coupled with a sure and flinty old Scottish surname, just what the doctor ought to order at this wobbly point of my life.
I wonder if Kim is still alive? The Kim of the song stays with me as I attempt to shave after the swim, trying to avoid bloodletting, trying to control the razor so that I can mow away the grey stubble along my jaw — always hard to achieve. Life now consists of little minute-by-minute minute achievements like this.
Breakfast at "The Corner Bakery' is negotiating scrambled eggs onto the fork and conveying into my mouth without spillage while reading of disasters man-made and natural in the "Los Angeles Times". Jesus! These broadsheet papers are hard to turn and re-fold! Am I being stared at by other customers? No—they're iPad-absorbed, smart-phone spellbound, or nattering in clubloads about nothing. All annoying. Let us abandon this dystopian scene and speak of lighter things.
Following the usual morning nap Regina and I report to a wood-paneled olde-worlde steakhouse, decorated with hunting scenes, for a working lunch with Roger Rittner. He has enterprisingly put together a website offering all 92 of my radio shows in CD sets (or downloads) plus CDS and books. It looks and sounds attractive but how are we going to entice people to visit the Ian Whitcomb show.com site. Won't you help us in our mission by taking a look and buying a set or book? You can catch up on all the other Letters I've been writing since 1996 or so. And that's free, I think. Makes a spiffing Christmas present for the unsuspecting. If not — Season's Greetings just the same
Tunefully,
Ian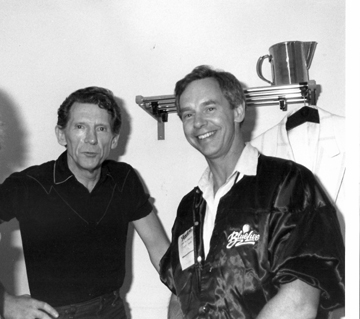 The photo is of Jerry Lee Lewis and I at a concert in Long Beach in 1986

Ian Whitcomb is a highly respected performer, composer, and music historian. You can find all of his CD's, DVD's, Books,
and Songbooks by clicking here, or by going to ianwhitcomb.com