Ian Whitcomb is a highly respected performer, composer, and music historian. You can find all of his CD's, DVD's, Books, and Songbooks by clicking here.

You can find Ian's main website at ianwhitcomb.com

Letter from Lotusland
July 2017
I have been worrying about passing the written test for my driving license renewal almost since my 2012 stroke. The last time I had it renewed I made three mistakes, so the old lady who correcte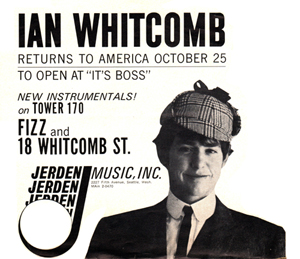 d my written paper told me. "You've only just passed," she said strictly, like a school marm. You can only have three when you go for a renewal. I'm always unhappy at the DMV- it seems like straying into a strange country, bustling with babbling immigrants and ruled by unfriendly employees.
I'd picked up each year the current Auto Club handbook of driving rules—mostly don'ts. I'd studied its 100 pages hourly on my bed, puzzled by the pictures of which way to turn your wheels when parking on a curbless road and how to go from a one-way street to two-way divided highway. Then there was the exact amount of feet between your car and a bicycle and when to stop for a school bus with flashing red lights. And there's the blind pedestrian tapping his cane on the sidewalk and then pulling back. I have to remember that in Britain a sidewalk is a pavement. If you throw an animal out of your car you will be fined and go to jail for a year. Quite right, too.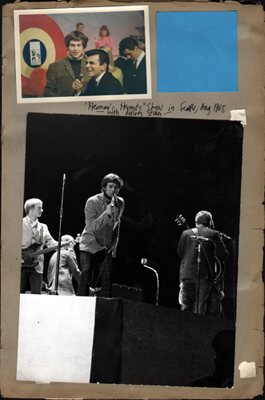 Came the morning I'd reserved for the license renewal I woke in a panic at 6am with a 1919 song repeating itself ad nauseam—the non-PC "Chong he come from Hong Kong: where Chinamen sing way up high going ' sungee sungee chickee chickee chungee". In order to rid myself of the monster I had to get up and walk around the garden finally replacing it with "The Teddy Bears' Picnic". At the crowded noisy DMV things went smoothly. When it was my turn to have my photo taken the man exclaimed:" Can this be the real Ian Whitcomb?" Then I was in front of a screen for the test. Multiple-choice questions came up for a touch screen reply. I dashed through, getting only two wrong. "Congratulations!" flashed up. Free at last! Mobile for the next few years.
To celebrate we dined in the peaceful and civilized setting of the Hayman lounge in Cal Tech's Athenaeum club, surrounded by walls of Nobel laureates and tended by a quiet Asian bartender in splendid uniform. I was looking forward to my Mediterranean plate and the dog Toby's beautiful repose in Regina's arms. However Regina's very friendly and soon had invited a lone guest to join us at our table. He had waved the moment we arrived. He quickly moved camp from his corner bringing envelopes and a clutch of glossy magazines about Newport Beach life and real estate. At once he told us about the complexity of his background, his brow gleaming under a thick toupee. His name was Tom; he was a nuclear physicist, he was a Russian-German or was it the other way around. He had been everywhere and could speak the language. When I paused in my Mediterranean plate to get a word in he recognized me as British and proceeded to tell me that Churchill was only good for the English and blamed him for destroying his shower door by bombing Berlin in World War 2.
By his time tom had finished an entire bottle of wine and was shining eerily, looking the worse for it. I felt it was time to leave and excused us by saying we had a pressing engagement. In fact, we wanted to be home in time for "Jeopardy". Tom followed our cue, explaining he had an important meeting tomorrow with the head of Boeing, where, as a lawyer, he had to advise them about whether to build bigger or smaller planes. We processed out beneath the framed photos of the Nobel laureates.

Ian Whitcomb is a highly respected performer, composer, and music historian. You can find all of his CD's, DVD's, Books, and Songbooks by clicking here.

You can find Ian's main website at ianwhitcomb.com