Ian Whitcomb is a highly respected performer, composer, and music historian. You can find all of his CD's, DVD's, Books, and Songbooks by clicking here.

You can find Ian's main website at ianwhitcomb.com

Letter from Lotusland
January--April 2016
I'm sorry to have been so derelict at keeping up this Letter. It's because I've been away from the computer. You see, I've been giving Regina a three-month breather – so that she can make repairs to the house without my getting in the way. I've been staying with very understanding friends. I hope I haven't made too much of a mess in their houses.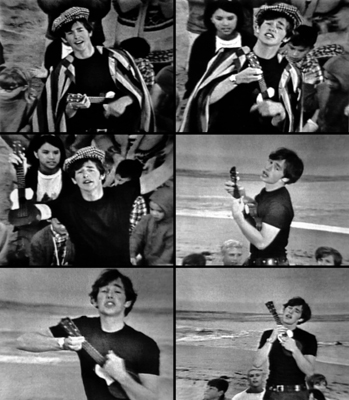 I start off in Rialto at the home of Gary, who hosts a radio show that follows mine on Luxuriamusic.com. Gary lives with his wife and step niece in a house with full of air checks and books on the 1960s. He had a complete DVD run of "Shindig" on which I appeared about 6 times in 1965. I stayed till January 14th when I left for my friends Will and Nancy who live in Nancy's condo in Santa Monica. There is a staircase there, which I find difficult to negotiate. Will is a voiceover actor and runs a band called "The Cactus County Cowboys". Will is an Academy member and he got us in to lots of nominated films including "Star Wars" which he was seeing for the third time. Will and I often walked to a nearby deli for breakfast where I had bowel-friendly Raisin Bran and we did a crossword together from the local paper. Will and Nancy are very committed supporters of Bernie Sanders and I attended several gatherings in noisy bars where we watched the debates. Occasionally I would drive into Altadena and pop home. All going well there. One day I had an audition for a voiceover in Burbank, for a termite killer. The man as usual said, "Very good- I'm a happy camper". Will and I saw lots of free Academy films including "Joy" and "The Big Short". The seats in the refurbished Arc light Cinemas are as comfy as a front room sofa, making Jennifer Lawrence in "Joy" look very fetching in her tight brown britches. I went for tests on my pacemaker at the Huntington Hospital.
On my trips to Altadena I have been in the library hut typing out program material for the Oregon Festival of American Music. I've also been playing with Fred and Dave at Cantalini's but I find it very tiring. When Will and Nancy are there we always play their favorite tune "Happy Days Are Here Again". Luckily we have a few guest singers. On February 17th I had my last breakfast and crossword with Will at the deli. It was raining when I left for my next place of rest. I am such a nomad. My friend Jim Bedoian, who has the same taste in vintage music as me, put me up in his charming 1920 house in Carthay Circle. He has an amazing collection of 78s from the 1920s and 1930s and I sat with him for hours as played though the work of individual bandleaders. He also screened pre-code features in the evening, starring James Cagney and Joan Crawford.
After two weeks I de-camped and headed for Los Felix to stay at my old school friend James Scott's house. We were at Bryanston in the 1950s. His wife is a lady judge. James is an excellent painter; as a film director he won an Academy Award for a film based on a story by Graham Greene. Mostly I was away in the daytime up here in Altadena, trying to write articles on World War Two music for the upcoming Oregon festival. James has become a pretty good cook and househusband, which is what I ought to practice.
Now I'm back home and trying to be tidy and keep up on my responsibilities here. Ukuleles lay untouched and forlorn in their cases and the piano is silent too. I must return to the Huntington Library and start research on the western novel I always meant to write.
I thank my friend Barry Funkhouser for typing most of this Letter to my dictation. People urge me to dictate my books. But Edgar Wallace did it and he wasn't much of a stylist. On the other hand P.G.Wodehouse tried once and utterly failed to be funny. So I'll follow the father of Jeeves.
Ian Whitcomb is a highly respected performer, composer, and music historian. You can find all of his CD's, DVD's, Books, and Songbooks by clicking here.

You can find Ian's main website at ianwhitcomb.com