Ian Whitcomb is a highly respected performer, composer, and music historian. You can find all of his CD's, DVD's, Books,
and Songbooks by clicking here, or by going to ianwhitcomb.com

Letter from Lotusland
June 2015
It's fifty years since I landed in the top ten of the American hit charts. I've told the story of my teen idol period in several books and I'm not going to spin the yarns again. I wish I still had the bouncy energy of those days when I felt there was nothing I couldn't do. I had been determined to become a rock star and with boyish push and panache I'd climbed the hill and planted the flag. These days it takes a mighty effort just to get out of bed and stand upright.
After my rock life faded and after the excitement of producing a Mae West album in 1968, that fateful year, I returned to London a disappointed man/boy. I had been denied a work permit—there would be no returning to the glories, the tingly beaches, beckoning palms, and orgies of my west coast forbidden land. But I still had energy and enterprise: I sold Penguin Books an idea for a grand history of pop music from rag to rock. "After The Ball" took three years to write and I managed to get a tourist visa and thus was able to return to my fun center.
In Los Angeles I renewed my friendship with Andy Wickham, a fellow Englishman and an A&R man at Warner brothers Records in Burbank. He had arrived in America about the same time as me, but whereas I had been a footnote British Invader, he had become a record executive. AT WB he was hired as the "house hippie", attracting to the label such future stars as Joni Mitchell.
By 1972 Andy was seeking new pastures, away from the hurly burly of the burgeoning corporate rock scene. He was finding home peace in cricket, light classical and country music. In business he was trying to bring back glamour to the disc biz, to dazzle away the fungus folk of the denim brigade with their studied sloppiness. He came to work in blazer and tie.
He started by recording the perky comedienne/actress Goldie Hawn and some lovely tracks resulted. When I dropped into his office one sunny afternoon, armed only with my ukulele, he invited me to help with the musical arrangement of the next Hawn project, a version of the 1913 classic "The Trail Of The Lonesome Pine".
I had terrific and thrilling times rehearsing this tasty girl by the side of a Hollywood Hills swimming pool, in the home of my friend Ray Pohlman, music director of "Shindig" (where we had met). As a bass player he had been a founding member the "Wrecking Crew" session musician club. Eventually we were in the studio, at A&M Records, and there was I attempting to conduct Miss Hawn as the legendary James Burton played guitar." Please, you're too close to me", she said. I complied and retired to the piano. We got a fine recording complete with verse. "June" in the original song became "Boone" for Goldie. We added sound effects of splashing water and birds twittering. As a coupling we later did my re-working of an old song called "Robinson Crusoe's Isle". Van Dyke Parks was musical director; Lowell George played slide guitar; I plunked my ukulele to Van Dyke's precise instructions. A delightful time for all—but no releases. All too offbeat.
Early next year I returned to find Andy involved with Raquel Welch, recording-wise. He proposed a concept album showing the lusty busty star as a slut on one side and a sweet old-fashioned maid on the other. Again he invited me to participate; again I brought my ukulele; again no records were released. Indeed, no records were made, Miss Welch's management having been dismayed by my suggestion that she sing "Do Something" as recorded by Helen Kane, the boop-boop-a-doop girl, in I929. I had my recent work with Mae West in mind, naturally. I did demonstrate the song dangerously close to her by her pool. But the Welch people were keen for their star to do something more contemporary than ukulele material.
From his side of the executive table, Andy realized that it would be wiser to leave such fully-formed stars to their fixed devices and, instead, concentrate on discovering some unknown, preferably a working girl from across the tracks, to mould this rough clay into polished platinum.
Stowing this in the back of his mind, Andy joined me on a death-wish rafting trip down the rapids of the Stanislaus River in Northern California. Our host was a stocky German-American who seemed determined to end his life as an aspiring heavy-metaler with a series of whoops and hollers as he navigated us carelessly through the angry waters. Needless to say we capsized and, as we clung to the sides of our rubber craft, we saw a boatload of nuns, piloted by a pipe-smoking priest, cream past us effortlessly and wetlessly.
Needing some relaxation after our adventure, we drove into Sonora, an old Gold Rush mining town. It was the annual Rodeo Night and the cowboys and assorted fakes and varmints were out in force. We retreated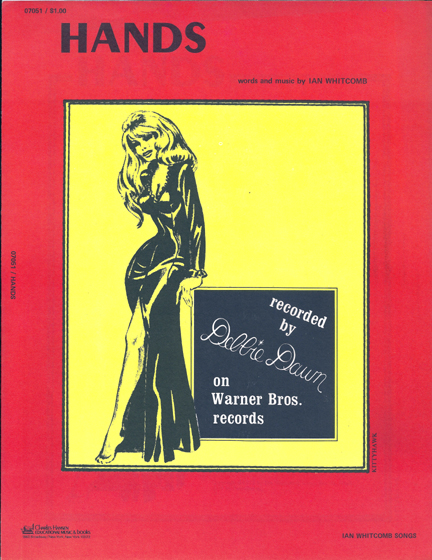 into one of the many C&W taverns for a quiet beer. While I was trying to explain to Stetsons how and why I was English and here in town as well as fending off folk from stepping on my toes, Andy was being gripped by the girl singer with the stage band. She had disc potential, he told me breathlessly. A week later, in the safety of Burbank, he Hrang to say he was going to sign her and did I have any material. Something contemporary.

Excited by this commission I consulted newspapers and talk radio shows. The hot topic seemed to be massage parlors. So be it! Within minutes, using the old Tin Pan Alley technique of borrowing the familiar and adding a few new twists, I'd created "Hands"—the first massage parlor song. Over the phone, Andy loved it. Next I was invited to meet the girl from Sonora. She was a neat (but not gaudy) little thing, with a certain self-possession, called Debbie Antonini. She came closely accompanied by her two-fisted father Sheriff Ray, fully equipped with gun and handcuffs. Record executives, steeped in gentle action-shunning soft rock, stood by abashed. A recording date in Nashville was set up. I explained to sheriff Ray that "Hands" was a deeply moral song about a poor country girl changing into a scanty outfit, folding up her morals for work and yet all the while dreaming of her waiting boy, the one she'd marry: "And from being a parlor baby I'll have babies of my own—a helping hand, a true heart and a home!"

I hadn't been in Nashville since my pilgrimage there in 1963 on my first American trip. I had been a fan of country music for years, especially of Hank Snow. That first time I'd dared to go backstage at the Grand Ole Opry and grasp the hand of Hank and tell him how great he was. But now I was a songwriter, a worker in the business of country.

First off Debbie was christened Debbie Dawn by top executive and producer Shelby "Harper Valley PTA" Singleton, from his convertible as he nursed a drink in a short respite in his busy life. The rubicund Bill "Raunchy" Justis was music director and he hired the cream of the local pickers. Debbie arrived with her mother as chaperone and off we went.

The session rolled smoothly like maple syrup on a short stack. Next day vocal overdubs, final day backing vocals and horns. I persuaded Bill to add a descending trumpet line. On Saturday we flew home. In Hollywood hit engineer Eddie Brackett mixed the tracks, riding all over the control board like a space ship captain.

"For my finger tip massage you can use your Master Charge", wrote Bill Gavin in his important record tip sheet. He

continued:" Conservative programmers may resist this slice of Americana, but stations that play it will be handsomely rewarded with phone requests for repeats"

"Hands" quickly became Warner Bros' hottest single, and a great item for press stories. In San Francisco the striking United Massage Therapist union adopted it as their anthem; "The Hollywood Reporter" wondered how much physical research I'd done before writing the number. We "bubbled under" in "Billboard" at #109 but there we stuck. Not enough sales. WFIL, the key Philadelphia station had dropped us.

So near and yet so far.

However, by next year Warner Bros had started a special country division headed by Andy—so we were allowed another shot at the chart, aided now by the company's "strike force".

For Debbie Dawn's new contender I built a mighty soap opera story: Our Kansas girl goes on a charter tour of Europe and, deep in old Vienna, meets an aristocrat with a cute accent and spends a night of bliss with him. But he only has a month to live. I set my tale to an old Viennese folk tune and called it "There Goes That Song Again" and we gave little Debbie the works—zither, violins, full chorus and a recitation by our star. All this in the space of a 45!

In Columbia Studio B where Tammy Wynette had recorded her classics, Bill Justis raised his hand before the picking and announced, "Gentlemen—forget the shit-kicking music, for tonight we're gonna cut some Art!" The picking commenced and it was good. All went swimmingly. Andy and I knew we had a lot of fine editing and mixing to do on our epic once home in Hollywood.

The mix was still on my mind as we flew back—First Class, a WB perk. The man in front of me, waving his glass aloft, was singing and shouting to music from his headset. "Tell him to put a sock in it", ordered Andy, and I made a formal complaint to the steward.

The next thing I was being shaken by a stout, red-faced man in a check suit: " If you got a problem with Elton John you got a problem with the world, buster!', he told me. Andy roared with laughter as the man weaved back to his seat still berating me. I re-called the steward and told him the man had threatened me and I wanted action. There followed a scuffle between stout party and steward. The result was that the pilot made an emergency landing in Phoenix, Arizona. First off was my man and as he reached the door he pointed at me," I'll get you, you'll see!" He was immediately seized by FBI men clad in rugby shirts. Soon we were again on our way, with Andy in fits.

Next Day Andy called me to his office to meet somebody. It turned out to be an FBI man. Pleasantries were exchanged about tennis and swimming when suddenly the man shot at me: "Whaddya mean by bringing down a fully-packed airliner? What was on your mind?" I was flabbergasted and left the room in disgust.

That night Andy rang me in my apartment. He told me the FBI man was an easy soul and that the stout party who'd attacked me had been jailed and then fined $20,000 and put on parole. He was an executive with a major corporation.

"Consider this future scenario", continued Andy, barely concealing glee. "He gets fired, his wife divorces him and he ends up in a fly-blown motel in downtown L.A. One night he catches you on "Tonight", with your little ukulele. He's pretty upset. Dream on that". I did until I suddenly got booked on The "Tonight" show and all was forgotten. And forgiven apparently.

After weeks of mixing and some advice from Van Dyke Parks "There Goes That Song Again" was released and died a quick death. There would be more adventures in Nashville, though…

Ian Whitcomb is a highly respected performer, composer, and music historian. You can find all of his CD's, DVD's, Books,
and Songbooks by clicking here, or by going to ianwhitcomb.com