Ian Whitcomb is a highly respected performer, composer, and music historian. You can find all of his CD's, DVD's, Books,
and Songbooks by clicking here, or by going to ianwhitcomb.com

Letter from Lotusland
March 2014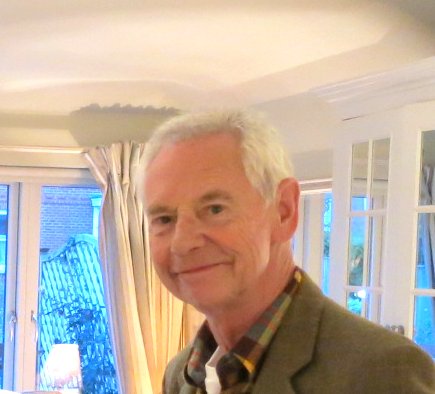 Last month I promised to continue the story of how my family moved from the Suffolk countryside to London. Bringing with us the sheepdog Panda who had been my constant and loyal companion. It was the bitterly cold winter of 1947 and our first home was a house in Wimbledon. This was only rented; we didn't stay there long. My father worked up in the center of London for a company that sold building materials. My mother took care of the house, a biggish one with laurel bushes in the front drive and a long back garden that seemed to stretch forever. I was sent to a day school called Glengyle in nearby Putney. We wore a school uniform of grey with white piping, caps, too.
The school, a solid and somber Victorian structure, was a street or two away from the grand mansion once owned by my
father's father in the early I920s when my grandfather was a millionaire. His money had come from auto insurance, but unwise ventures in car manufacturing (there are proud collectors of his Bean car), movies and the wrong television system (he backed the work of Logie Baird — involving mechanical whirling discs) eventually led him into bankruptcy. In the good days the Putney house had a big staff, including five cars with chauffeurs to go with them. To top off this grandeur there was an island called Shuna off the west coast of Scotland, complete with castle and neighboring whirlpool which was said to be able to swallow up a boat and contents in seconds. All this wealth amassed by a man whose father had been a carpenter in the Sussex village of Petworth.
What I remember fondly at school is the morning hymn singing. One of the most stirring hymns we sang went:
"Nearer and nearer comes the time — the time that will surely be — when the world will be filled with the glory of God as the waters cover the sea." I was in the class of Miss Waters — I think she taught me to read.
But, in my mind, already removed from reality, the last words ran: "And Miss Waters' class forever!" God and his son, with gold radiating form their heads, were too much for me to take in at the time. They still are.
At lunch time we were walked in crocodile down the road to a fry-up-in-lard cafe for a tasty meal — eggs, baked beans, chips washed down with sugary drinks such as orangeade, plenty of ade but no orange. The war was only just over. Food rationing didn't end till the mid 1950s. My mother remembered seeing me at the head of the line marching back one day; like a happy bird chattering away, then leading the boys in a sing-song. She was pleased because at family gatherings I'd be shy and when I did take part I displayed a slight stutter. But give me an audience of non-relatives and I was disturbingly self-confident.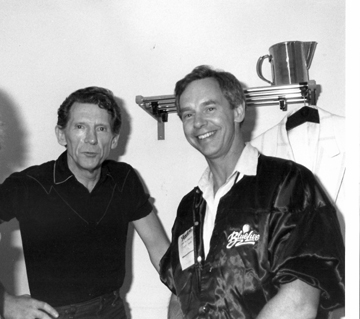 My brother Robin developed a habit of wandering off. One afternoon he vanished for hours. I asked my fictitious friend Hamish to help locate him but typically he kept mum, smiling smugly. I have not trusted the imagination since. Eventually Robin was found on a nearby pathway. He said he was off to visit a friend and to play marbles. During the vanishing I kept pestering my mother, "Surely he must dead by now?"
In 1948 we left the Wimbledon house for a flat in a two-block set of "luxury" flats on Putney Heath. Wildcroft Manor had been built in the 1930s in the Art Deco style. The pink tiled bathroom had what we children were told was a foot bath but was, in fact, for the washing of private parts after sex or whatever. A bidet, as the French had it. The flats came with a porter's lodge and every day here sallied forth a stern ramrod figure in peaked cap and gold braid. This was Frank the head porter and he had been somebody in the war.
This was the time when there we had thick fogs in the winter. In fact our mixture of fog and smoke was sewn together as new word "smog". One morning my father had to lead me by hand to school through a menacing yellow smog so dense you could see no more than a few inches ahead. I loved my time at Glengyle. It was here I was encouraged to draw and to sing and act: I played the wolf in The 3 Little Pigs. I huffed and puffed impressively. I've been doing so ever since.
In 1949 after a glorious summer term when even I had enjoyed taking part in sports day and I was aware of happiness, I also knew it wasn't to last. For in a month or so, in bleak September, I would be leaving day school and entraining with 8-year-old boys, I didn't know, for boarding school on the frigid Sussex coast. The safe and comfortable world I had settled into was to be no more. I cried and cried when sports day ended but, in fact, this has been the way of my life. At my new school I was to create a new world of self-drawn comic books, comb and paper bands, acting, playing the fool and getting beaten for it, and running a gang of breezy free souls — my magpie gang, as the vice headmaster called it. The ex-sea captain who introduced me to Sophie Tucker via his 78s on his
The photo is of Jerry Lee Lewis and I at a concert in Long Beach in 1986

Ian Whitcomb is a highly respected performer, composer, and music historian. You can find all of his CD's, DVD's, Books,
and Songbooks by clicking here, or by going to ianwhitcomb.com