Ian Whitcomb is a highly respected performer, composer, and music historian. You can find all of his CD's, DVD's, Books, and Songbooks by clicking here.

You can find Ian's main website at ianwhitcomb.com

Letter from Lotusland
March 2017
A few Saturdays ago I did a foolish thing. Feeling anxious about life in general I took an Ambien and a Valium in the hope that the pills would calm me down so I could lay me down to rest. The magic worked too fast: Regina found me on the floor and quickly had me taken by ambulance to a hospital high on a hill in Verdugo Hills. Verdugo, by the way, means bad man or death dealer in Spanish. Something like that.
I came back to life to see a doctor in a white coat peering at me seriously and demanding why I would want to kill myself. I protested strongly; no, it was all ghastly mistake on my part. I love life and could sing him a song to prove it. Or he could check me out at Google. I was put on the seventh floor, which appears to be where they place the demented and depressed. No TV and no California calming landscapes on the wall. Regina bought me a rose which brightened me up. All day and into the night I was harangued by screams from women—"Help me! I want to go home!" and later into obscenities. The main culprit or victim was an aged woman, from some middle –European country, who refused to stay clothed and lay in full view so that all could see her private parts, like a witch doctor's failed abortion.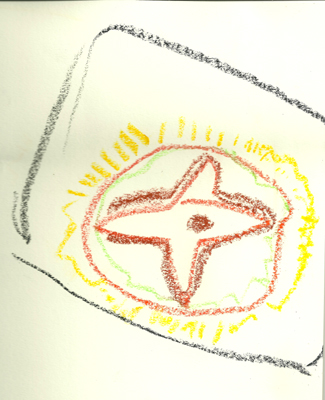 I lay on my bed and read the New Yorker and a novel called "Cat's Cradle". I visited the community room where a cadaverous man passed me a note begging me to help him escape because he planned to attend a karaoke session in downtown L.A. When would I be allowed to leave? Not till I'd been passed as sane by the house shrink. I waited days for him to give me a minute. He was a disapproving Indian from India who wasn't too keen on my Englishness—maybe he remembered Empire days and all that. Anyway he passed me sane, noting my stutter as a sign of incipient madness.
On the last day I took part in a singsong session in the community room, led by a springy young lady and her guitar. She sang, "Puff the magic dragon" and I rashly corrected her on a wrong chord. She gave me a dagger look. Luckily she was distracted by the karaoke man who, accompanying on her bongo drum, banged so violently he broke the parchment drumhead. 'Seal it with tape" he offered gaily but she was pretty annoyed. The aftermath of my foolish misadventure with drugs is that I now attend group therapy sessions at the hospital. We sit in a room with female therapists and discuss our problems. On a board on the wall are wise sayings like, "Grieve—and it will set you free to forget the past and step into the future"; and "A perfect world may not be possible but a wonderful one is there for the taking!" All ascribed to "Sonali Al Bengazi-Behani''. Mostly the patients are women with severe depression; the tissue box is much in use. I talk about my early morning bouts with depression. There are two men in our group, both widowers. A social worker called Harry plays us Eric Satie and asks us what pictures come into our heads as the music plays. At lunch he told me he remembers my nightly radio shows especially when I talked of meeting Liberace at a party and how I played "Melancholy Baby ' on the piano and Liberace commented," Getting sentimental aren't we Ian?" Well remembered.
After lunch we trooped into another room where we were asked to draw pictures showing the inner core of our feelings. I drew, in my left hand, a star enclosed in a shield, framed in black. The star was inspired by the 1926 song," Stars are the windows of heaven". Nobody there had ever heard of this song. Too old.
It may be a year before I graduate from the 3-days-a-week sessions but it's a way to fill my days. Thus on I float down the river of no return.

Ian Whitcomb is a highly respected performer, composer, and music historian. You can find all of his CD's, DVD's, Books, and Songbooks by clicking here.

You can find Ian's main website at ianwhitcomb.com