Ian Whitcomb is a highly respected performer, composer, and music historian. You can find all of his CD's, DVD's, Books,
and Songbooks by clicking here, or by going to ianwhitcomb.com

Letter from Lotusland
December 2014
"The Golden Age of Tin Pan Alley", the double CD set whose manufacture was financed by your contributions to the Kickstarter campaign, is an assembly of 51 songs recorded between 1973 and 2000. I'm sorry we failed to put this information in the booklet. But there was no room in the wondrous trove of information conducted by Glenn Robison — he dug up stuff about the songs that even I didn't know.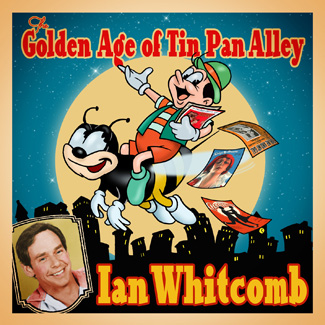 The 1973 songs include "Robinson Crusoe's Isle". I'd had a semi-hit with another Crusoe number but this one had an intriguing Latin lilt and I liked the idea of a tropical paradise — like Hawaii ought to be but isn't. I spruced up the picture by adding a new verse about our hero discovering a great hole where early next year a big hotel is going be built; I also mention how he only eats organic food.
Before I recorded my version I was involved in another version made and paid for by Warner Bros Records. My friend Andy Wickham, an A & R executive had signed Goldie Hawn to the label and thought this 1900s novelty might be just dandy for her. Andy hired a bunch of heavyweight musicians to back her including Lowell George of Little Feat and Van Dyke Parks to arrange and conduct. Van Dyke actually resorted to conducting my uke strumming. The result was a luminous and exotic track that seemed endless, with marihuana providing a mystic mist. Miss Hawn was brought in later to add her vocal after the dream cleared. I remember Goldie asking me whether I was a dancer. No, I answered — why do you ask? "Your butt' she replied lightly. I was flattered and began to think twice about this bottom. The record was never released.
But I so loved the song that a few months later, back in London, I had another go. I had a contract with United Artists for a ragtime album and Neil Innes was signed to produce. What a kind and gentle soul was he! He went on to write songs for the Pythons. This time we took Crusoe slower and stealthier, eventually attaching a string quartet, arranged by Fiachra Trench, an old pal from my Trinity College Dublin days.
Let's see — how else can I fill you in with recording details?
Ian McGarry, the drummer from Bluesville who was on "You Turn Me On", is playing on "At the Ball, That's All". He happened to be in Los Angeles on business and just dropped in. I'm playing the Mellotron, an extinct early electronic keyboard. Several numbers such as "Who's Sorry Now?" and "The Charleston" as well as the next two tracks were recorded at a concert at the 1920s Alex theatre in Glendale in 1998. Over three months I presented two-hour concerts of Tin Pan Alley gems, with a superb band that included David Pinto on Piano. I play piano on most of the other tracks, except for "Mandy, How Do You Do?" and "My Wife Is Dancing Mad" where Professor Dick Zimmerman is commanding the keyboards. The expressive and tuneful tuba on such tracks as "Mandy, How Do You Do?" is played by Bill Masonheimer.
The CDs from which these tracks are culled also contained my own songs. I've been writing since schooldays. Sometimes others have done versions (notably Mae West) but they mostly sit comfortably with me. And they're not all comic or novelty. I have tried to touch on my life, loves and beliefs — for instance in "The Yellow Bird". We'll leave my inner self till a future CD set.
Finally, I press you to listen to my playing of Sherlock Holmes and Watson on a new series of Sherlock Holmes stories
which can be bought via Amazon or at the website "The Ian Whitcomb Show". Simply type in my name for a list of available books and songbooks.
I have a very active dream life; last night I was following a group of senior men around the mid-west in a caravan of trailers. Good souls and simple, fond of yarning round the barbecue pita fight broke out between two of them, one of them being a celebrity called Grantland Rice. This Rice objected to the other fellow raising a stars and stripes on his trailer flagpole.
Why? Because flags are only to be flown on specific flag days, explained Rice between punchs. We pulled them apart by the suspenders and there were tearful apologies all round. I left the old varmints in a tight All-American bear hug. I was wanted on stage at a special performance of Gilbert 7 Sullivan selections. Only trouble was, I hadn't rehearsed any of my patter songs. I ad-libbed and got a few laughs. Then I couldn't find my Honda Element in the parking lot. The CDs for my radio show were in the car. I woke in a sweat.
Ian Whitcomb is a highly respected performer, composer, and music historian. You can find all of his CD's, DVD's, Books,
and Songbooks by clicking here, or by going to ianwhitcomb.com