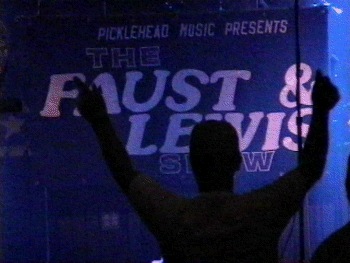 Faust & Lewis
Tallahassee Tuesday Night!
Yep, Wayne and Rusty have been looking for a place to play up in the Panhandle of Florida. You know what they found? Sloppy Joe's! Who would have thunk it. They did a private show there last fall and loved the place, so now they are doing a concert there to close out their Florida shows this spring. This is gonna be a blast.
TUESDAY, MAY 1ST
SLOPPY JOE'S - TALLAHASSEE
310 S Bronough St.
Showtime 7 PM (Doors open at 6:30 PM)
Tickets $15
To buy tickets locally, call Stan Derzypolski at (850) 570-4767 or
Thelma Gaupin at (850) 510-3786
Tickets are also available right here at Picklehead for $15 each. And you can use a credit card to get 'em. Here's how:
Click on the following link to ORDER TICKETS. Scroll through the CD's and tapes until you see the link to order tickets. NOTE THAT THE PROGRAM WILL SHOW A CHARGE FOR SHIPPING, BUT YOU WILL NOT BE CHARGED FOR SHIPPING WHEN WE RUN YOUR CREDIT CARD. YOUR PRICE WILL BE SIMPLY $15 PER TICKET - HONEST!!
Make sure to enter all the correct info - especially your e-mail address, just in case the venue gets changed at the last minute. Your tickets will be mailed to you right away.

Or, you can send a check or money order to:
Picklehead Music
PO Box 2211
Evergreen, CO 80437
Make sure to specify that it's for Faust & Lewis Tallahassee Tuesday Night tickets, and tell us how many tickets you want.
Your tickets will be mailed to you right away.
For more info, leave a message at 1-800-PICKLE-9 and someone will get back to you.
Or, send us an e-mail by clicking here.